Mattis: More Engagement Needed With Industry, Allies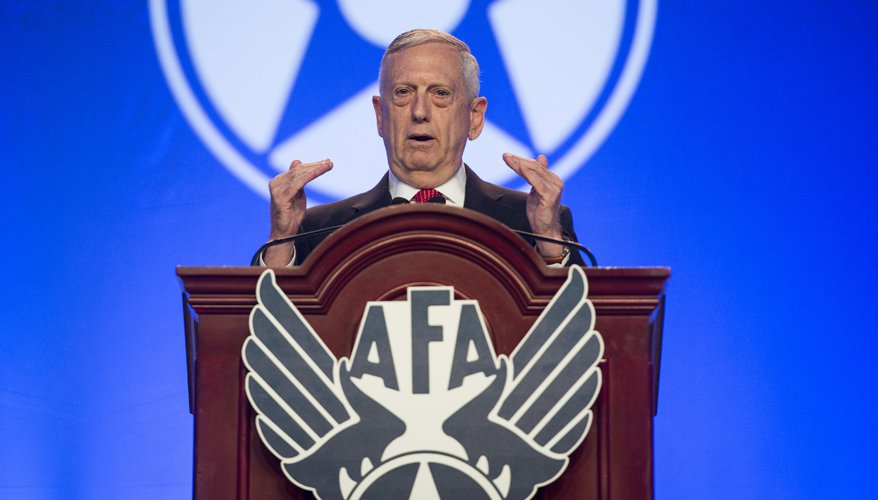 Secretary of Defense James Mattis speaks during the Air Force Association's annual Air, Space and Cyber Conference.
Photo: Defense Dept.
NATIONAL HARBOR, Md. — As the U.S. military prepares to fight its battles in a multi-domain environment, the Pentagon must renew its focus on cooperation and partnership with industry, allied nations and within its own services, Defense Secretary James Mattis said Sept. 20.

There must be more engagement with defense contractors in a way that does not violate ethical standards, but allows the Defense Department and industry to come up with innovative solutions to assist the warfighter, Mattis said in a speech at the Air Force Association's annual Air, Space and Cyber Conference in National Harbor, Maryland.

"Don't have imaginary legal restrictions … to find the best bang for the buck, to find the most far-reaching innovations that are out there," he said.

When Mattis first assumed the leadership of the department, one of his first decisions — to meet with the heads of the defense industry — was met with some resistance, he said.

"I became aware that some people thought, 'you can't do that,' and I said, 'why not, they're Americans aren't they?'" he said. "Last time I checked, they were on our side."

In those meetings, he noted that many industry members had uneven relationships with service officials across the Pentagon.

"They had very good relations with certain elements of the Department of Defense and others had no relationship," he said. "When I dove more deeply into it, I found that … some of the services had gotten to the point of paralysis because they felt they could not speak to members of industry."

Engagement has worked well within the research-and-development community, he noted. But increased communication across the services and industry would allow the Pentagon to "aggressively and swiftly take advantage of the opportunities that we see developing around us in the private sector," he said.

Mattis called for increased collaboration and partnership with allied nations and among the U.S. services as the United States pushes readiness and modernization efforts to operate across domains in a constrained budget environment. The U.S. military must now prepare for future battles in space and in the cyber domain, while its air dominance is challenged by adversaries employing "a proliferation of advanced integrated air-defense networks plus fifth-generation aircraft," he said.

"If we fail to adapt ... at the speed of relevance, then our military forces, our Air Force, will lose the very technical and tactical advantages we've enjoyed since World War II," he said.

The Defense Department is pursuing three lines of effort to address its readiness issues: Build a more lethal joint force, strengthen international alliances and partnerships, and reform business practices throughout the Pentagon, Mattis said.

The department is moving "very, very aggressively" to reform its entire acquisition enterprise, he said. For example, officials are looking at changing processes to procure software versus hardware solutions, he added.

"Do we really need to have the same procedures when we're doing a small program as when we're doing a major aircraft program?" he said.

Mattis has been speaking with Air Force Chief of Staff Gen. David Goldfein about current plans to buy a next-generation Joint Surveillance Target Attack Radar System aircraft, he said. The service is about to begin an analysis of alternatives that could derail plans to replace the aging aircraft fleet with a follow-on system.

"They're talking about new ways to do the JSTARS mission, [and] I'm eager to hear of these efforts," he said.

The joint effort to rebuild readiness levels can be seen in the country's need to maintain its nuclear deterrent capabilities, along with a decisive conventional force, he noted.

Visits to Naval Submarine Base Bangor in Washington, home of much of the country's nuclear submarine fleet, and to Minot Air Force Base in North Dakota to view B-52 strategic bombers and the Minuteman III nuclear missile force, convinced Mattis that "having this safe secure and effective deterrent is critical — the most critical piece of our nation's defense," he said.

"The paradox of war is the adversary will always move against your perceived weakness, and so a safe, secure and effective deterrent is there to ensure a war that can never be won is never fought," he said.

The United States must also maintain a decisive conventional force despite the perceived price tag, he added.

"It's a heck of a lot less expensive than having to fight a conventional war because some adversary thought they could take us on and win," he said.

The department must also focus on better collaboration with allied nations, Mattis said.

"Our organizations, our processes and procedures have got to be allied-friendly," he said. "We must be willing to do more than to listen to our allies; we must be willing to be persuaded by them.

"Not all the good ideas come from the nation with the most aircraft carriers," he said.

Collaboration with coalition partners has been on display in the U.S. military's efforts in the Middle East, he noted. The United States and its allies are fighting the ISIS terrorist group in Syria, training and aiding Iraqi military troops to regain their country, and moving toward a mentorship role in Afghanistan, he added.

"Each area of victory looks different," he said.

He also noted the international alignment on curbing North Korea's ambitions to develop its nuclear weapons program.

"How many times have you seen China, Russia, France, the United States … all voting in a unified position in the [United Nations] Security Council?" he said. "That gives you an idea of the degree of international concern and the alignment of the international interest to stop the provocations, to stop the nuclear program there in North Korea."

Mattis noted that deterring North Korea remains "a diplomatically-led effort" for the time being.

"But at this time, we must also recognize the somber reality that military options must be available in order to protect our allies and ourselves," he said.
Topics: Defense Department, Air Force News, International