Goldfein: Air Force Must Prepare for Battle in Urban Environments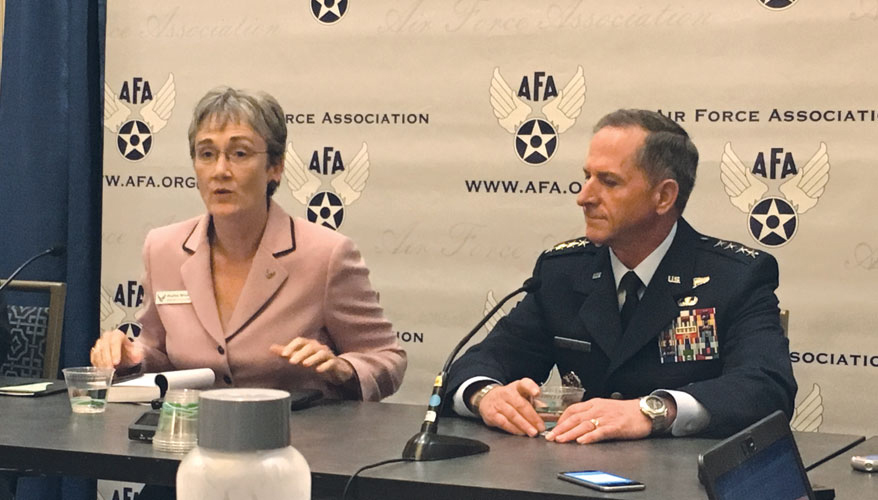 Heather Wilson, Gen. David Goldfein
Photo: Yasmin Tadjdeh
NATIONAL HARBOR, Md. — Over the next three decades, the global population is expected to move largely to cities, which will provide the U.S. Air Force with unique challenges, said the service's chief of staff Sept. 19.

There is "high potential for future conflict and combined arms to be more urban than [in] open spaces," Gen. David Goldfein, said during a keynote speech at the Air Force Association's annual Air, Space and Cyber Conference.

By 2050, 80 percent of the world's population will live in cities, he noted. Additionally, the number of megacities — which are defined as having more than 10 million people — will increase from 12 to 50, he said.

"How do we design an Air Force for that kind of conflict?" he asked during the conference. "I would submit to you that right now, we are probably more designed for operating in open spaces."

Gen. Mark Milley, chief of staff of the Army, and Gen. Robert Neller, commandant of the Marine Corps, are both studying how urban warfare will affect the military, Goldfein said.

"As they focus on urban warfare, we've got to focus on urban warfare," he said. "Wherever they go, so goes the Air Force. … We go as a joint team."

The service will need to consider what kind of network and basing it will need for such operations, he said.

"It's far more than what kind of munitions do we put together, it's more of what kind of an Air Force do we need to design for 2030 to fight and win in an increasingly urban environment," he said.

While the service is looking at new platforms, Goldfein said it is more important to think about nodes and networks than new aircraft.

For instance, while the B-52 is an old bomber, it can be equipped with new systems that make it a "node and network," he said.

What can "I bring to the fight if I have got a node and network that provides range, persistence and a significant amount of payload going forward and how does that fit overall in an urban environment?" he asked.

As the military considers fighting in more densely packed areas, it will also be critical for the Air Force and industry to develop weapons that can more accurately target adversaries, Heather Wilson, the secretary of the Air Force, said during a media roundtable. 

"The world can no longer tolerate imprecise weapons, … at least from the United States," she said.

The service must look at new and emerging technologies, including directed energy weapons, Wilson said.

Additionally, as the United States and coalition partners continue their fight against the Islamic State, it is employing smaller, more precise weapons, she noted. This includes the small-diameter bomb built by Raytheon. This trend will need to continue.

Broadly, as the service looks toward future operations, it will have to consider trans-regional threats, multi-domain battles, fighting with multiple components within a coalition and at a rapid pace, Goldfein added.
Topics: Air Force News, Air Power