Expert: Expect More Middle East Defense Deals Under Trump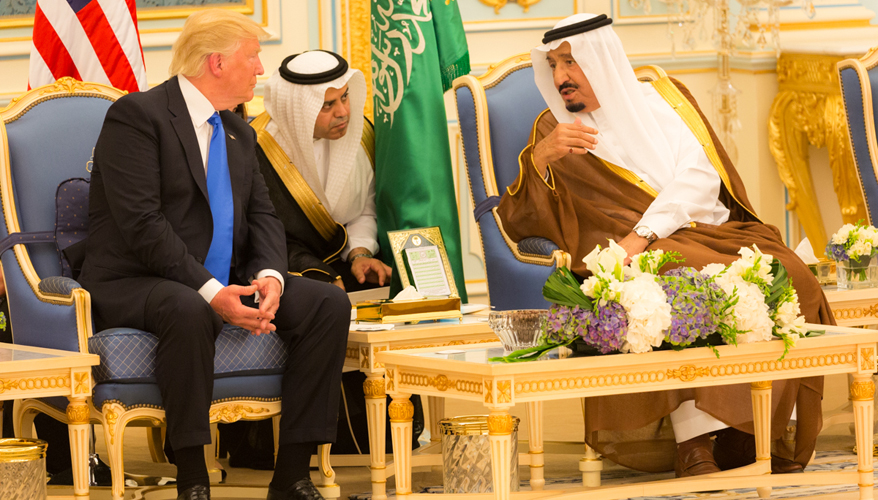 President Donald Trump and King Salman bin Abdulaziz Al Saud of Saudi Arabia
Photo: White House
LONDON — The United States will see more defense-related export deals with allied Middle Eastern nations under President Donald Trump than with his predecessor, said one expert.

"Donald Trump, he has promised deals and deals. Well, he is going to get them from the Gulf," said Stuart D'Souza, chief executive officer of Arabian Enterprise Incubators, a Saudi Arabia-based company that works with foreign firms seeking to do business with the nation.

Saudi Arabia will be the biggest market opportunity for the United States among the Gulf Cooperation Council countries, he said during a briefing at the Defence and Security Equipment International Conference held at the ExCel in London. The GCC is a political and economic alliance that includes Saudi Arabia, Kuwait, the United Arab Emirates, Qatar, Bahrain and Oman.

The Saudis generally tend to favor Republican administrations over Democratic ones, D'Souza noted.

"It is no secret that they were deeply unhappy with the Obama policy in the region — sort of taking a step back, slightly more hands off, allowing regional powers to sort out their own problems," he said. "They see Trump as being much more of a strongman. … Certainly more proactive in the Gulf."

This past summer, Trump visited Saudi Arabia and signed a $110 billion arms deal, but much of it was based on Obama-era plans, D'Souza noted. However, there has been, and will continue to be a pivot by Riyadh toward buying American defense products, he noted. The biggest opportunities will be in land platforms. Over the next year, there will likely be a number of Saudi tracked-vehicle fleet upgrade programs that U.S. contractors can bid on.

Generally speaking, the United States, the United Kingdom and France dominate the Saudi defense market, he said.

"That's broadly been divided along the air sector to the U.K., the naval sector to the French and the land sector to the Americans," he said. "Defense procurement in Saudi has historically been used as a means of gathering international support" from these permanent members of the United Nations Security Council, he added.
Saudi Arabia has been undergoing major changes recently. This summer, Mohammed bin Salman was appointed the new crown prince and has led a substantial reform effort known as Vision 2030, D'Souza said. The program is a wide-ranging blueprint that the country's leadership hopes will build its global stature.

"This is not some pipe dream, [a] vanity project," he said. "This is actually happening. Saudi Arabia is actually changing. It's the direct result of the continued pressure, investment, support, policy initiatives … between the West and Saudi Arabia. And now it seems we've found the right man to lead Saudi Arabia into the 21st century."

Adam Hosier, founder director at Arabian Enterprise Incubators, said when doing business with Gulf countries it is important for companies to understand that it will take patience to secure a contract.

"Doing business in the Middle East is harder than many other parts of the world. It will take longer to get to those contracts, so you do need to plan," he said.

It can sometimes take a year or two to ink a deal, he added. That is because countries in the region prize personal relationships that are cultivated over extended periods, he said. It would be wise for companies interested in the region to set up local offices, he added.

Ultimately, to be successful in the region it takes planning, patience, perseverance, presence and requires building personal relationships, Hosier said.
Topics: Global Defense Market, International