Light Attack For Lower Cost: Off-the-Shelf Aircraft Demos Could Shake Up Acquisition Process
Clockwise: AT-802L Longsword Turboprop, A-29 Super Tucano Turboprop, Scorpion AirLand Jet, AT-6 Wolverine Turboprop
HOLLOMAN AIR FORCE BASE, N.M. — A $6 million Air Force experiment to demonstrate the capabilities of off-the-shelf platforms may lead to a low-cost solution for a light attack and close-air support aircraft.

On a broiling August day, three turboprops and one jet were on static display just outside Hangar 1090 at Holloman Air Force Base, New Mexico. As top service brass, international partners and local lawmakers looked on, Air Force weapon loaders demonstrated reloading an A-29 Super Tucano light attack aircraft and an AT-6 Wolverine multi-role plane with weapons including precision guided munitions, unguided rockets and practice bombs.

Minutes before, the AT-6 had taxied into the hangar after undergoing several evaluations, coming to a stop before one of the pilots — Air Force Chief of Staff Gen. David Goldfein — removed his helmet and stepped out of the cockpit.

The demonstration was part of a month-long experiment of eight mission demonstrations run by the Air Force and three teams of defense companies that seek to explore the feasibility of purchasing a commercial multi-role attack aircraft for use in permissive environments. Air Force pilots and engineers evaluated four airplanes in tests on the ground and in the air across Holloman ranges and the nearby White Sands Missile Range, collecting mounds of data before determining any concrete requirements.

Industry players, international allies and experts say the light attack experiment — also known as OA-X — may shake up the Pentagon's notoriously cumbersome acquisition process.

In early 2017, Goldfein announced the service's plans to work with industry to find a suitable light attack/low-end fighter platform within a few months.

"We're actually right now looking at an experiment where we go out to industry and ask, 'What do you have — commercial-off-the-shelf, low-cost — that can perform this mission?''' he said at an event in Washington, D.C.

By August, the Air Force was assessing four commercial aircraft submitted by three teams: Sierra Nevada Corp. and Embraer's A-29 Super Tucano turboprop; Textron Aviation's Scorpion jet and AT-6 Wolverine turboprop; and Air Tractor Inc.'s AT-802L Longsword turboprop supported by L3's Platform Integration Division.

The airplanes were evaluated via multiple tests and flight demonstrations, said Lt. Col. Robert Odom, 704th test group deputy commander, at a media day during the demonstrations. The evaluators will collect 584 data points, assessing the platforms' ability to: find, fix, track and target; perform data link interoperability; and ensure weapons delivery and accuracy, among other criteria, he said.

The service said it spent $6 million to set up the experiment. The companies had to pay their own way to participate, an atypical move for military acquisition programs.

But Taco Gilbert, senior vice president for Sierra Nevada's intelligence, surveillance and reconnaissance business area, said the investment was worth it.

"We recognize what the Air Force is trying to do. They're trying to look at new ways of acquiring capabilities, new ways to evaluate capabilities and ways to expedite getting those capabilities into the hands of our warfighters or out on the front lines," he said in a media call.

Pat Penland, vice president for transport programs at L3, said that the cost of the experiment mostly involved responding to the Air Force's calls for data and preparing the aircraft ahead of the August demonstrations.

"There was more investment to bring what [the companies] could in a short period of time, but ... our investment stream for the Longsword product certainly lined up with that," he said. "It gave us a very focused event to aim for."

The light attack experiment is just one example of how the Air Force is working to make its procurement processes faster and more dynamic, Secretary Heather Wilson said at the media day.

"We can't just stand back, set out requirements, do analyses of alternatives, spend five years figuring out what exactly we want, put out an RFP, throw it over the fence and take 10 years to develop a new technology," she said.

Since she was sworn in in May, Wilson has frequently called for the service to find ways to innovate faster to keep up with adversaries who are developing their own technologies at a rapid pace.

"We have to think about things in new ways, identify new capabilities faster than we have done in the past," she said.

Lawmakers and service officials have said the Air Force needs to beef up its light attack aircraft arsenal.

Sen. John McCain, R-Ariz., chairman of the Senate Armed Services Committee, published a white paper in January titled, "Restoring American Power," which made recommendations for the defense budget for fiscal years 2018 to 2022.

"The Air Force should embrace a 'high/low mix' of fighter aircraft," it said, noting that expensive fifth-generation platforms — such as F-22 or F-35 fighter jets — are not needed in every combat scenario.

McCain also called for the Air Force to procure 300 low-cost, light-attack fighters "that would require minimal work to develop." The Air Force could procure the first 200 of these aircraft by fiscal year 2022, the report added.

"These aircraft could conduct counterterrorism operations, perform close-air support and other missions in permissive environments, and help to season pilots to mitigate the Air Force's fighter pilot shortfall," the report said.

Air Force officials said the light attack experiment seeks to fulfill all of those mission sets.

Gen. James "Mike" Holmes, Air Combat Command commander, told reporters that the service's campaigns in countries such as Syria, Iraq and Afghanistan are focused on uprooting insurgents and performing other counterterrorism tasks with local ground forces.

That mission set is currently being conducted with a range of capabilities, from unmanned aerial platforms like the MQ-9 Reaper, up to fourth- and fifth-generation fighters including F-16 and F-15E jets and F-22s, he said.

With a new light attack aircraft, the service could base planes closer to combat, he noted.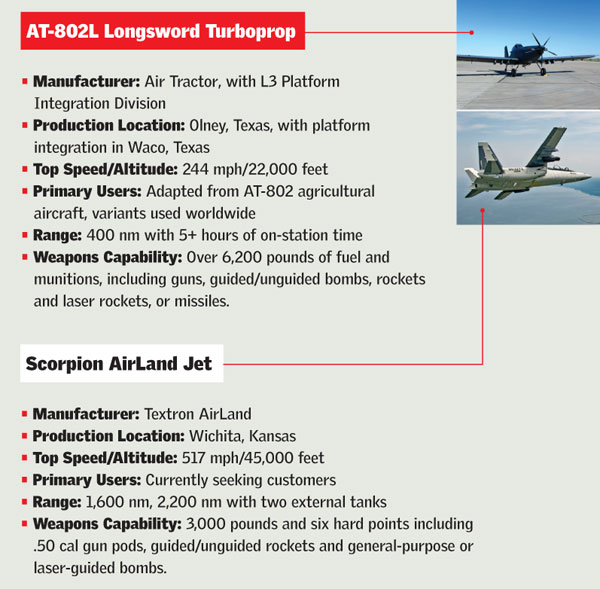 "We want to look at how they perform in austere fields, whether they can land in the dirt and do a forward-area refuel and reload," he said. "Imagine a world where you're able to base these airplanes closer to the area, they can stay on station in pretty good time with a turboprop engine that gives them a lot of time to stay out there. Ultimately … it comes down to that really good cost-per-flying hour."

Buying a commercial platform that can take the stress off of the expensive high-end fighters currently serving could extend the aircrafts' service lives, keeping them ready for the high-end fight in non-permissive environments, Gilbert said. It also provides international partners with a less expensive platform that would be combat-ready and interoperable with U.S. airframes, Holmes noted.

But analysts wonder if the potential cost savings of a commercial platform are worth the price of buying an aircraft that may only be suitable for part of the required capability, particularly when the Air Force already has an aircraft tailor-made for this mission in its fleet.

The A-10 Thunderbolt II turbofan jet continues to provide close-air support and light attack capabilities to the service. The Air Force previously wanted to retire the aging aircraft, but after sustained protests from Congress, the service has "somewhat waved the white flag on attempting to retire" the platform, said Andrew Hunter, director for the defense industrial initiatives group at the Center for Strategic and International Studies, a Washington, D.C.-based think tank. The Air Force's fiscal year 2018 presidential budget request kept funding for the fleet of 283 aircraft in place for the next three years. The service also requested $103 million in unfunded priorities to buy new wings for 110 of those A-10s.

JV Venable, a senior research fellow at the Washington, D.C.-based Heritage Foundation and a former Air Force combat pilot, said the service should continue to invest in the combat-proven A-10 rather than procure a commercial solution that could potentially only perform 60 percent of the mission requirement.

"If you're looking for a survivable platform in a low- to medium-threat environment, those [commercial] aircraft do not compare favorably with the A-10," he added.

Air Force officials have stated that the goal of the light attack experiment is not to replace the A-10.

Col. Jim "Slick" Travis, chief of the combat forces division in the Air Force's strategic plans and programs office, said the objective is to relieve the high-end assets currently supporting the A-10s.

"I wouldn't imagine taking the A-10s out of the fight; they're very effective and very efficient at it," he said. "I'm just trying to … save the major theater war assets for training and improving readiness."

The Air Force recognizes that OA-X funding is not guaranteed. Though officials have emphasized the need for a light attack capability, any plans for the experiment would have to compete with top service acquisition priorities, including the F-35 joint strike fighter, the B-21 bomber and the KC-46 tanker.

The Senate Armed Services Committee committed $1.2 billion toward procuring a fleet of light attack observation aircraft in its fiscal year 2018 National Defense Authorization Act markup.

But it's unlikely that Congress will actually appropriate that money, Venable said.
"[OA-X] is something that would cost us money to fund that I don't think would ever be fielded, not in the current fiscal environment," he said.

Travis said the service appreciates lawmakers' recognition of the need to bring this capability on board.

"Could we actually execute that mark in procurement? No," he said. "Could we rapidly learn from [the experiment] to where you really demonstrate … that this is a capability that you can afford and want to use and can afford to offset?"

"We have to go through those steps to really prove it to ourselves before we would want to generate a large program with a long [logistics] tail," he added.

Despite the uncertain prospects, industry players are eager to see the results of the light attack demonstrations.

"The intent of this is not [competitive], it's a data-gathering opportunity," said Michael Rambo, Textron's sales director for North America. "This is a lot of good operational gathering of information for both the Air Force and us as contractors."

Once the Air Force compiles all of the data from the demonstrations, it will file four separate reports on its findings, one for each platform, officials said. If one or more aircraft meet the criteria and the service and lawmakers opt to move forward with the experiment, the selected aircraft would fly in a combat demonstration run by Air Combat Command within the next year, Holmes said.

Hunter said: "The part of it that I find very intriguing is this question of a nontraditional approach to acquiring the aircraft.

"I think there's some promise here to get us out of the rut that says … we have to boil the ocean and understand every aspect of an acquisition program 10 years ahead of the time that it's going to deliver, which seems to result in us being in analysis paralysis all the time," he added.

The Air Force's idea of working with industry earlier in the process and having contractors invest their own money up front, then bringing service evaluators in to determine whether an aircraft is suitable for the mission need, could be a successful model for some military acquisitions, Hunter said. It could particularly work for systems that "don't require major leaps in technology, and that would certainly seem to be the case here," he added.

Venable said the service's effort to experiment with new ways to acquire systems is interesting, but the military would do better by overhauling the lengthy and cumbersome acquisition process rather than buying a commercial platform.

"Do I think [the experiment] is something we could do? I think it is for a hammer, for a handgun, or a rifle," he said. "But for a system that ... our Air Force leads the world in, if we go in and pick a commercial off-the-shelf product just to say we're changing the acquisition process, and that thing that we acquire does not meet the needs of the service, you're wasting money."

If the combat demo occurs, that still doesn't mean a program of record will necessarily be established, service officials noted.

But even if the Air Force doesn't buy a new platform as a result of this light attack experiment, attempting to change the acquisition paradigm for a small cost of $6 million would be worth it, Wilson said.

"When we have the first experiment where we fail and learn from it, I'm buying the cake" to celebrate, she said.
Topics: Air Power, Acquisition, Acquisition Programs