Northrop Eyes Contracts for Minesweeping Payload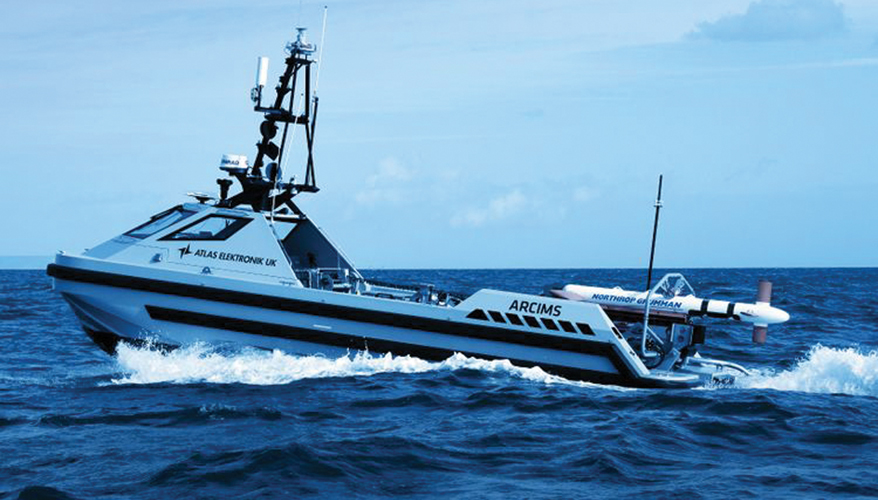 Photo: Northrop Grumman
As governments around the globe seek to modernize their mine countermeasure systems, Northrop Grumman is hoping to sell its AQS-24B payload, which is already employed by the U.S. Navy.
Many international navies are in the process of recapitalizing their mine countermeasure capabilities, said Gene Cumm, director of advanced integration systems at Northrop Grumman. "A number of them are looking at getting away from the large mine-hunting ships with significant crew sizes, to go to more of an off-board unmanned capability just to reduce operating and support cost," he said.
The AQS-24B can be towed by an unmanned surface vessel to locate mines. The system has the ability to conduct mine-hunting missions at high speeds.
"It is as modern a capability as there is out there today," Cumm said. "It's focused on the incorporation of what's called high-speed synthetic aperture sonar technology, which really allows us to get high-resolution sonar imagery and maintain that 18-knot forward speed that is very much desired in mine clearance."
Northrop recently demonstrated the capability during the Belgian Defense Technology and Industry Day trials at a naval base in Zeebrugge, Belgium.
Northrop partnered with Atlas Elektronik UK for the June exercise, using the company's Arcims unmanned surface vessel.
"We were given 10 hours to search an area that the Belgian navy had designated and had put real targets in," Cumm said. "We were able to complete that search in just under four hours."
Three operators onboard a Belgian navy ship remotely controlled the equipment in real time. There was an operator for the USV, a primary operator for the AQS-24B and one mission analysis operator. They used line-of-sight communications between the host ship and the unmanned vessel, and were stationed about five miles away.
Northrop plans to participate in a still-to-be-determined international exercise next year. Last year, it took part in the United Kingdom's Unmanned Warrior exercise in Scotland.
The AQS-24B can be used on a variety of ships, though they must be at least 11 meters in length, Cumm noted.
The company is focusing on establishing international contracts with countries in Europe, the Middle East, Asia and North Africa, he said.
Topics: Maritime Security