Pentagon Considering 'Radical' New Approaches to Nuclear Deterrence, Missile Defense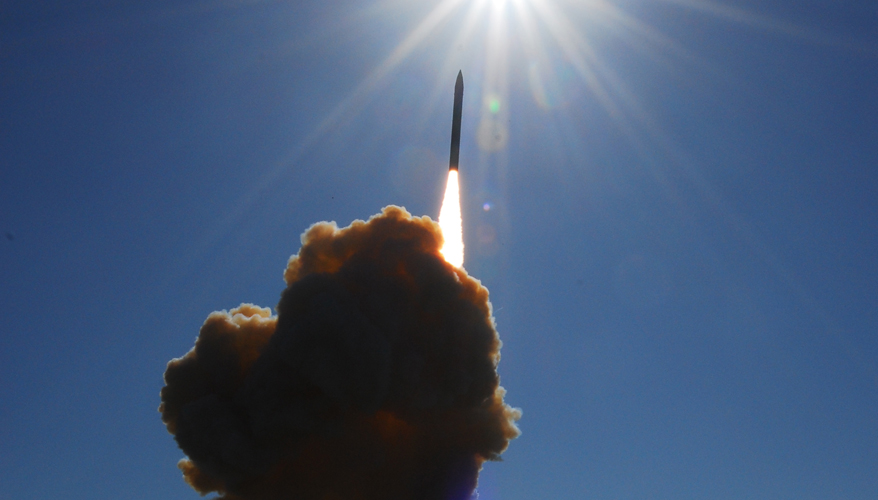 A ground-based interceptor is launched from Vandenberg Air Force Base.
Photo: Missile Defense Agency
The Defense Department is looking at non-traditional methods of deterring nuclear attacks and guarding against ballistic missile threats, the vice chairman of the Joint Chiefs of Staff said Aug. 3.
The Pentagon has undertaken two separate but related studies — a Nuclear Posture Review and a Ballistic Missile Defense Review — at the direction of President Donald Trump and Secretary of Defense Jim Mattis.
"Everything is on the table," Air Force Gen. Paul Selva said during remarks at an Air Force Association event in Washington, D.C. "We've looked at conservative strategic approaches to radical new approaches. And we're going to find the best set of recommendations to give the president the options to maintain our strategic deterrent capacity."
Selva declined to elaborate on what "radical new approaches" are being considered. "Given the classification level of this particular venue, and the fact that both are ongoing reviews, there's not a lot I can say about the details," he said.
The reviews will primarily be focused on the threats posed by Russia, China, North Korea and Iran. Unlike previous reports, those underway will take a long term, 20-year view of the challenges, he noted.
"The fundamentals of deterrence haven't changed [but] the tools are emerging and evolving quickly. And so as we look at strategic nuclear deterrence in the 21st century we have to incorporate all of the systems that make it possible," he added.
Ballistic missile threats have increased in recent years, and that trend may continue, Selva said. Last week, North Korea conducted what U.S. officials believe was a successful test of an intercontinental ballistic missile. Selva said it's still unclear if North Korean dictator Kim Jong-un could launch an effective nuclear attack against the United States.
To be able to do that, Kim must possess four capabilities, Selva explained. "He has to have the missile that will actually range that distance. We believe he has that capability right now. He's proven that he can build a rocket that can fly that far."
Additionally, North Korea needs advanced guidance and control systems and a survivable reentry vehicle. Its scientists would also need to miniaturize a nuclear weapon and make it survivable on an ICBM.
Selva said it's unclear to the U.S. national security establishment whether North Korea currently has all of those capabilities. But he warned that the potential adversary could acquire them quickly if it doesn't already have them.
Kim has been pursuing an aggressive missile-testing schedule, Selva noted.
"He solved the rocket problem really fast by conventional standards," he said. "If he takes the same approach to the other three, he could accelerate very quickly. So those … are things we should be paying attention to and trying to determine what tools we have both inside and outside the nuclear enterprise to either deter or slow his advance. And I think that's the work we need to get done."
The Nuclear Posture Review and Ballistic Missile Defense Review are expected to be completed by the end of the year. The results could prompt additional investments in missile defense capabilities beyond those already in the pipeline.
"As they look at the potential evolution of the threat and the variety of pathways it might take, we may make recommendations on other methods to invest and other capabilities to invest in," Selva told reporters after his speech.
"But it's way too early to actually make that assertion one way or the other. … Right now staying the course on the systems we have and maintaining and modernizing their capability is the path we're on. That's what's in the budget and we're going to stay on that path until the review report is out," he added.
Topics: Missile Defense