Global Demand for Special Operations Aircraft Grows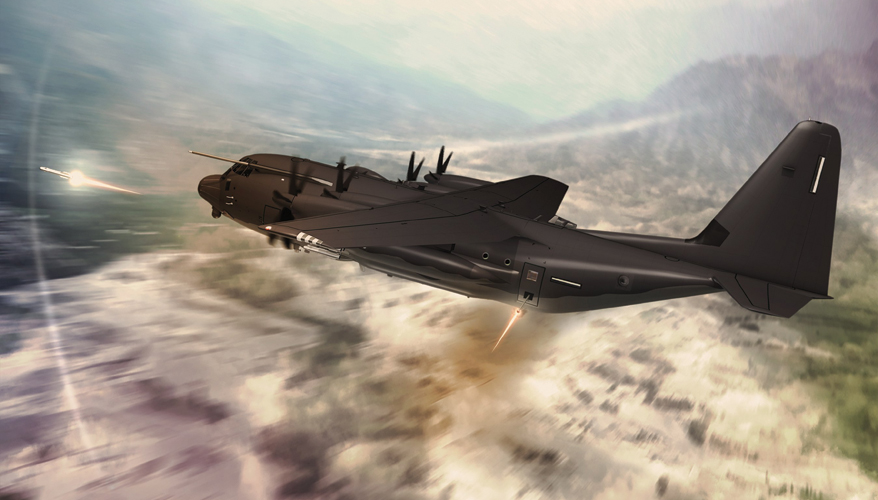 C-130J-SOF Super Hercules
Photo: Lockheed Martin
There is an increased global demand for U.S. defense companies to retrofit aircraft for special operations missions, analysts and members of industry said.

"It's a growing market," said Richard Aboulafia, vice president of analysis at the Teal Group, a Fairfax, Virginia-based defense and aerospace market analysis firm. "There's an awful lot of activity."

Aircraft that can conduct infiltration and exfiltration, intelligence, surveillance and reconnaissance, and refueling missions are in particular demand, he added.

During the Paris Air Show, which was held at Le Bourget Airport in June, multiple defense contractors touted their special ops aircraft.

Lockheed Martin unveiled a new variant of its C-130 Hercules, which company officials said they hoped to sell abroad.

Known as the C-130J-SOF Super Hercules, it is the 10th production version of the aircraft and can be used for a variety of missions, said Tony Frese, vice president of business development for Lockheed Martin's air mobility and maritime missions division.

A standard version of the SOF plane can perform missions such as the gathering of ISR data, search and rescue, and low-level infiltration and exfiltration of troops, he said.

"We listened to a lot of our customers … that have in one form or fashion chosen to buy some of these capabilities for their aircraft," he said. Based on those conversations, Lockheed has "packaged proven, known technologies that we've delivered across our customer set and we put that … in this configuration."

The aircraft has enhanced protection along its lower belly for operations on unprepared runways — which may be littered with rocks, gravel and sticks — or in hostile environments, he said.

"It will help protect the bottom of the airplane from" damage, he said. "We also have armor protection that protects the crew in the event that there is any kind of hostile enemy fire."

Customers can grow those capabilities by adding mission packages such as aerial refueling, Frese noted. The aircraft can refuel fixed-wing and rotary-wing platforms, and can also become a receiver to take on fuel.

There is also the ability to do armed missions, he said.

"We have a 30 mm gun that we can install on the aircraft that fires out of the left parachute door," he said. Additionally, "we could put Hellfire missiles on the aircraft at hard points on the wing."

Overall, the market for SOF aircraft is increasing globally, Frese said. A number of countries see a need for such capability, he said.

"We think there are many customers throughout the world that would want this product, whether it be in Asia-Pacific, … the Middle East and even in South America," he said.

Gulfstream also sees the special ops aircraft market growing, said Troy Miller, regional vice president of military sales and marketing at the company.

Gulfstream, which is known principally for the manufacturing of luxury private aircraft such as the G550 and G650, has modified its business jets for special missions since 1967, he said. Some of these capabilities include intelligence, surveillance and reconnaissance collection, early warning, maritime and surveillance applications, and atmospheric research.

Miller said the future looked bright for special operations aircraft.

Gulfstream 550

"If you look at the potential market over the next 20 years, I think there are 100 to 200 platforms that could be addressed by a business jet solution for special missions based upon a variety of analyses that have been done," he said. "That market is distributed not only in the U.S. but [also] internationally."

In June, the Defense Security Cooperation Agency announced that the State Department had approved a possible foreign military sale to Australia for Gulfstream aircraft with airborne ISR and electronic warfare mission systems.

The estimated cost of the contract is $1.3 billion and would include the purchase of up to five Gulfstream 550s.

The sale will support Australia's ongoing effort to modernize its electronic warfare capability and increase interoperability between the U.S. Air Force and the Royal Australian Air Force, the agency said in a statement.

"This sale will contribute to the foreign policy and national security of the United States by helping to improve the security of a major contributor to political stability, security and economic development in the Western Pacific," it added. "It is vital to the U.S. national interest to assist our ally in developing and maintaining a strong and ready self-defense capability."

Miller said he believes more customers are considering purchasing business-class jets for their special mission aircraft needs.

As equipment becomes more compact, there is less need to fly larger, airliner-like aircraft, he said. That opens up the opportunity for business-class jets to compete for more programs.

There is a "continuing trend toward smaller electronics, more reliability [and] lower power requirements," he said. "What used to be a desktop tower computer that we all used 10 years ago now is on my wrist; so you can imagine that same advanced technology occurring for the mission equipment."

Business jets can fly higher, faster and farther than the typical airliner, he said. Additionally, they burn less fuel, he noted. The G550 has a range of 6,750 nautical miles. It can fly at a maximum certified speed of Mach 0.885 and it can ascend to an altitude of 51,000 feet.

Gulfstream aircraft are also able to operate from 656, or 56 percent, more airfields than traditional airliners, he said. That figure includes both military and commercial airfields around the globe.

"That's important," Miller said. "That might offer forward basing opportunities. It might offer dispersed basing opportunities."

As Gulfstream looks toward the future, it sees fleets around the world that are in need of replacement, he said.

"The numbers are significant, certainly in the hundreds," he said. Of particular interest is the growing demand in the United States for special mission aircraft.

"The U.S. Air Force has long been a leader in these types of airborne platforms," he said. "But they have legacy fleets that are currently in operation, and the model has always been to sustain those legacy fleets for as many, many years [as possible]. But the cost of that sustainment and operations now is beginning to soar significantly, and the availability of those aircraft are beginning to suffer because of the aging platforms."

One example is the service's joint surveillance and target attack radar system recapitalization program. Gulfstream, working alongside Northrop Grumman, recently submitted a bid in the competition. Lockheed Martin and Boeing are also competing.

Leda Chong, senior vice president of government programs and sales at Gulfstream, said that as demand increases from both the domestic and international market, the company may offer up different aircraft configurations and mission packages. However, for now, there are no plans to arm an aircraft, she said during a media briefing at the company's Savannah, Georgia, factory.

Raytheon also sees growth in the market. The company — which takes commercial aircraft and modifies them for special operations — makes up more than $2 billion of the overall strategic ISR market, said Jim Hvizd, vice president of business development for Raytheon. The company works heavily in the modification of aircraft for full-spectrum airborne ISR applications, and is pursuing $2 billion to $4 billion in additional opportunities.

"We see that market growing at a fairly substantial [compound annual growth rate] — single digits, but significant single digits," he said during a briefing at the Paris Air Show. "We see the need across the globe really, and an appetite for solutions that can stand off farther [and are] able to have longer endurance missions."

The company works with a variety of airplane manufacturers, including Gulfstream and Bombardier, he said.

"We are not focused on any single platform," he said. "We really look at the platform as a mechanism to carry that actionable intelligence system around. So in that case, we have relationships with many of the commercial private contractors, in both the small, tactical airplanes as well as larger business jets."

The company has a facility in Broughton, United Kingdom, where it can do modification work. "That capability is expanding," he said. Raytheon is now looking to take that work and move it to other countries where it can bolster the local industry, Hvizd added. It's "a very good way for that country to gain experience," he said.

As the market grows, the company is looking at the Middle East for new opportunities, he noted. The company has a history of supporting allied nations there, he added.

The Asia-Pacific also presents opportunities and Raytheon is having active conversations with some countries in the region, he said.
Topics: Air Power, Special Operations, Special Operations-Low Intensity Conflict