European Military Aviation Market Expected to Grow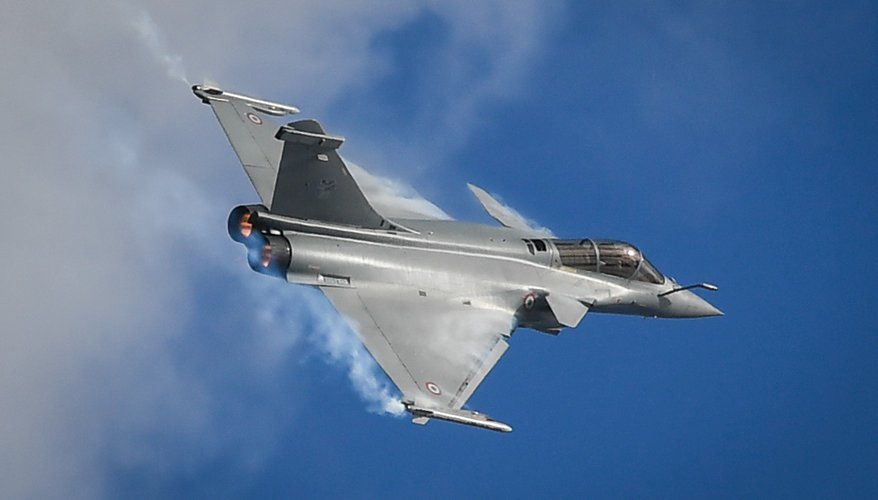 A Dassault Rafale performs for a crowd during the Paris Air Show.
Photo: Air Force
Pressure from the United States coupled with rising security threats are driving increased military spending in Europe. That could lead to new contracts for fighter jets and helicopters, analysts said.
"It's a good time for the European military market in general," said Mark Cancian, a senior adviser at the Center for Strategic and International Studies' international security program. "The NATO allies are increasing their spending."
Russia is a main reason, he said. Under President Vladimir Putin, the Eastern nation has increasingly provoked its neighbors with aggressive behavior, including the annexation of Crimea in 2014 and its military backing of the Bashar al-Assad regime in Syria.
"In 2008, there was a belief that … Russia might become part of the community of nations," Cancian said. After Crimea "you don't hear that anymore from the United States and now from the other NATO allies. So the whole perception of threat is now much greater."
Additionally, President Donald Trump has pressured alliance members to invest more money toward defense, Cancian said. NATO countries have a stated goal to spend 2 percent of their GDP on defense by 2024, but only a handful of nations currently meet it.
"The effect of the Russians was there before Trump, but Trump has really pushed … [NATO members] very far," he said. "They make fun of him, they don't like him, but on the other hand, I think they are paying attention and they recognize … [he represents] a strand in U.S. popular opinion and that they need to respond to that."
As Europe funnels more money toward military spending, aviation assets will likely fare well, he said.
Aviation "is a distinctive advantage of Western militaries, both fixed wing and helicopters," he said. "It's an area where militaries really want to invest."
NATO's airpower during the Cold War was far superior to that of the Warsaw Pact, he added. The "Warsaw Pact of course had a lot of mass, they had very strong ground forces, but their aviation forces were not as strong," he said.
While budgets may be growing in terms of expenditures, the number of assets is not increasing, said Dan Darling, a senior military markets analyst at Forecast International, a Newtown, Connecticut-based market consulting firm.
"In the past two decades the cost of aircraft and the technologies embedded in them, running in parallel with force downsizing across European armies, means that while they will buy new stuff, they will buy it in fewer numbers," he said. "Any modernization cycle … would be very unlikely to include one-for-one replacements."
Darling noted that while the Trump administration is urging more spending among NATO nations, that is not a new request from the United States.
"It's a message that has been going on since [President Dwight] Eisenhower was in office and it increased under the previous three administrations, culminating in Trump," he said. "By the time Trump got into office, the European defense market in terms of its investment was on the upswing starting in September 2014 at the … NATO Wales Summit. It just is amplified now."
Trump's fiery rhetoric doesn't seem to be dissuading Eastern European nations from purchasing American-made systems, Cancian said.
"For the Eastern Europeans, they definitely want to buy from America. Eastern Europeans don't have as much money so … they might buy refurbished equipment," he said. "But for them the connection to the United States is really, really important.
"If you are the Baltics, if you are Poland, if you are Romania, you know it's not the French who are going to save you if things go bad," he added. "It's going to be the United States. So you want that linkage, and you see that in their purchases."
In Western Europe, the United States is still competitive but those countries have more latitude to buy from their own industries, he said.
To that effect, French President Emmanuel Macron and German Chancellor Angela Merkel in July announced that the two countries would develop a European fighter jet, which would replace the Eurofighter Typhoon and the Rafale. According to Reuters, the system could involve a mixture of manned and unmanned aircraft. A roadmap for the project is slated for release in 2018.
Trevor Taylor, a research fellow for defense, industries and society at the Royal United Services Institute, a London-based think tank, said for nations looking to replace their aging F-16s and F-18s, they will need to decide between U.S. manufactured fighters, such as Lockheed Martin's F-35, or European aircraft such as the Eurofighter Typhoon, Rafale or Sweden's Gripen.
"I would not forecast who will prevail where, but fighter decisions are always significantly about performance, acquisition … and political pressure," he said.
From Taylor's perspective, there is a push for Europe to buy European, he said.
"A preference for local solutions is a factor in most defense markets. The global trend is for more and more countries to want their own defense industrial capabilities," he said.
Additionally, while relations between the United States and its European counterparts at the defense level remain positive, "it's hard to justify any assertion that says that Europeans are more comfortable with the American alliance now than they were two years ago."
But some of U.S. industry's biggest players see the European aviation market as being full of opportunities.
Lockheed is looking to sell its F-35 joint strike fighter to new customers in Europe. Already the United Kingdom, Denmark, Italy, the Netherlands and Norway are purchasing the platform. The company is eyeing upcoming competitions in Belgium and Finland, said Steve Over, the company's F-35 international business development director.
"I would characterize them as the nearest term opportunities," he told National Defense. Belgium plans to recapitalize its fleet of aging F-16s. Finland wants to replace its F-18s, he said.
While security threats may be driving some growth, nations are looking to upgrade their systems simply because they are becoming obsolete, he said.
"When I look at their existing fighter fleets, they have old, aging fourth-generation fighter fleets that are nearing the end of their useful service lives," he said. "If nations want to secure the safety and prosperity of their nations they need air forces to do that."
There is no indication that European countries may want to shy away from doing business with U.S. companies, Over said. However, even if they did, he noted that the F-35 is manufactured with many components made by European firms.
"Most of the nations that are buying the airplane have industries that are … part of the global supply chain for F-35," he said. He pointed to a production facility in Cameri, Italy, that is owned by the Italian government.
The F-35 is nearing the end of its 16-year development program and transitioning into fielding large numbers of production aircraft. That will likely attract more countries to consider purchasing the platform, he said.
"If you look at this program through the lens of our international customers, the development risk that they saw two or three years ago is now largely in the rearview mirror," he said. "They're recognizing that all of those worries of the past with development challenges are now … largely resolved and now we're ramping to significant production quantities."
Boeing is also eyeing the competition in Finland, said one executive.
"The likely timing of that lines up very nicely with what was just recently announced by the U.S. Navy," said Gene Cunningham, Boeing's vice president for international sales. The service is pursuing what is being referred to as the Block 3 Super Hornet, which has significant increases in capability. Those would include improved radar and fuel tanks that give the platform longer endurance without decreasing the speed of the plane, he added.
Finland is looking to replace 64 legacy Hornets, but it is unclear if there will be a one-for-one replacement, he noted.
"They are evaluating the potential candidates not just by saying, 'I need this capability,' they are asking all of the bidders to provide responses to scenarios," he said. "They have an air-to-air scenario, an air-to-ground scenario and an air-to-sea scenario. So you need to show the really strong, joint capabilities, not just joint as in multi-nation, but multi-service capabilities of the aircraft."
Boeing expects a request for proposals to be released in about a year, with an acqusition decision made in 2020 or 2021, Cunningham said.
The company is also looking to vie for a contract to replace Switzerland's F-5 and F-18 aircraft. The competition will be on a similar timeline to that of Finland's, he said.
During the Paris Air Show, Boeing met with the Swiss government to discuss the impending competition, he noted.
In terms of helicopters, the company is looking to sell its Chinook transport aircraft to Germany and the Apache attack aircraft to Poland, he added.
The European market is on an uptick, Cunningham said.
"We feel like it's a very active market. It's a highly competitive market, there's no doubt about that," he said.
Globally, Boeing is also seeking to beef up its services business. During an interview with National Defense at the Paris Air Show, Stan Deal, president and CEO of Boeing Global Services, said it is a growing market.
Broadly, the market for aviation services around the world is expected to reach $2.6 trillion over the next 10 years, according to Boeing's own estimates. About $1.5 trillion of that will go toward commercial assets, and $1.1 trillion toward government or military services. Much of the defense portion will go toward orders from the United States, but there are substantial opportunities in the European, Asia-Pacific and Middle East regions, according to Boeing.
Boeing currently has about 9 percent of the defense market share for services overall. International orders make up 30 to 35 percent of the pie, he added.
To better address these burgeoning opportunities around the world, Boeing last year decided to consolidate its commercial aviation services and defense, space and security's global services and support groups into one entity known as Boeing Global Services, which launched in July.
Topics: Air Power, Global Defense Market, International