Widespread Applications Envisioned for Airborne Lasers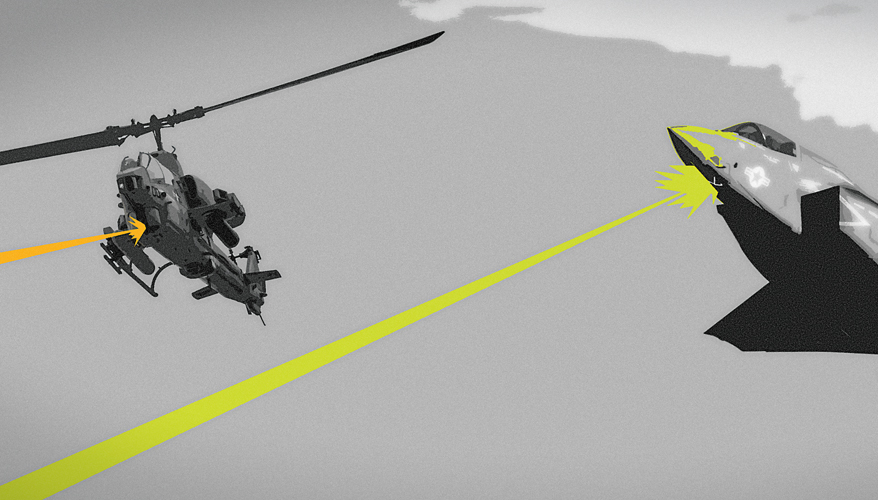 Photo-illustration / Defense Dept. photos
The Defense Department is looking to equip a variety of aircraft with directed energy weapons in the coming years as the technology matures.
Lasers hold great potential, said Jeff Saling, a strategic planner on the Joint Staff, and analysis lead for the Pentagon's Air Superiority 2030 study that was completed last year.
"If it can deliver the deep magazine that they're talking about, if it can also enable us to target quickly, that would definitely be a capability that's highly desired," he said during a recent panel discussion on Capitol Hill hosted by the Mitchell Institute for Aerospace Studies.
"Once we can integrate those onto the platforms, those would be fantastic for everything from offensive capabilities to defensive capabilities," he added.
Gen. Mike Holmes, commander of Air Combat Command, said he and other Air Force officials recently attended a directed energy summit at Kirtland Air Force Base, New Mexico, to discuss the technology.
"We are going to go down that road," he said during remarks at an Air Force Association event in Washington, D.C.
However, there are many technical challenges that must be solved before aircraft can be armed with lasers, he noted. They include getting the size, weight, power and cooling components to required levels.
"We're making progress in reducing [the size of] weapons down to where we can do that on an airborne platform," Holmes said.
Figuring out how to aim and fire the laser through the atmosphere to hit a moving target is another hurdle, he said. "We think we know how to do that. We're doing some test work to get after it."
The service will likely equip larger aircraft first as it works through these challenges. "But eventually it will make its way down to other airplanes," he said.
The Marine Corps wants to equip the F-35B joint strike fighter with a directed energy weapon, said Lt. Gen. Robert Walsh, commanding general of Marine Corps Combat Development Command, and deputy commandant of combat development and integration.
The service would probably start by putting the weapons on a relatively large airframe such as the AC-130 to meet size, weight and power requirements, he told reporters last year during a meeting in Washington, D.C.
"As soon as we could miniaturize them we would put them on F-35s, Cobra [attack helicopters] … any of those kind of attack aircraft," he said. A laser weapon could even potentially be installed on an MV-22 Osprey tiltrotor aircraft, he added.
Meanwhile, Air Force Special Operations Command is moving forward with plans to equip AC-130J Ghostrider gunships with high energy lasers.
AFSOC Commander Lt. Gen. Brad Webb envisioned them destroying enemy ground vehicles, drones, and communications and electrical power equipment.
The technology is "rapidly moving from the conceptual to the practical," he said earlier this year during a directed energy conference in Washington, D.C. "We're no longer talking about bulky chemical lasers, but streamlined electrical lasers."
In preparation for future laser system integration, AFSOC, U.S. Special Operations Command, Naval Surface Warfare Center Dahlgren and the Air Force Research Laboratory are partnering to measure the vibration and acoustic environment of the AC-130J. Data collection is taking place this summer, AFSOC spokeswoman Maj. Kristen Duncan said in an email.
During fiscal year 2018, the organizations expect to begin building the subsystems for an interim low-power laser system. Plans call for integration and flight demonstrations in fiscal year 2019.
"The incremental solid-state electric laser system demonstration is intended to prove the viability of a follow-on operationally relevant high-energy laser prototype," Duncan said.
Additional investment would be required to get the project over the hump, she added.
"The timeline for operational deployment of a high-energy laser system is dependent on funding availability and DoD approval for operational use," she said. "If funded, an operationally relevant airborne high-energy weapon prototype could be available in 2022."
Looking further into the future, the Air Force is conducting an analysis of alternatives for a next-generation "penetrating counter-air" system or family of systems, also known as PCA. The service hopes to field the technology in the late 2020s.
"It is more than just a fighter," said Col. Tom Coglitore, chief of Air Combat Command's air superiority core function team. "I would look at it more as like a weapons or sensor truck if you will."
Lasers could find a home on the aircraft, said Brig. Gen. Alex Grynkewich, deputy director for global operations on the Joint Staff, and the leader of the Air Superiority 2030 study.
"I want directed energy as soon as I can get it," he said. "When that moment happens we need to have in place the ability to incrementally [improve] upon whatever platforms or capabilities it is that exist and import it in."
Penetrating counter-air platforms need open missions systems and open architectures to facilitate technology integration, he said.
The initial version of PCA might not be equipped with a laser if the technology isn't ready or there aren't sufficient funds, he said. "But maybe a couple years later there's a leap forward in that directed energy technology" and it could be added to the aircraft.
High-powered lasers won't necessarily be one of the requirements for penetrating counter-air, Coglitore said. However, "there are requirements for survivability [and] lethality, and if directed energy can fit nicely into one of those lanes we're definitely examining that," he added.
The Pentagon is also looking to equip drones with lasers to shoot down enemy ballistic missiles during the early stages of flight.
"Our vision is to shift the calculus of our potential adversaries by introducing directed energy capabilities into the ballistic missile defense system," Air Force Lt. Gen. Sam Greaves, director of the Missile Defense Agency, said in an email to National Defense.
However, several risk areas must be addressed before directed energy systems are ready for missile defense missions. The two key challenges are scaling laser power levels while reducing weight, he said.
Efforts to equip an unmanned aerial vehicle with a laser face some unique hurdles, he said.
"Though technical challenges exist for any application, the MDA mission requires higher power levels, less weight and greater component efficiency not necessarily required by land or sea-based systems," he said. "The primary challenge is, in general, currently available UAVs do not have the payload capacity of manned aircraft so the laser must be smaller, lighter and more efficient."
However, drones may be capable of longer loitering times and could potentially offer additional operational flexibility relative to manned planes, he said.
The Missile Defense Agency plans to award contracts to Boeing, General Atomics and Lockheed Martin for the design of a high power laser-equipped aircraft before the end of the calendar year, he said.
The agency has also released a request for information to industry to understand the development path for long endurance UAVs. Responses are due by the end of the summer. The agency will review those submissions before making a determination on a potential development strategy, he added.
"We will continue to refine our concepts for operations," Greaves said. Meanwhile, the agency will complete designs for a low-power laser demonstrator over the coming year, and there are plans to build a demonstrator system for flight testing in the early 2020s.
"Each of these efforts will be considered as part of the ongoing ballistic missile defense review" ordered by Secretary of Defense Jim Mattis, he said.
As the technology matures, the Pentagon could potentially equip satellites with directed energy weapons, experts said.
"While [lasers] are not yet at the size and power levels required for space-based applications, it is possible they could be in the foreseeable future," analysts said in a report released earlier this year by the Center for Strategic and International Studies titled, "Implications of Ultra-Low Cost Access to Space."
Space-based lasers could be used to target ballistic missiles during boost phase, missile warheads once they are deployed, other satellites in space, and fixed or mobile targets on the ground, the report said.
"Basing a directed-energy weapon in space gives it greater access to places that ground and airborne systems cannot reach," it said. "Moreover, when targeting objects in space, the beam does not have to pass through the atmosphere and thus avoids the distortion that it causes."
A solid-state laser would have a virtually unlimited shot capacity because it could recharge itself with solar arrays, the report added.
However, space-based lasers could face major technical challenges. They would require a high level of power to be effective, the power of the beam decreases over long distances, and the atmosphere and ionosphere can block or interfere with transmissions at certain wavelengths. Large cooling systems might also be required for thermal management, the report noted.
Skeptics have questioned the cost-effectiveness of such a system. The price tag is highly uncertain at this point, the report said. "Given the inherent uncertainties and the relative immaturity of the technology that would be needed, it is difficult to provide even a rough estimate of the costs of a space-based directed energy system."
Brig. Gen. Mark Baird, director of space programs in the office of the assistant secretary of the Air Force for acquisition, said the idea of developing space-based lasers has been floating around for decades, but it's not something that's on the front burner.
"In terms of trying to pursue those, obviously that's in the future," he said at a recent military technology conference in Washington, D.C. "The engineers, the smart folks know that if indeed the technology would mature then that could be something. But … that's not something that we're dealing with right now."
Defense officials noted that some observers are skeptical that airborne directed energy technology will deliver on its promise anytime soon.
"Folks have always joked it's always been five years [away from being ready]. But … a lot of great progress has been made," Saling said.
Systems integration is the main challenge at this point, he said. "How is it going to be … weaponized and ruggedized enough to be able to put it on a platform … [and] deal with jitter, deal with targeting, deal with distortion based on the airstream?
"With the right investments I think you can get over those hurdles," he added.
Air Force Gen. John Hyten, commander of U.S. Strategic Command, was cautiously optimistic about directed energy weapons during a recent meeting with reporters.
"The technology with solid-state lasers is about at the point where they can be small enough and capable enough where we can get enough power to it that they can provide a lethal capability," he said. "I believe we're on the verge of being able to deliver those kinds of capabilities. … However, we're not there yet. So I don't want to put all my eggs in a basket until I actually realize that we can do it."

Additional reporting by Yasmin Tadjdeh.

Topics: Air Power, Emerging Technologies