Analysts Worried About New Navy Frigate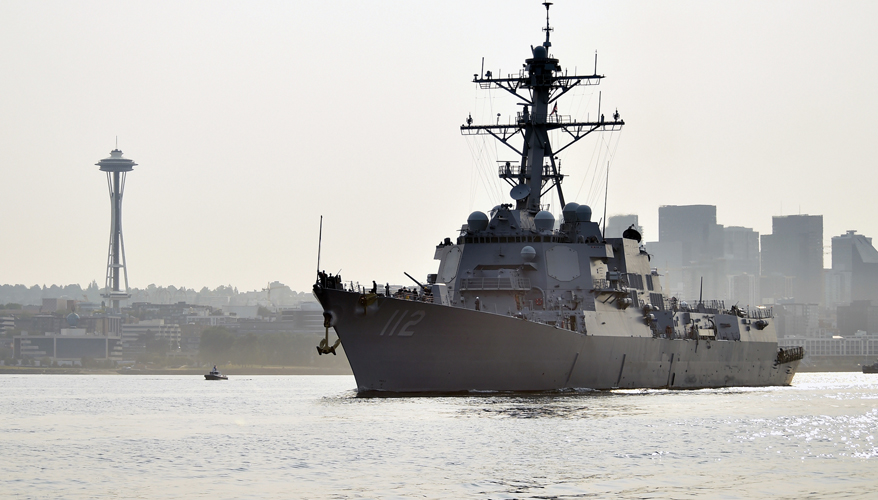 Arleigh Burke-class guided-missile destroyer USS Michael Murphy (DDG 112)
Photo: Navy
The Navy recently released a request for information from industry as it seeks to acquire a new frigate. Analysts are concerned that the service might not end up making the right cost and capability tradeoffs.
Jerry Hendrix, director of the defense strategies and assessments program at the Center for a New American Security, said new frigates are needed, but he cautioned that they wouldn't be cost effective if the Navy piles on too many requirements.
"Any time that you … require a ship to be good at all things, you're going to drive up the cost factor," he said during a recent Senate Armed Services Committee subcommittee on seapower hearing.
The "sweet spot" would be a highly capable anti-surface and anti-submarine warfare vessel with a per-unit cost in the $700 million to $850 million range, he said.
"If you exceed that by adding in air defense capability, certainly we start edging over $1 billion per copy. And, at that point in time we'll find ourselves … [saying], 'Shouldn't we just buy some more Burkes?'" he said, referring to Arleigh Burke-class destroyers which have high-end capabilities including air defense.
The Navy has outlined a "notional" procurement profile for 20 new frigates, currently referred to as FFG(X), that the service would potentially begin buying in fiscal year 2020. The Navy has not indicated how much it would be willing to spend on the ships.
Bryan Clark, a naval analyst at the Center for Strategic and Budgetary Assessments, said the RFI "opens up the aperture too much" in terms of what that future frigate might look like.
"It makes it seem like it could be anything from … a relatively low-end ship or less capable ship, all the way up to a frigate that can do air defense for another ship and do anti-submarine warfare," he said.
In an effort to save money, the Navy might buy a vessel with insufficient capabilities, he said.
The RFI "establishes a capability hierarchy that could support development of a less expensive and less capable ship that does not meet the Navy's needs," he said.
Eric Labs, senior analyst for naval forces and weapons at the Congressional Budget Office, said: "You want to get down a path where you want to be careful about not trying to do things too much on the cheap … [but] you don't want to find yourself in a debate [about] whether you should be buying Arleigh Burkes or a really expensive frigate."
Topics: Shipbuilding, Navy News, Maritime Security