BATTLEFIELD COMMUNICATIONS
Army One Step Closer to On-the-Move Satellite Comms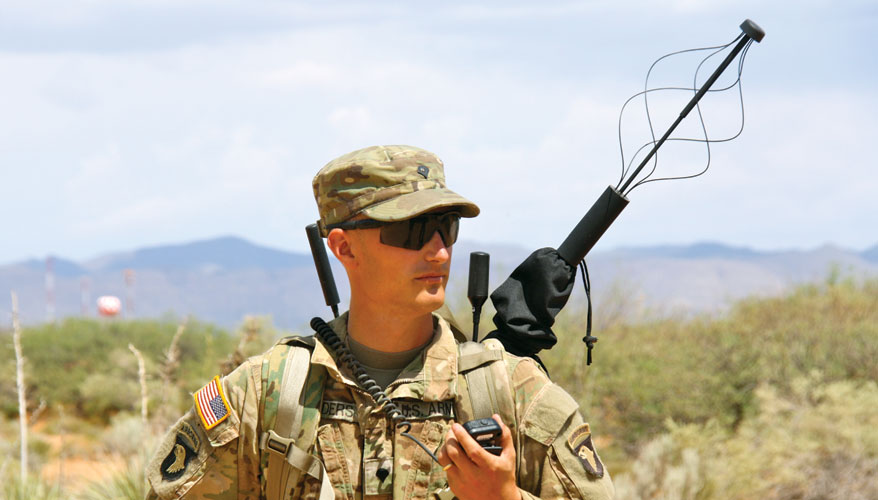 A soldier at the Network Integration Evaluation at Fort Bliss, Texas, uses an omnidirectional antenna to connect to a Navy Mobile User Objective System satellite.
Photo: Stew Magnuson
FORT BLISS, Texas — Out in the blazing hot Texas desert, dismounted soldiers with the Army's 101st Airborne Division's 26th infantry regiment carried an egg-beater shaped antenna sticking out of their rucksacks to tap into a Navy satellite some 22,200 miles above Earth.
Nearby, soldiers driving a Humvee outfitted with a satellite terminal tested the ability to receive communications via satellite while on the move.
The completion of the Navy's Mobile User Objective System satellite constellation — which has been described as a series of "cell phone towers in the sky" for its ability to deliver smartphone-like services — is expected to bring unprecedented communications capability to ground forces.
Here at the Army's Network Integration Evaluation (NIE) 17.2 — designed as an annual test of the service's latest communications systems — soldiers were trying out MUOS-enabled terminals to see if they worked as advertised, and to begin to formulate tactics, techniques and procedures.
"This capability has never been resident within this radio or available to soldiers at the company [level] or below," said Col. James P. Ross, Army product manager for tactical radios.
A soldier holding a handheld rifleman radio can now connect to another infantryman carrying a two-channel Manpack HMS radio, which in turn can connect to the MUOS system. That soldier can now reach back to speak directly with higher headquarters and even call a defense switched network — better known as DSN — phone number and speak to a person sitting at a desk at the Pentagon.
Such scenarios are unlikely, but point to the system's new capability, said Ross. The NIE is about figuring out these concepts of operation.
"How exactly are we going to use MUOS? It's great you can call anywhere in the world, but you're not really going to do that. So what are you going to use it for?"
One scenario being tested is call for fires. A forward observer several miles away and without direct-line-of-sight communications can call back to a fire direction center to adjust coordinates, or send them digitally off a device.
"That is a big step in terms of capability that they don't have today," Ross said.
The Manpack radio "is a very capable piece of equipment — a very powerful piece of equipment. You can do a lot of different things" with it, he added.
MUOS-enabled terminals have been able to connect to the satellites at 89.5 degrees north latitude, only 30 miles short of the North Pole. They offer 10 to 16 times more throughput than the legacy UHF satellites they are replacing.
The Navy in 2016 completed launching the system, which includes five satellites and four ground stations.
The fifth and final MUOS satellite — intended to be an on-orbit spare — was launched in June 2016. After some glitches with its propulsion system, it reached geosynchronous orbit in November. Most of the processing is carried out at the four ground stations.
The system is still awaiting full certification. U.S. Strategic Command will make the ultimate decision, which is expected in 2019, said Ross. The Army will then be able to deploy MUOS-enabled radios across brigade combat teams, he added.
To do that, the Army would have to make sure there are certified terminals available for widespread deployment. Having terminals synchronized for use when new communications satellites are lofted is a problem that has bedeviled the Pentagon for decades.
Satellite programs and terminal programs are run by different organizations, which — more often than not — has resulted in either the radios or the spacecraft being fielded late. The lack of synchronization has wasted funding and resulted in lost capacity.
Ross said there has been unprecedented coordination between his office and the Navy's program executive office for space systems in San Diego. There are Army personnel working in PEO space systems' office, and several of the sea service's officials — as well as STRATCOM officers — were slated to observe the MUOS terminals in action at the NIE, he added.
The MUOS satellites include a legacy payload also found on UHF Follow-On (UFO) satellites so they are not idle as new terminals are being developed.
Narrowband UHF communication is used by every combatant command in aircraft, ships, submarines, ground vehicles, as well as by troops in the field and special operations.
Ross said the problem with the UFO satellites is connectivity and availability. "You have to fight for priority. Sometimes you're bumped off," he said.
The Army is in the middle of a competition to select one or more vendors to build the Manpack HMS radio, which can be carried in a backpack or mounted in a vehicle and connects to MUOS through the wideband code division multiple access waveform.
The program executive office for command, control communications-tactical in February awarded three vendors contracts to produce 30 units each for testing this year. Some of them were being used at the NIE.
General Dynamics, Harris Corp. and Rockwell Collins are vying to produce the Manpack radios for full-rate production.
More than 55,000 currently fielded radio terminals can be upgraded to be MUOS-compatible, with many of them requiring just a software upgrade, according to the satellite builder Lockheed Martin.
On July 31, the Army ordered 101 additional radios for test and evaluation from each of the three vendors. They are expected to be delivered in April 2018, according to PEO C3T public communications director Paul Mehney.
As for full-rate production, the Army hasn't decided yet on whether that will be a winner-takes-all competition. More than one vendor might be selected for the contract, which could call for as many as 60,143 radios and be worth up to $12.9 billion over its lifetime when factoring in training, field support and logistics, Mehney said.
After five years, the Army may decide to recompete the contract if radio technologies have changed significantly, Mehney said. At that point, new vendors would have the opportunity to join the competition, he added.
Harris Corp. in August announced a $255 million contract to supply U.S. Special Operations Command with its Next-Generation Manpack Radio. The command does not currently require MUOS connectivity, but as a digital, software-defined radio, it could easily be upgraded if the requirements change, Jen Tumminio, a company spokeswoman said.
While the Network Integration Evaluation used General Dynamics and Rockwell Collins radios, this was not part of the evaluation for the downselect, Ross said.
The three potential vendors will have to meet some baseline requirements such as weight and power. The Manpack radio needs to come in at 16 pounds. And as is the case with many devices, the Army is seeking longer lasting batteries at six to eight hours, which has been one of the bigger challenges. "Can we increase battery life? How can we get at that?" It's a challenging problem all over the world, not just in Army radio programs, he noted.
The two-channel radio can transmit the legacy single-channel ground and airborne radio system, better known as sincgars, for voice communications, as well as the aforementioned legacy UHF and the MUOS waveforms. The Manpack radio should be able to integrate other emerging waveforms, Ross added. One being looked at is NATO's Saturn, which would boost interoperability with allies.
Being able to operate overseas is crucial, Ross said.
"We don't field a capability to a unit and say, 'Yes, it worked for this, but if you take it to Europe you're never going to get authority to use it,'" he said.
There are other potential waveforms, but he declined to give details.
The Army is also working on a draft request for proposals for a two-channel handheld leader radio with sincgars and the soldier-radio waveform. That might require MUOS connectivity in the future, he said.
Like cell phones, MUOS has the capability to send and receive full-motion videos. The Army currently is not testing this capability because it doesn't have any requirements to do so, but that might change in the future, Ross said.
Operators using the MUOS-enabled equipment at the NIE touted its potential.
Capt. Zach Jones, commander of headquarters and headquarters company with 26th infantry regiment in the 101st Airborne Division, has responsibility over reconnaissance, medical evacuation and mortar platoons.
"Being able to talk to those reconnaissance elements and have them communicate back to the command post allows us to understand what's happening on the battlefield," he said. Earlier in the day, he had successfully conducted a beyond-line-of-sight radio check using MUOS with a platoon about 40 miles away. Line-of-sight radio communications without power boosters might only go as far as one or two miles, he said.
Capt. Rob Swan, commander of Cherokee company, 1st battalion, 26th infantry regiment, 2nd brigade, in the 101st Airborne Division, said, "This drastically increases our ability to extend mission command at a dismounted infantry level. I can push my platoons five, 10 miles, even farther out and still be able to talk to them as clear as day."
Previous satellite systems required a vehicle or foot soldier to stop, set up a directional antenna and find a signal. The new omnidirectional antenna paired with the MUOS satellite changes that, he said.
"As long as you are pointing that antenna in the general direction of the satellite, you are able to maintain clear satellite communications on the move, which is a drastic increase in capability," Swan said.
In addition, soldiers using smartphones as part of the Nett Warrior program are outfitted with GPS and blue force tracking applications. The beyond-line-of-sight connectivity will allow higher headquarters to track with precision the exact location of each soldier, Swan said.
At the conclusion of the exercise, soldiers using the system will have the opportunity to evaluate the effectiveness of the MUOS system and provide feedback for how it might be used.
The reports are sent to Army Training and Doctrine Command, which will refine the tactics, techniques and procedures.
Topics: Battlefield Communications, Space