Stealthy Motorbike Prototype Moving Forward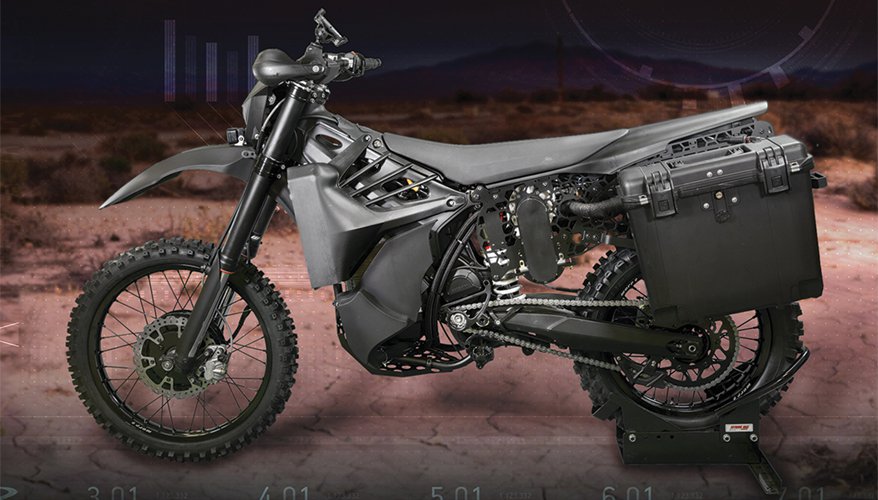 Photo: Logos Technologies
A stealthy motorcycle funded by the Pentagon that could provide special operators with a lightweight and relatively quiet mode of transportation is moving closer to reality, according to the manufacturer.
Logos Technologies — a science and technology company based in Fairfax, Virginia — is working with the Defense Advanced Research Projects Agency to develop the SilentHawk, one of two militarized hybrid off-road motorcycle prototypes.
The prototypes, which are being funded by the agency through small business innovation research grants, can each run on a combination of electric and heavy fuel sources. They have a range of at least 120 miles and can reach a top speed of 80 miles per hour. While in electric mode, the motorcycle runs at about the noise level of a conversation, according to DARPA.
Since unveiling an initial prototype at the 2016 National Defense Industrial Association's Special Operations Forces Industry Conference in Tampa, Florida, Logos has begun work on a new model and additional features ahead of reaching a prototyping contract, said Doug Rombough, vice president of business development. Once finalized, this will be the second Phase 2 proof of concept contract with DARPA for the SilentHawk, he noted.
The initial prototype aimed to "maximize the use of commercial off-the-shelf and readily available items to prove the feasibility of this hybrid motorcycle," Rombough said at the 2017 SOFIC conference.
"We will now look at sizing the engine properly … which will allow us to go to an air-cooled engine versus a liquid-cooled engine." Engineers can then remove the two radiators currently installed on the motorbike, lightening the load, he noted.
Logos plans to build two systems for the new prototype, he said. The base system will include front-wheel drive and a range extender that will allow the operator to switch to a hard fuel source if the battery is depleted. The second system will not include the range extender.
"What that will do is let the customers see the difference between the two, to understand what, if any, reduction in maneuverability there would be by removing the range extender or by adding" it, he said.
Logos is also developing three separate kits that customers can choose from: front-wheel drive, an auxiliary power system kit and the range extender, Rombough said.
The new prototype will be lighter than the initial model and more closely resemble a production-level motorcycle, he noted.
Although special operations forces would be the likely candidates to use these hybrid motorcycles, Logos is also in discussions with other U.S. military components, said Susan Kerin, company communications manager.
"Ultimately, what DARPA wants is for the bikes to be used throughout the DoD," she said.
Topics: Land Forces