Army Puts Tactical Network Through the Paces at NIE 17.2 (UPDATED)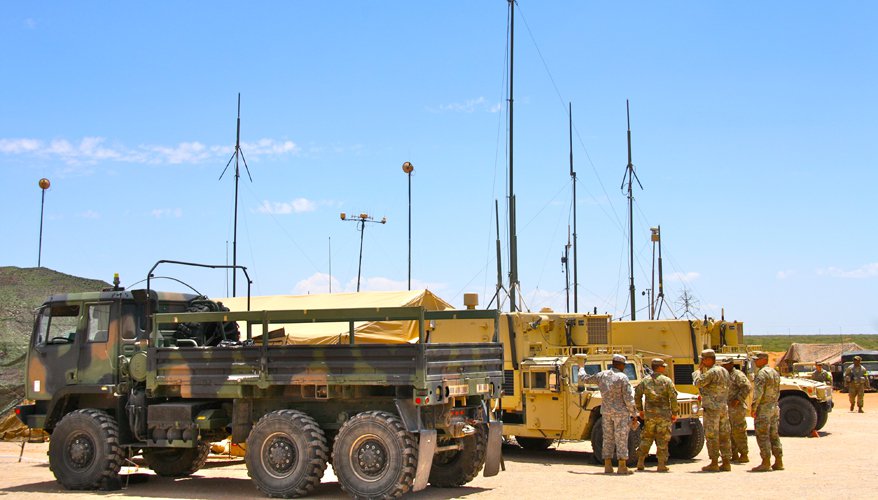 Photo: Stew Magnuson
FORT BLISS, Texas — It was a toasty 105 degrees in the Southwest desert when the Army hosted its media day for the Network Integration Evaluation 17.2.
Members of the 101st Airborne division's 2nd brigade hid their vehicles out amongst the so-called "chia pets" — the clumps of sand and vegetation that turns what should be a flat and featureless desert into a maze of mini sand dunes. They provide cover for friend and foe alike. Conditions like this make communicating using hand signals all but impossible. Radio links here become vitally important.
It's just one of many reasons that the Army comes here once per year to test out new and emerging network technologies at the NIE. Fort Bliss and the adjoining White Sands Missile Range in New Mexico is one of those rare spots in the continental United States where units can engage in electronic warfare without having to worry about interfering with civilian networks. The Federal Aviation Administration has no jurisdiction over its skies. Units can fly unmanned aerial vehicles here without needing FAA authorization.
Both signal jamming and UAVs with improvised explosive devices strapped to them are part of this year's scenario, Brig. Gen. Joel Tyler, commanding general of Joint Modernization Command, said during a briefing in a decidedly cooler hotel conference room near the El Paso airport.
The red team receives training from Army intelligence units prior to the exercise and the goal is to give them the "best in breed" of what the bad guys have to attack U.S. forces. And those lately are non-kinetic weapons.
While the Southwest desert is often used as a stand-in to train U.S. forces heading to the Middle East, a much different environment is on the minds of Army leadership of late.
"If you look at what's happening in Eastern Europe, some of the folks over there have used battalion-sized groups and augmented them with electronic warfare capability, unmanned aerial systems, cyber elements — some of those supported from the home country," Tyler said.
The fact that the enemy can reach out and attack a small Army unit from higher echelons thousands of miles away through the network is not lost on senior leaders. The year 2014 looms large as Russia effectively used electronic warfare and cyber attacks to damage Ukrainian forces' ability to carry out command and control. New technologies being introduced at the NIE will have to withstand the red force's EW and cyber assaults.
It is also a test of how these proposed communications systems work in austere and mobile environments. Ukrainian generals complained that as soon as they sent out radio communications, Russian artillery would soon rain deadly fire on their location.
Army Chief of Staff Gen. Mark A. Milley has said that the days of the service enjoying comfortable forward operating bases are over. The Army will have to operate in contested environments and staying in one spot for a long time may prove deadly.
The 101's second brigade appears to be just what Milley ordered. It fights as a light strike and air assault unit in austere environments without tanks and heavy fighting vehicles. It relies on speed and stealth to achieve its objectives, with support from Army rotorcraft that move troops and operations centers into or close to enemy territory.
It has to set up its communications network quickly — in hours not days. In one briefing, officers explained how there is no "single point of failure" when it comes to command and control. If an operations center suffers a "catastrophic" loss, the network moves to another node.
Every NIE is different, briefers pointed out.
Prior exercises used a Fort Bliss-based brigade that did exclusively test and evaluation. The Fort Campbell, Kentucky-based air assault division is the first to be sent here to the NIE after just finishing a nine-month deployment to Mosul, Iraq, where it set up bases in support of Operation Inherent Resolve. About a quarter of its troops served there.
Beginning in March, they began training with the new equipment that the Army hopes will be a part of its network.
The NIE has evolved. It was at first dominated by vendors who brought their communications wares for soldiers to use. They groused when the exercise failed to score them big contracts. Unless they were hiding behind a "chia pet," there wasn't a vendor to be found at this NIE.
A 2014 Government Accountability Office report criticized the Army for bringing immature technologies to the exercise and for not having a strategy to buy anything. The 2017 NIE, however, featured well-known communications technologies associated with programs of record such as new increments of the Warfighter Information Network – Tactical and terminals that connect to the Navy's Mobile User Objective System communications satellites. These will be used in one form or another in the future. (See stories about these systems and others featured at the NIE in upcoming issues of National Defense.)
Other gadgets were brought to the NIE by the Army's rapid capabilities office and other institutions that vetted them in advance. They will be expected to work through live fire, cyber and electronic warfare, air assaults and in urban scenarios, Tyler said. Soldier feedback is key, with the everyday users providing input that goes into the reports sent to Training and Doctrine Command.
"We don't want to put a piece of equipment in soldiers' hands unless they have been able to test it. Because soldiers will break stuff and break stuff in very creative ways. But they will also be able to innovate," he said.
"This is our ability to be the Consumer Reports for the Army," Tyler added.
Correction: previous version of this story misspelled Brig. Gen. Joe Tyler's name.
Topics: Infotech, Technology Tomorrow