ONR Chief: Navy, Marine Corps Must 'Amp Up' Tech Development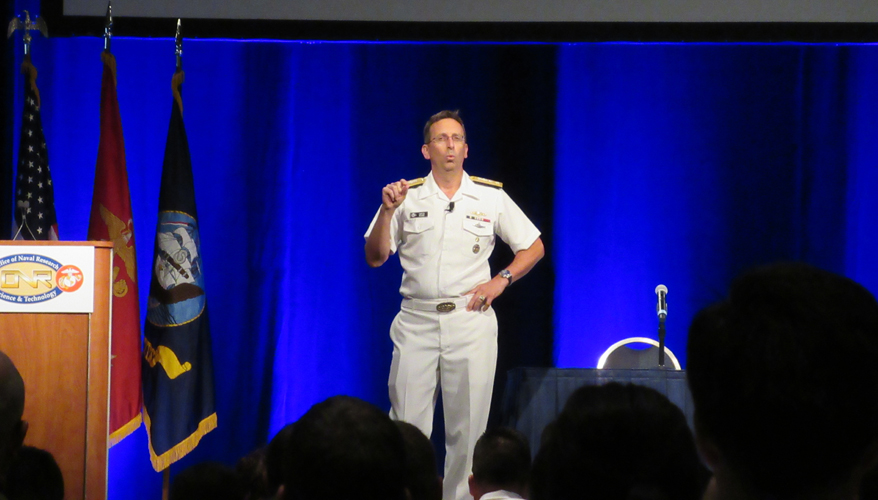 Rear Adm. David Hahn
Photo: NDIA
The Navy and Marine Corps must increase the speed of fielding new technology if they want to keep up with global competition, the chief of naval research said July 20.

Rear Adm. David Hahn, who took the helm of the Office of Naval Research late last year, said the organization's network of innovation is comprised of government officials, industry and academia. It's that "secret sauce" that keeps the organization relevant.

"The strength of … our organization is the network that it has created over time in its seven decades of existence," he said during remarks at ONR's Naval Future Force Science and Technology Exposition. "Now the question that I have to ask … is how well do those networks operate today? And my hypothesis is that we can make these networks operate a little bit better."

There is a need to "amp up" the network so it develops and produces technology faster, he said.
During the exposition — which was held at the Walter E. Washington Convention Center in Washington, D.C. — ONR released updated strategic guidance through an addendum to its Naval Research and Development Framework that aims to better streamline the acquisition process.

"This new framework reflects a change in thinking about how all of us in naval research must work together to accelerate capabilities to the warfighter," Hahn said. "It outlines how we align research to naval priorities, allocate our investment portfolios and accelerate decision-making to speed business execution."

Hahn noted that the biggest challenge to equipping ships, submarines, airplanes and Marines on the ground with new technology are burdensome processes that bog down personnel.

If the pace of military innovation could be compared to music, it would be the clicking of a metronome as it plays a beat, he said.

"It's that metronome that's clicking along that tells us how we should be tapping our foot," he said. "That metronome is moving too slow for the world that we live in."

The military cannot afford to acquire technology the same way it has for the last 20 to 30 years, he said.

Hahn said he sees the Navy's fleet stretched thin globally and in need of modernization. Despite that demand, "we don't have the availability … to inject capability at the speed it's being created."

What is needed is a streamlined process that quickly moves a technology from the conceptual phase to actual fielding. "The more friction we put in that system — and today there is a lot of friction — we sub-optimize our ability to be first to field," he said.

Spurring inprovement will require behavioral changes, operational changes — but most of all — a change in thinking, Hahn said.

"It's not going to flip in a minute. It's not going to flip in a week or a month. It's going to take a while," he said.
Topics: Infotech, Navy News, Marine Corps News