Navy to Replace 70-Year-Old Berthing Barges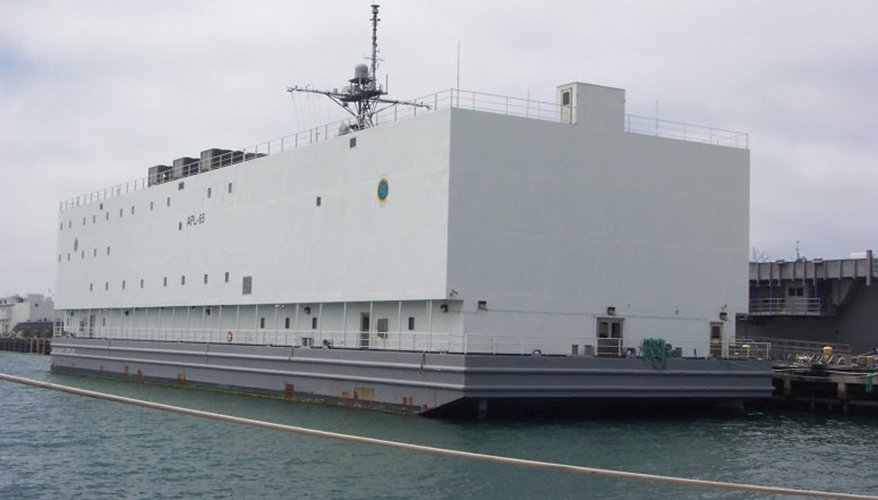 APL-65
Photo: Navy
The Navy this year will begin to replace some of its berthing barges that date back to World War II.

Naval Sea Systems Command plans to award a contract to build a new auxiliary personnel lighter-small with the option of procuring five additional barges in the following years, according to a service official. Congress has allocated $39 million for the first craft.

An auxiliary personnel lighter, or "berthing barge," houses crewmembers when their ship is in port or drydock undergoing maintenance — which can last months, said Dan Shimooka, NAVSEA's program executive officer for ships and principal assistant program manager of service craft and seaborne targets. The lighter serves as a nearby and convenient berthing vessel for a ship's duty crew, who must stay close enough to respond to emergencies.

The Navy has two types of auxiliary personnel lighters — large and small.
Unlike ships, "the U.S. Navy procures service craft at a slower rate and on an as-needed basis," said Shimooka, adding that the new lighter will replace a 70-plus-year-old barge currently in service.

The Navy currently owns and operates about 70 berthing and messing barges, some of which, including auxiliary personnel lighters, were built during World War II, Shimooka said. Thirteen of the 17 auxiliary personnel lighters are entering their seventh decade in service.

"The old [lighters] are conversions of World War II-era personnel transport vessels and were originally designed for short-term transport and not to support crews of ships undergoing maintenance or modernization availabilities," a NAVSEA statement said.

Other variants such as the repair, berthing and messing barges were built in the 1980s, Matthew Leonard, a NAVSEA public affairs official, said in an email.

The new auxiliary personnel lighters-smalls will replace the older barges, which are located at various naval bases including Norfolk and Portsmouth, Virginia; San Diego; Bremerton, Washington; Mayport, Florida; Pearl Harbor, Hawaii; Yokosuka and Sasebo in Japan; and Guam, he added.

The last two auxiliary personnel lighters procured by the Navy were placed on contract in August 1998 and delivered to the Navy in November and December 2000, respectively.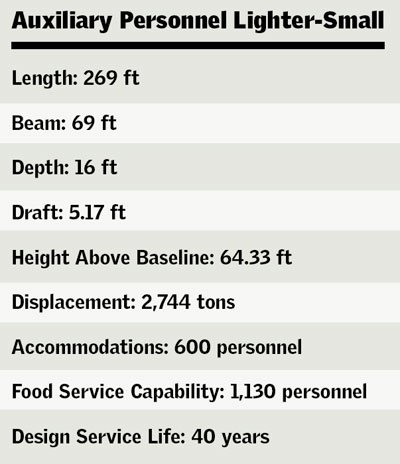 The small lighters are 269 feet long, with a 69-foot beam, a draft of 5.17 feet with a displacement of 2,744 tons. They can accommodate 600 personnel. The large variants are 360 feet long, with a beam of 90 feet, a draft of six feet and a displacement of 4,680 tons fully loaded. The large variant can accommodate approximately 1,000 personnel and feed up to 3,020 personnel each day.

The new auxiliary personnel lighters will appear similar to APL 65, which was delivered to the Navy in 2000. APL 65 has onboard facilities and services such as a post office, barber shop, bank, classrooms, laundry, medical facilities and a fitness center.

Unlike a ship, the APL barge has no endurance rating and is entirely dependent on facilities and amenities at the naval or civilian port. It draws all its utilities — sewage, water, electricity, gas — from sources on land. Except for a small sewage receptacle, the large and small lighters have no onboard tanks, no weapons, bridge, or engines, and must be towed to their desired pier location and permanently moored.

Since all utilities are connected to the pier, the lighters can function indefinitely with the only real limit being the amount of food that can be stored in their walk-in refrigerators and freezers, according to information provided by NAVSEA.

The new lighter will be capable of serving 1,130 personnel three meals per day. Separate mess rooms will be provided for officers, chief petty officers and enlisted personnel.

The Navy conducted a study to determine the feasibility of converting existing lighters, NAVSEA said. However, this option was determined to be unfeasible due to structural deterioration, design limitations and lifecycle cost considerations. The six lighters to be replaced are over 70 years old and have reached the end of their service lives, it added.

They have low overheads, restricted passageways and berthing, insufficient messing, minimal administrative and training spaces, steep single-direction ladder wells, are unable to support local area network requirements and are maintenance intensive. In addition, they are not designed for dual-gender crews, NAVSEA said.

The new lighter will take advantage of modern construction methods and include up-to-date technologies, NAVSEA stated. They will be designed and constructed with a focus on maintaining affordability and lowering overall lifecycle operations and sustainment costs.

They will feature energy-efficient appliances and equipment throughout to include: heating and air conditioning systems, cooking, washing and food refrigeration equipment, and LED lighting. The new craft will also include modern network cabling to support the temporary transfer of computer equipment from ships to the lighters, NAVSEA said.

The command estimates the new lighter, designated as APL 67, will be built in 18 months but the follow-on craft will be delivered in 12-month cycles.
Topics: Shipbuilding, Navy News, Maritime Security