Software System Could Detect Swarming Boats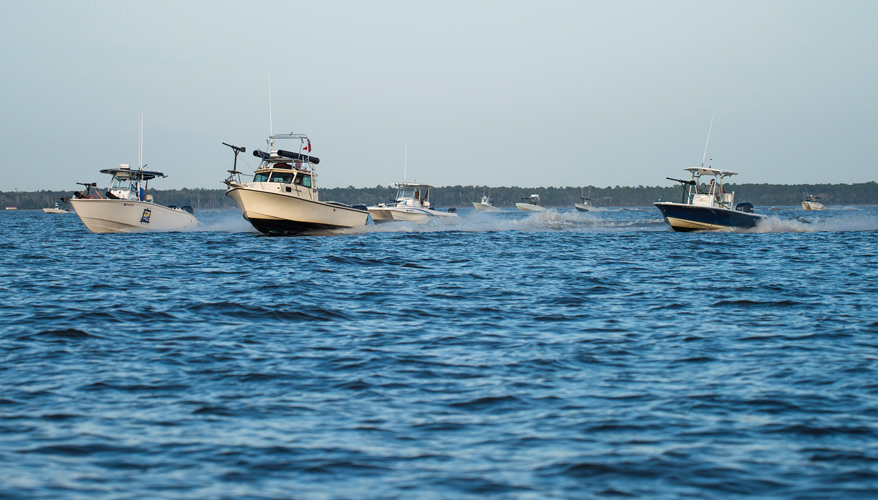 Photo: Air Force
Swarms of armed, fast-moving boats have the potential to attack or overwhelm Navy ships, but a product being developed by Northrop Grumman could detect such threats quicker, one executive said.
The system, called the Blue Wide Area Situational Processor, or Blue WASP, uses data collected by existing sensors and radars onboard a vessel to track if nearby ships are potential threats, said Sean Love, director of business development at Northrop Grumman Mission Systems' intelligence solutions division.
An operator monitoring radar may be looking at thousands of blips on a screen each representing a ship, he said.
"But what if we can very quickly identify potential threats on the horizon in an area where the operator isn't necessarily focusing because they are so far out?" he said.
By doing that, Blue WASP can more quickly identify potential threats — such as swarms of vessels or suicide boats — giving sailors more time to react, Love said.
During a recent test simulating a swarming attack, the system was able to identify threats 40 percent faster than a typical operator would, he said.
Northrop is currently concentrating on U.S. customers and has been working with a variety of different users to refine the system, he added.
"In some cases we're working through what I would call pilots, in others cases it's really, 'Hey, this is something that we think is applicable, we'd like you to try it out and provide us feedback,'" he said. Northrop is not necessarily "looking to shrink wrap this and put it on the shelves at Best Buy. … It's not a one size fits all. It really is something that we're continuing to adapt."
The purpose of Blue WASP isn't to replace the operator, but to help them make decisions faster, Love said.
"If you have, say, five cigar boats all in different areas of the water and they start to look like they're going to make a formation, or they are all starting to move in tandem toward the ship, those are things that an operator wants to pick up on as quickly as humanly possible so that they can react," he said.
While Blue WASP is focused on the maritime domain, Northrop is also looking to extend its technology to land and air applications. The company has already conducted some lab testing in those domains, he noted.
Tracking space debris could be another useful employment of the system, Love said.
"When you're looking at launching a satellite … understanding where that space junk is is very, very important," he said.
Northrop plans to conduct lab tests for space applications later this year, he added.
Topics: Network defense, Navy News