TRANSCOM Chief Would Like Driverless, Pilotless Logistics Vehicles Now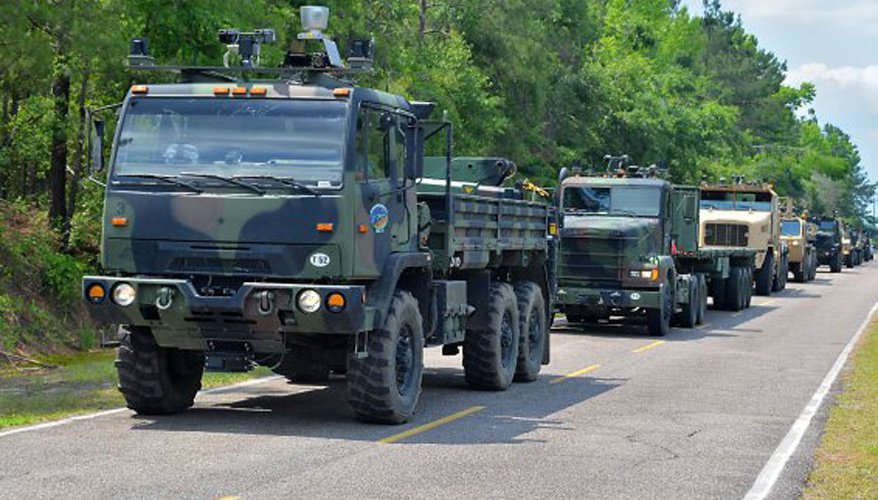 Unmanned military vehicles.
Photo: TARDEC
SAN ANTONIO, Texas -- The leader of U.S. Transportation Command said June 6 that if he had the choice, he would introduce autonomous logistics vehicles to his fleets today.
"It's not if, it's when," Air Force Gen. Darren W. McDew, commander of TRANSCOM, said of the move to driverless vehicles. "If we could do it tomorrow, I'm ready," he said at the GEOINT conference in San Antonio, Texas.
It is becoming more difficult to recruit people to operate manned vehicles, he noted.
"I'm not sure what happened to the young men and women who grew up like I grew up," he said. "There were people in my neighborhood who wanted to be truck drivers, or wanted to sail on ships."
Those kind of jobs are not appealing to today's youth, the command is discovering. "We are starting to see shortages show up in pilots, and mariners and truck drivers."
He cautioned that any robotic fleet would have to have robust cyber protection. Just like armor on trucks is used to protect "flesh and bone," cybersecurity would be vital to protect the technology.
"We've got to look at that new force and protection in a different way," he added.
McDew echoed what many senior military leaders are saying recently: that the future of warfare may be changing, and it won't look like the kind of fights the nation has engaged in during the last 16 years in the Middle East. That area of operation for TRANSCOM is "mature." It can do the sustainment of forces there "in its sleep," he said.
"What happens when we face a potential adversary that can match us with technology? Maybe surpass us in numbers?" he asked.
Everyone in senior Defense Department leadership understands the limits the U.S. military will face if it goes up against one of these near-peer competitors in a contested environment, he said. "What is not clear is what we will do about it."
Logistics need some of the time, attention and innovation the Pentagon is seeking to take on this challenge, he said. If not, "we will be the best landlocked, [continental U.S.] military the world has ever known."
If the Trump administration truly wants to build up the military, McDew asks only that it not "neglect the foundation," he said, referring to logistics. And there must be an acknowledgement that much of this foundation exists outside the Defense Department in the commercial logistics world. "That is now also part of national security."
Because TRANSCOM employs both military and commercial logistics systems, McDew is equally focused on what U.S. Cyber Command does as he is on what the Department of Homeland Security or the FBI does. "And that chasm is not a small one," he said.
"We are somewhat vulnerable in the cyber domain, primarily because we are the link between the dot.mil and the dot.com," he added.
The commercial logistics industry the command relies upon is part of its DNA, he said. The command conducted a recent war game to better understand its network vulnerabilities. It showed him that cybersecurity was at the top of his list of challenges, he said.
Topics: Unmanned Ground Vehicles, Land Forces, Logistics, Logistics and Maintenance