New Flat Panel Satellite Antennas Hitting the Market (Updated)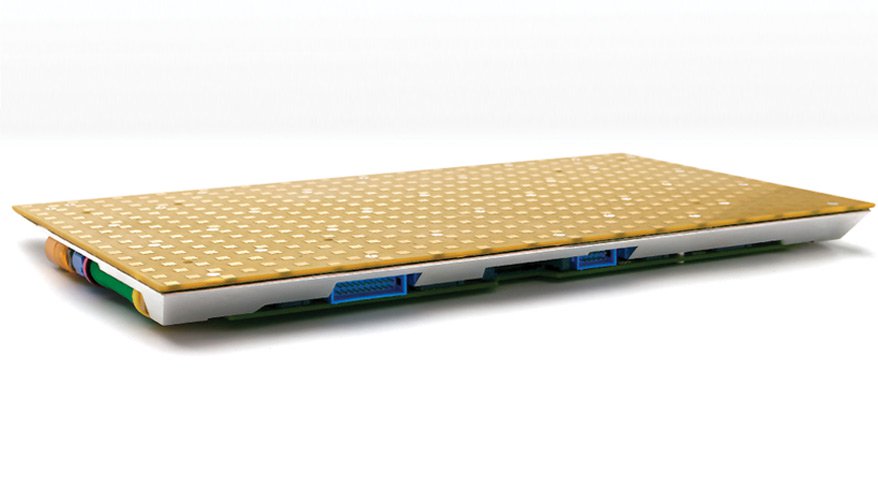 Phasor's flat panel antenna technology
Photo: Phasor Inc.
A pair of startups are poised to introduce radically new satellite antennas that have the potential to alter the look of military air, land and sea platforms.
Electronically steered flat panel antennas are intended to replace the round, parabolic receivers/transceivers that jut up from ships, command-and-control vehicles and aircraft.
"The low profile I think is going to be attractive to the government market," said Mark Daniels, vice president of new technologies and services for Intelsat General, a wholly owned subsidiary of Intelsat.
Intelsat is not developing or manufacturing the new wave of antennas, but is investing in at least two companies that intend to introduce the new technology within the next year: Phasor Inc. of Arlington, Virginia, and Kymeta Corp. of Redmond, Washington.
The commercial communications satellite giant has been launching powerful new satellites that are capable of exponentially higher throughputs than previous spacecraft. Taking advantage of the higher throughputs will require increasing the radius of the traditional antennas, which many current and potential customers can't do because of size, weight and power restrictions, Daniels explained in an interview.
Intelsat needs to invest in companies pursuing flat panel antennas in order to open up new markets and allow existing customers to increase their throughputs, he added.
One of those potential markets is small business-class jets. The radome that protects the parabolic antenna from bird strikes and makes it more aerodynamic has to be part of the structure of the aircraft.
"The bigger they are, the more they stick up and the worse they are for aircraft," he said.
Flat panel antennas are scalable and since they are flat, there are no aerodynamic or bird-strike problems. "On top of a fuselage, you can get throughputs higher than what you get with parabolics," he said. "It opens up an entire new market for Intelsat to address."
Phased-array antennas are another means that the military can use to transmit and receive communications on aircraft. They are flat and spread out — as the name suggests — in an array. However, they require mechanical means to move the antennas to track the satellite.
Daniels said the new flat panel antennas don't have moving parts. They keep track of satellites electronically.
"The parabolics that are on land vehicles today are pretty beefy to withstand the environment," he said. That requires expenses for upkeep. "They do have to be pointed, with motors and gears and sometimes those things fail," he said.
Krishnan Haridasan, senior manager of new solutions and services at Intelsat General, said flat panel antennas also have some advantages for non-mobile communication systems.
When used by special operators, the intelligence community or others who need satellite connections in austere environments, parabolic antennas take a long time to set up, must be carried in multiple cases and require some technological skill on the part of the user.
That goes for first responders and those who provide humanitarian assistance as well, he noted. Low size, weight and power and higher performance have been the "Holy Grail" for those who need to set up communications where local systems have been knocked out, Haridasan said.

Kymeta's flat panel antenna (Photo: Kymeta)
The two companies have slightly different approaches for the technology and are pursuing somewhat different markets.
Kevin Walsh, chief financial officer at Phasor, said customers are looking for more and more data throughput.
"We are really aiming for the enterprise market— trains, buses, cruise ships — rather than the consumer level applications where the requirements and the cost point are lower," he said in an interview.
The company wants to launch its line of antennas by the end of the year, he said. The aerospace markets will take a bit more time because of required Federal Aviation Administration certifications.
Phasor is looking for partners to help it integrate the panels on different vehicles.
Phasor hasn't set pricing, but its flat panels will probably be around the same price point as existing antennas, but with all the additional gains achieved from the improved performance, reliability and lower cost to install, Walsh said.
Plus, there are the visual impacts. "On a yacht [parabolics] don't look particularly nice. And they can get blown off and damaged," he said.
"It is absolutely something that will appeal to government customers as well," he added.
Daniels suggested applications for clandestine activities. "We expect that there are going to be classes of users that may want to have vehicles where you don't even know that the antennas are installed."
David Kervin, general manager and vice president of Kymeta Government Solutions, said: "If you think about going from a telephone sitting on a desk with a dial on it and jumping straight to the iPhone 7 with nothing in between, that's kind of what we are talking about here."
David Lamme, program manager at Kymeta, said the technology works by creating a holographic beam on the surface of the antenna made out of a metamaterial. The material steers the beam and allows it to continuously track the satellite.
"It does it very rapidly without any moving parts," he said.
Kymeta is focused on making the metamaterial less expensive so it can penetrate the consumer market. It is in a partnership with Toyota, which wants to beam software updates to cars, data back up to communications satellites, and deliver entertainment options not possible with terrestrial networks, Kervin said.
Along with consumer vehicles, other targeted markets are train companies, the maritime industry and commercial trucking companies. All the "centers of gravity" in the military that need satellite communications are also potential customers, he said.
Kymeta's antennas are in limited release this year with full volume production slated for next year, he said.
Correction: A previous version of this story incorrectly stated that the two companies were not planning on pursuing the military market from the outset.
Topics: Small Business, Battlefield Communications