Future Weapons: Rivals Push Pentagon to Boost Funding for Hypersonics Research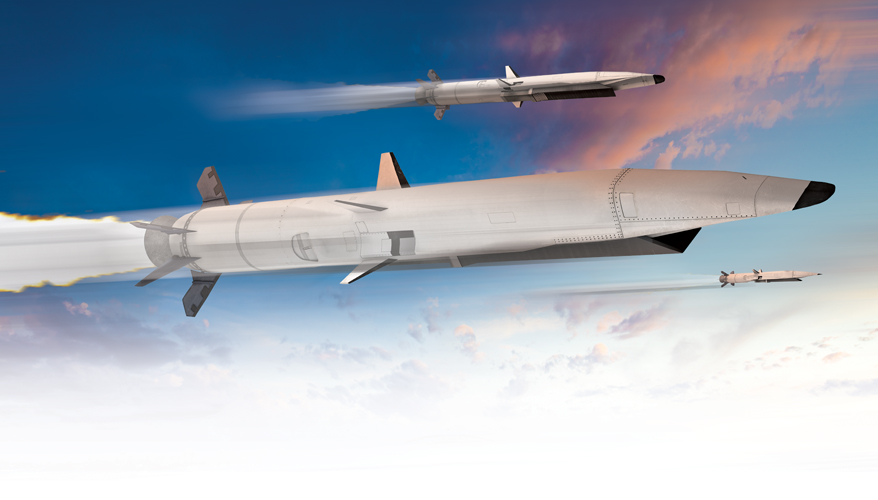 Art: Scott Rekdal, Turbosquid, Getty
The Defense Department is seeking more funding to invest in hypersonics programs as China and Russia make their own push to develop the game-changing technology.

The proposed investments include funding for both offensive weapons, and the means to defeat them should these near-peer competitors succeed in creating missiles or aircraft capable of reaching speeds higher than Mach 5.

"We, the United States, do not want to be the second country to understand how to control hypersonics," then-Acting Assistant Secretary of Defense for research and engineering Alan Shaffer said in 2014.

The Air Force — joined by the Army, the Defense Advanced Research Projects Agency and several defense contractors — has long been working to develop precision munitions and aircraft that can fly at or above Mach 5, or five times the speed of sound.

Meanwhile, military leaders and analysts have warned that countries including China and Russia have beefed up spending on hypersonic development and testing in recent years.

Pentagon leadership has identified hypersonics as part of the "third offset," a list of leap-ahead technologies that will help the U.S. military maintain its edge against potential rivals. Hypersonic platforms have the potential to penetrate robust air defenses as their high rates of speed would make them difficult to stop. China and Russia are aware of this as well.

In one of her first public speeches as Air Force Secretary, Heather Wilson called for the need to "innovate faster and turn tighter" on emerging technologies including hypersonics.

"I think all of us are concerned about … the pace of innovation that's taking place in the countries of potential adversaries," she said at a recent Air Force Association event.

The Trump administration's 2018 budget proposal for the Missile Defense Agency included $75.3 million for "hypersonic defense activity" that would allow the MDA to increase hypersonic defense systems engineering activities, technology demonstrations and risk reduction, said Chris Johnson, the agency's director of public affairs.

"Activities will include completion of a defense against hypersonics [analysis of alternatives], capability roadmap development and initial investment in sensor technology demonstrations and weapon concepts to address the advanced threat," he said in an email.

The budget request came in response to a 2017 National Defense Authorization Act requirement to establish such a program. A 2016 report by the Air Force Studies Board titled, "A Threat to America's Global Vigilance, Reach and Power — High-Speed Maneuvering Weapons," found "no formal strategic operational concept or organizational sense of urgency" existed to respond to the challenges posed by hypersonic weapons and other emerging technologies.

Chinese researchers conducted three high-profile tests of the Wu-14 hypersonic strike vehicle in 2014 and an additional two flights in 2015, according to a 2016 Mitchell Institute for Aerospace Studies report titled, "Hypersonic Weapons and U.S. National Security: A 21st Century Breakthrough." Russia has also reiterated its plan to test a new hypersonic weapon by 2020.

In a June hearing before the House Armed Services Committee, Vice Admiral J.D. Syring, Missile Defense Agency director, called for the need to develop additional defensive capabilities to curb the efforts of adversaries abroad, noting that both China and Russia announced successful hypersonic glide vehicle launches in 2016.

"To address the hypersonic threat, MDA will perform sensor and weapon technology demonstrations from radars, high altitude drones and then in a space layer," he said, adding that the agency plans to execute a series of ground, airborne and space-based technology demonstrations to track advanced hypersonic threats.

This move to boost the development of defensive capabilities against hypersonic weapons signals "a real shift in the threat environment" that is driving both the need for offensive hypersonic vehicles and defensive systems, said Todd Harrison, director of the aerospace security project at the Center for Strategic and International Studies, a Washington, D.C.-based think tank.

Research and development for offensive hypersonic technologies has been ongoing for decades "at a relatively low level," Harrison noted. "And it seems like now, based on whatever intelligence assessments they are receiving, the military seems to be getting very serious."

In 2012, the Air Force spent just under $79 million on hypersonics science and technology efforts. It requested over $292 million in the 2018 presidential budget for hypersonics S&T, including $90 million for prototyping, according to the Air Force.

Efforts are focused on developing technologies for a high-speed strike weapon that could be launched from fighters and bombers and fly at hypersonic speeds to their intended target on the ground. The Air Force Research Laboratory is partnering with DARPA and NASA on several efforts in that regard, including two flight demonstration programs called the hypersonic air-breathing weapon concept, or HAWC, and tactical boost glide, or TBG.

The programs reflect the two current development approaches to hypersonic weapons and vehicles. The boost-glide method involves a rocket lifting a vehicle into the atmosphere, then releasing the glide vehicle to reach Mach 5 and higher speeds upon descent. The Army's Space and Missile Defense Command tested a demonstrative long-range glide vehicle called the advanced hypersonic weapon in 2011, but the service did not comment on any present hypersonic development activity.

The other approach is placing a propulsion system such as a supersonic combustion ramjet, or scramjet, aboard a long-range cruise missile-type vehicle that could then fly at speeds up to 15 times the speed of sound, according to NASA.

DARPA and the Air Force Research Laboratory's munitions directorate both declined to comment on either program. Lockheed Martin, who is partnering with the agencies on the HAWC program, and Raytheon, who is assisting with tactical boost glide, also declined to comment.

Hypersonics became a major focus for AFRL in the mid 1990s when then-Air Force Secretary Sheila Widnall pushed for the creation of a technology program to forward its advancement, said Bob Mercier, chief engineer for the high-speed systems division for the aerospace systems directorate at the Air Force Research Laboratory.

The laboratory soon identified the near-term applications for the technology in weapon-type systems, and focused initial efforts in that arena, he said in an interview.

"But we've also been very cognizant of the mid- and far-term applications, where one might want to do something like an [intelligence, surveillance and reconnaissance] platform, larger-type weapons … and some reusability associated with that."

Between 2010 and 2013, the laboratory conducted several hypersonic flights with the X-51 Waverider, an unmanned scramjet aircraft jointly developed by AFRL, NASA, DARPA, Boeing and Pratt and Whitney Rocketdyne — now Aerojet Rocketdyne — Mercier said.

Two flights — one in 2010 and one in 2013 — reached speeds over Mach 5 for several minutes, with the 2013 flight setting a record for the longest ever air-breathing hypersonic flight to date, according to the Mitchell Institute report. The Waverider traveled over 230 nautical miles in just over six minutes after being released from a B-52 bomber, and its success "proved that scramjets were viable," Mercier said.

But there were still many questions left to be answered that were outside of the scope of the Waverider's flight test, including control and other aerodynamic issues, Mercier noted. To answer those questions, the Air Force Research Laboratory, together with NASA and Australia's Defence Science and Technology Group, began work on the hypersonic international flight research experimentation, or HiFIRE, program in 2006, he added.

The goal of the program is to perform several hypersonic flight experiments at a low cost, between $5 million and $10 million per flight, said David Adamczak, flight lead for the flight projects for the U.S.-led HiFIRE tests.

The team is currently preparing to perform a guided navigational control flight test by early July at the Royal Australian Air Force Woomera Test Range in South Australia, he said.

"HiFIRE 4 … will release two free-flying gliders and do some maneuvering," he said. One guidance-and-control system is being developed by Boeing and the Defence Science and Technology Group, and the other is being built by BAE Australia and DSTG, he noted.

The HiFIRE program cost $94 million, jointly funded by the United States and Australia's air forces, Adamczak said. It is scheduled to run through 2018, but is expected to be extended to continue running flight tests, he added.

The Air Force Research Laboratory anticipates fielding a weapon system that would allow the military to operate in an anti-access/area denial environment by sometime in the 2020s. A large weapon system or a non-reusable ISR or strike-type platform that can be air-dropped, like Lockheed Martin's 1970s-era D-21 reconnaissance unmanned aerial system "on steroids," could be ready in the 2030s, Mercier said.

Far-term goals include developing a vehicle that could take off from a runway to perform ISR or strike activities by the 2040s, and later enabling access to space by an air-breathing vehicle, which "is out there even further," Mercier said. "But if you don't have a long-range plan, you don't make the progress that you want."

Industry is moving ahead to develop its own hypersonic vehicles. Lockheed Martin's secretive Skunk Works unit revealed in 2013 its aim to develop a scaled demonstrator of the SR-72, which would be a successor to the Air Force's retired SR-71 Blackbird spy plane.

At a recent conference in Denver, Colorado, Lockheed's executive vice president and general manager for advanced development programs Rob Weiss said in a speech that Skunk Works was pushing to fulfill the Air Force's "need for speed."

"One of the jokes about hypersonics is it has been two years away for the last 20 years, and I can assure that we are ... at the point where this technology is finally mature," he said.

Weiss hinted to reporters at the event that work on key advances for a feasible hypersonic vehicle, including a combined cycle propulsion system, were nearing readiness levels, according to a report by Aviation Week. Weiss also noted that the air-breathing technology has been matured and that work is ongoing to demonstrate each capability before fielding.

Despite the promise and progress made on the Air Force's efforts, the United States is still years away from fielding a hypersonic weapon.

But Mercier said the Air Force Research Laboratory is "on track to be able to have the capabilities that we need for the Air Force," adding that the directorate is "in a good place" with regards to the president's 2018 budget.

"Could we do more with more money? Of course, but what we have is sufficient to meet the needs," he said. "We'll continue to make progress. We're in it for the long term."

There's always room for more investment with new technology development, but "it doesn't necessarily make the technology move any faster," Harrison said. "You have to wait for the first generation before you can build the second generation and the third generation, and so there are limits to how much you can speed it up with additional investment."

Harrison cautioned against the Air Force rushing to field any technology before it is ready.

"The best thing you can do in this stage is to put some money into R&D… until we have some sort of a hypersonic weapon system that's actually ready to field," he said.

"The last thing you want to do is try to rush something into production."

But the Air Force, DARPA and industry leaders will need to continue to make the case to lawmakers that hypersonic research and development deserves to be funded as members of Congress are looking to cut dollars to pay for other priorities, Harrison said.

"It depends to a great extent on how well the leadership in both the Air Force and DARPA and OSD explain the rationale," he said. "As long as they make the compelling case, Congress is likely to leave it alone."

In the Mitchell Institute report, authors Richard Hallion and retired Air Force Maj. Gen. Curtis Bedke said the recent advances in hypersonics by Russia and China "portend severe costs for the loser in this competition," noting that the United States would cede decades worth of investment, test, research and experimentation in the arena and face strategic vulnerability at the hands of the victor.