ROBOTICS AND AUTONOMOUS SYSTEMS
Textron Unveils New Tactical Unmanned Aircraft at Paris Air Show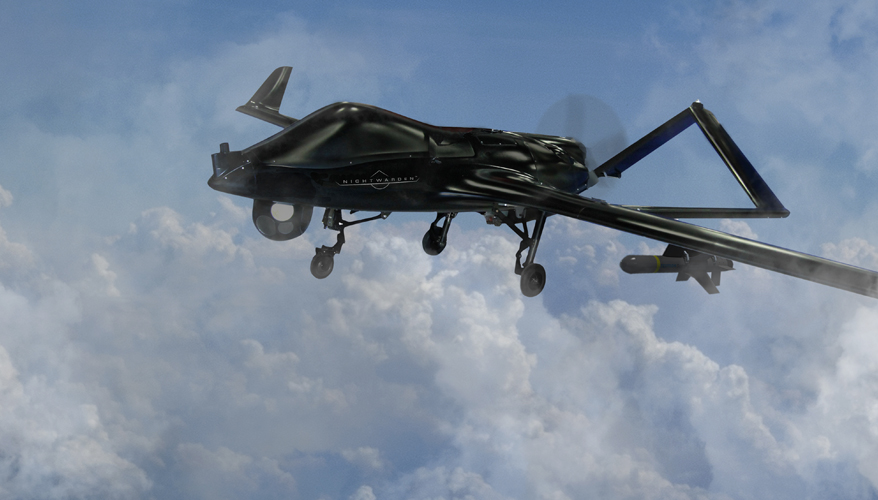 Nightwarden UAV
Photo: Textron
PARIS — A new tactical drone developed by Textron Systems could give warfighters enhanced capabilities often found in much larger systems, a company executive said June 19.

"Now more than ever, our customers need a platform that delivers more speed, more endurance and power," said Bill Irby, unmanned systems senior vice president and general manager at Textron.

The company is offering a new Group 3 unmanned aerial vehicle — known as the Nightwarden — to its customers, he said during a briefing at the Paris Air Show, which is being held at Le Bourget Airport. Group 3 aircraft weigh between 55 to 1,320 pounds.

The drone, which physically looks similar to the company's Shadow M2 platform, comes with enhanced flexibility and combat capability, making it a "next-generation" platform, he said.

The system has an extended range of 1,100 kilometers. It also has an optional satellite communication package that allows it to connect to controllers beyond line of sight.

That allows "the Nightwarden to have a capability that is common to much larger platforms such as a Group 4, medium-altitude, long endurance system," he said.

The UAV has a maximum takeoff weight of 750 pounds and a payload capacity of up to 130 pounds, Irby added. That allows for a number of packages to be installed, including various intelligence, surveillance and reconnaissance suites and payloads such as electronic attack, signals intelligence or communications intelligence. It can also be armed with weapons such as Textron's precision-guided glide munition Fury.

The Nightwarden also features a water-cooled rotary engine, he said. That "provides a reduced acoustic signature as well as increased propulsion performance and a greater electrical output over previous" Textron tactical unmanned aircraft, Irby said.

The system has an endurance of 15 hours, can reach speeds of 90 knots and can fly at an altitude of 16,000 feet, he added.

Textron has already flown the aircraft more than 400 hours and in front of a number of customers in the United States, Europe, the Middle East and the Asia-Pacific, he said.

"We're working with multiple customers right now," he said. "We're in discussions and we're in various proposal stages."

Gov. Larry Hogan of Maryland — who brought a delegation of Maryland leaders to the show — also spoke during the unveiling. He noted that the aircraft will be built in Hunt Valley, Maryland.

"Textron Systems took the experience and skills from their more than 1,400 employees and designed a product that will serve as the next-generation solution for warfighters around the world," he said.

The company has been an important economic driver for the state of Maryland, he added. It has created hundreds of jobs and supports more than 270 Maryland-based suppliers.
Topics: Air Power, Robotics and Autonomous Systems, Robotics