Sumo Wrestlers Inspire New Exoskeleton Tech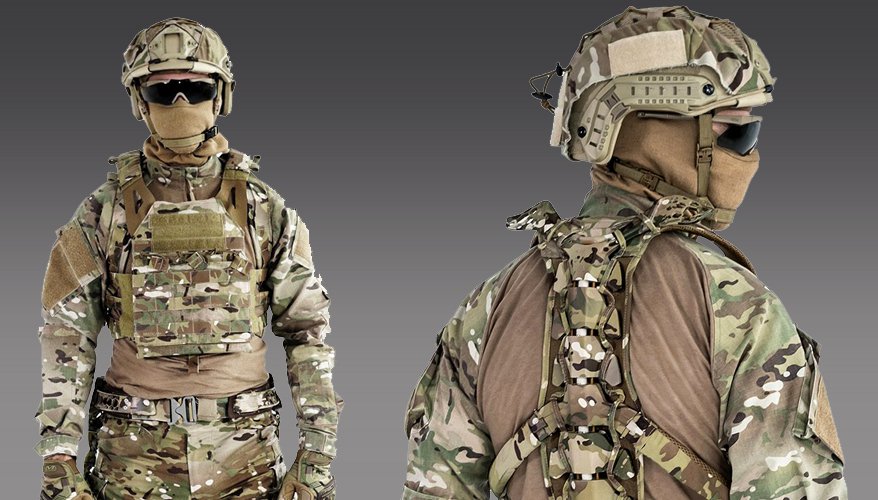 The ultra-light passive ruggedized integrated soldier exoskeleton
Photo: Mawashi
A new exoskeleton that takes its structural inspiration from nature could provide special operators with the support they need to conduct missions without bearing heavy loads.

Mawashi Science and Technology, a Montreal, Quebec-based research-and-development company, unveiled its ultra-light passive ruggedized integrated soldier exoskeleton, or UPRISE, system for the first time at the National Defense Industrial Association's Special Operations Forces Industry Conference in Tampa, Florida.

The system is designed for a three- to seven-day mission where traveling light and preventing injury are key, said Alain Bujold, president and chief technology officer.

"It's made to do what you were doing before, but now you're going to be able to do it a little better," he said.

UPRISE is battery-free and features a titanium support frame that lessens a soldier's burden by transferring 50 to 80 percent of the load from the shoulders down to the ground, according to Mawashi.

The system — which has been in development since 2005 — comprises a flexible spine and a sliding belt for rotational freedom around the waist, as well as ergonomic leg supports.

Soldiers and operators carrying heavy loads are prone to musculoskeletal injuries, and the goal of developing UPRISE was to protect against those injuries that can hamper their capacity in theater, Bujold said.

Mawashi scientists looked at obese men and women around the world who weighed between 300 and 700 pounds, particularly sumo wrestlers, to understand how they carry themselves, he added.

According to the laws of physics, one pound of fat weighs the same as a pound of ammunition or water, he noted. Some sumo wrestlers weigh 400 pounds or more.

"Nature showed me that you can carry 400 pounds, if you distribute the weight properly," he continued.

The UPRISE system uses mechanical levers that help balance the weight more evenly without a power source, and is strategically designed to imitate a human being's natural mechanisms for bearing loads, such as placing support on the inside of an operator's leg rather than the outside, Bujold said.

Work began on the current system in 2013. In the future, Mawashi will develop arm attachments for UPRISE, he said.

The company is looking to sell the exoskeleton to Special Operations Command and other branches of the U.S. military, as well as to NATO allied nations.

"Is it perfect? No, but it's probably one of the [exoskeletons] that makes the most sense for the need," he said.
Topics: Land Forces, International