Air Force Leader Warns Contractors About Proposing Proprietary Space Systems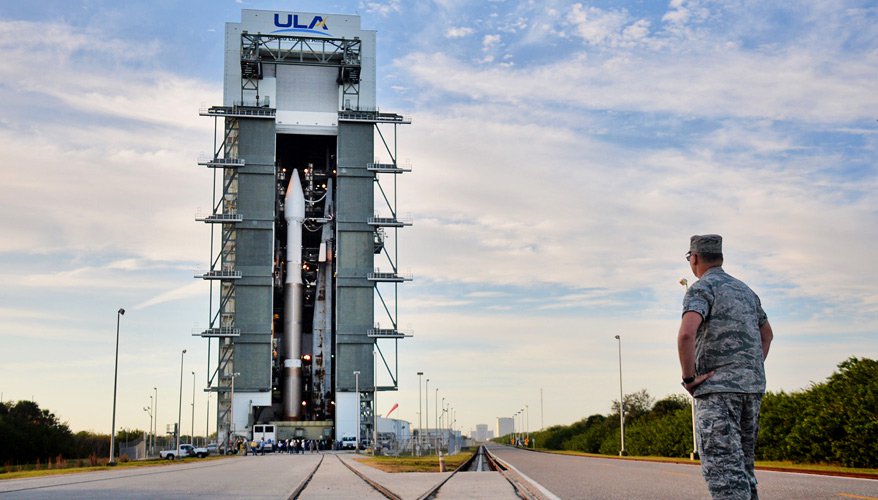 An airman looks on to the Atlas V rocket carrying the GPS IIF12 Satellite at Cape Canaveral Station, Fla.
Photo: Air Force
Companies whose proprietary space-related technologies can't plug into open system command-and-control architectures will not be able to win Defense Department contracts in the future, Secretary of the Air Force Heather Wilson said June 16.
Threats to U.S. military space systems are growing and space is now viewed as a warfighting domain, she said at a conference in Washington, D.C., which was hosted by FiscalTrak and the Mitchell Institute for Aerospace Studies. In this strategic environment, command and control is a top priority.
"We need integrated command and control so that … we can see what's out there, we can control what we're trying to do in that environment," she said. "If you can't control anything, if you can't command anything then you're not really going to be able to prevail and be resilient in space."
The president's fiscal year 2018 budget request includes funding for an integrated command center, she noted. The National Space Defense Center — previously known as the Joint Interagency Combined Space Operations Center — is located in Colorado Springs, Colorado.
"A lot of our space systems … were kind of one-offs or single constellations, and they had unique ground control and they weren't integrated as part of the system," she said. "In a very fast moving, dynamic environment you need to be able to have integrated command and control and not 12 or 13 independent systems with different people operating them."
She also issued a warning to industry. "If you're going to propose a space system in the future and it doesn't integrate into the integrated command center, which will be an open architecture, you're not going to win the bid. Period. Full stop," she said.
Wilson also announced that she approved the creation of a new position — deputy chief of staff for space operations. The post will be occupied by a three-star Air Force general whom she did not identify. That individual will be aided by a staff and will advise the Air Force secretary and the Air Force chief of staff on all space-related matters, she said.
The new deputy chief of staff will also lead the formulation, coordination, dissemination, implementation and execution of Air Force space policy, strategy and guidance.
"The intention is for this person to exercise oversight across the Air Force headquarters staffs so that we get uniformity and consistency of space-related requirements," she said. The general officer will look at resource allocation and make recommendations to Air force leadership, she added. "We are creating a strong senior space advocate within the United States Air Force."
The new directorate is slated to begin operating in early August.
Topics: Air Force News, Space Operations