Navy Eyeing Alternative Way to Beef Up Fleet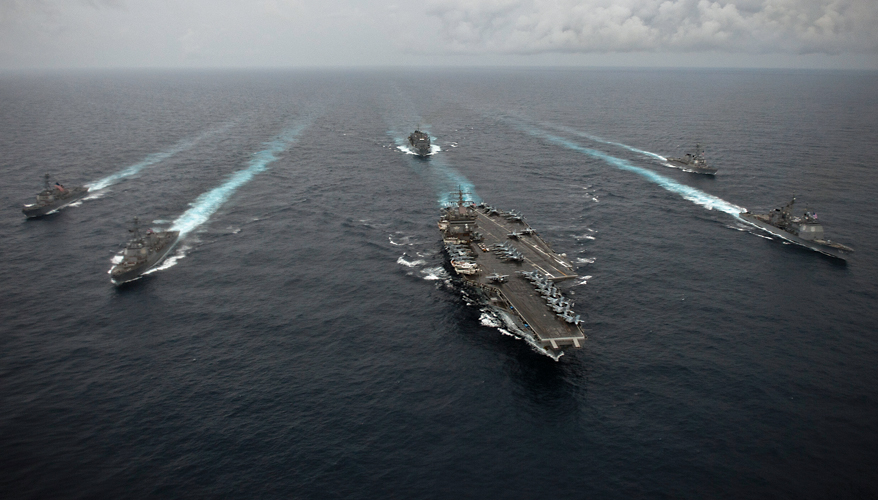 Photo: Navy
The Navy is considering a wide-ranging effort to extend the service life of its surface ships. Doing so could ultimately save money and enable the service to reach its goal of a 355-ship fleet more quickly, experts said.

The current force stands at around 275 ships and submarines. Keeping existing platforms in the fleet longer would enable the Navy to beef up much faster than it would be able to if it relied solely on bringing new ships online, said Vice Adm. Tom Moore, commander of Naval Sea Systems Command.

"One of the key components I think of getting out to the size of the fleet that we need is going to be looking at taking … [the ships] we have today and actually extending the service life," he said at a conference in Washington, D.C., hosted by the Center for Strategic and International Studies.

Most of them are expected to remain in the fleet for 30 to 35 years, he noted.

"We're taking a pretty close look at what would it take to get them out another five, another 10 years," he said. Additionally, new platforms should be designed to last longer, the NAVSEA chief asserted. "We ought to go to planned service lives of 40-plus years for all of our ships."

Recent force structure assessments project that the Navy wouldn't reach 355 ships until the mid 2030s or 2040s. But the service could move that timeline to the left 10 or 15 years with service life extensions, Moore said.

The Congressional Budget Office estimated that reaching the new force structure target over a 30-year period would cost the service an average of $26.6 billion in 2017 dollars per year for ship construction — more than 60 percent above the average amount Congress has appropriated for that purpose over the past 30 years, and 40 percent more than the amount appropriated for 2016.

However, the CBO assumed that all of the additional ships in the larger Navy would come from new construction, noted Bryan Clark, a naval analyst at the Center for Strategic and Budgetary Assessments.

"That combination of [service life extensions] and then new construction could mean that you could get to a larger fleet sooner and then with a little less cost," he said. "But you're still going to have probably … an approximately 20 percent larger shipbuilding budget being needed" to reach 355 ships.

A much larger fleet is expected to significantly increase operation and maintenance costs. Service life extensions could contribute to that cost growth, Moore acknowledged.

"The costs are … a little bit higher toward the later part of the stages of the life of the ship. But they're not astronomically higher," he said.

One way to help keep those costs under control is to make a consistent investment and do proper and timely maintenance throughout the life of the ship, he said. "If you do that then you won't have these major perturbations in the last five to 10 years of the ship's life."

Nevertheless, major increases in spending on operation and maintenance, and procurement would be required to grow the fleet, he said. "If anybody thinks we can get to 355 without having growth in both of those accounts, they're living in la la land."

The president's fiscal year 2018 budget request would increase spending on readiness, adding billions of dollars to the Navy's maintenance accounts, Moore noted. However, ship procurement funding would decrease slightly from about $17.4 billion to $17.3 billion, effectively delaying the start of a promised naval buildup.

Tom Callender, senior research fellow for naval warfare and advanced technologies at the Heritage Foundation, said it's understandable why ship procurement took a backseat. "For '18 it doesn't surprise me that we're not seeing a big jump up right away because … over the last several years the Navy got in a big readiness hole."

Callender anticipates a boost in funding for shipbuilding in the fiscal year 2019 president's budget request after the Pentagon completes an ongoing strategic review.
Topics: Budget, Navy News, Shipbuilding