TACTICAL WHEELED VEHICLES
Joint Light Tactical Vehicle Orders Poised for Growth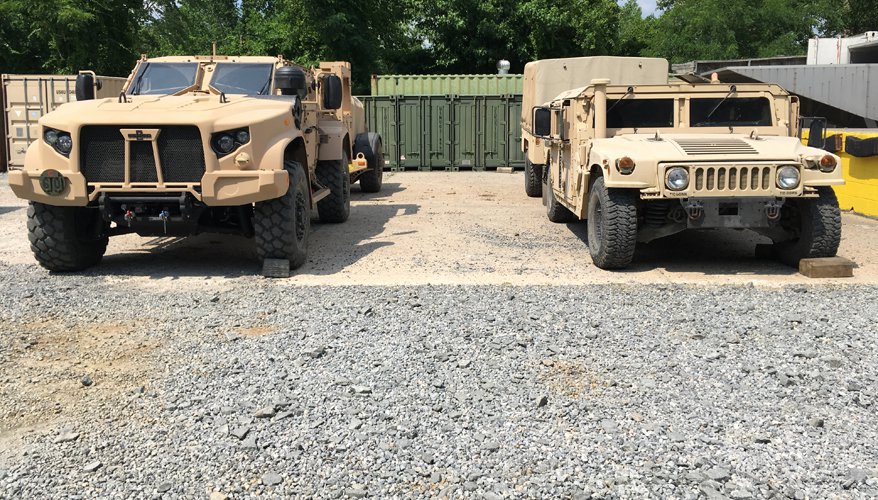 A JLTV (left) parked next to a Humvee (right) at Marine Corps Base Quantico in Virginia.
Photo: Jon Harper
MARINE CORPS BASE QUANTICO, Va. – Orders for the joint light tactical vehicle could increase significantly in the coming years as interest grows among Defense Department customers and overseas allies, program officials and contractor representatives said June 14.
The vehicle, known as the JTLV, is expected to replace a large portion of the Army and Marine Corps' Humvee fleets. Oshkosh Defense has been selected as the prime contractor.
The Pentagon originally planned to buy about 55,000 at a projected cost of $23 billion. But Marine Corps leaders recently said they want to acquire about 9,100 vehicles, a 65 percent jump from the 5,500 they had sought to purchase.
"There have been formal discussions" about changing the requirement, said Andrew Rodgers, program manager for light tactical vehicles at PEO Land Systems Marine Corps, who is working with the JLTV joint program office.
"The [approved acquisition objective] remains at 5,500. But the commandant and the Marine Corps would like to increase their quantities over the next couple years. We're working our way up to 9,092 vehicles," he told reporters during a media roundtable at Marine Corps Base Quantico in Virginia.
Formal changes to the acquisition target could be made in the next year or two, he said. The Marine Corps plans to finish procuring the JLTV in fiscal year 2022.
Dave Diersen, vice president and general manager for joint programs at Oshkosh Defense, said the company would not have difficulty accommodating an increase in production to meet growing demand.
"If the orders come in for higher numbers to support those volumes, we'll do so," he said. "We have the flexibility in our production lines … that we can actually increase the production to meet the requirements."
Although the vehicles were designed for the Army and Marine Corps, the Air Force is looking to equip its security forces that protect missile launch facilities. In its fiscal year 2018 budget request released last month the service requested $60 million to buy 140 JLTVs.
"We've had some very top level discussions with the Air Force," said Army Col. Shane Fullmer, program manager for the JLTV joint program office. "I don't think they've settled on types or quantities or anything like that. We've just had some overarching discussions," he said.
The Air Force has not yet voiced any specific requirements for new kits for the vehicle, he said.
"They might have some unique needs but our contract would accommodate that. … If they came to us and said, 'I have this other piece of kit that really needs to go on there,' we could design" one to fit the bill, Fullmer said.
"It wouldn't be overly complicated. … We can accommodate almost anything." The same is true when it comes to foreign military sales, he added.
Oshkosh Defense has been in talks with the Air Force about buying the vehicle, Diersen said. "They intend to get some and do some additional testing and evaluating," he said. "They're looking at JLTV. It just makes sense from a cost and performance perspective."
The vehicles are expected to cost about $250,000 each.
U.S. Special Operations Command has also expressed interest, Fullmer said. The joint program office has held talks with SOCOM officials, although they have not yet tested the vehicle, he noted.
The Army is looking to add a light reconnaissance vehicle to its fleet. The JLTV has been designated an interim solution, but the possibility of it becoming a permanent one has been raised.
"Right now the Army as an enterprise is examining what it wants both in the short term and long term for the … light reconnaissance vehicle," Fullmer said. "There are lots of different opinions out there which I'm not prepared to speculate on."
Army officials are still mulling requirements such as lethality, he noted.
"As soon as we finalize that we're going to get after it. We'll finalize an acquisition approach," he said. "I'm expecting it soon.
Foreign militaries are also interested in the JLTV, Fullmer said.
"U.S. allies have reached out to us and we've been in discussions with them. We don't really want to discuss exactly which countries because some of that is sensitive to them," he said. The joint program office has provided them data to support their decision-making, he added.
"This vehicle from the very beginning was produced with the potential for FMS sales," he said. It has "great potential for FMS but we're just still working the details."
The United Kingdom has already publicly expressed interest, noted John Bryant, president of Oshkosh Defense. "We've demonstrated it overseas for a number of potential international customers and we'll continue to do that," he said.
The vehicle is designed to provide much greater protection than the Humvee, while achieving better off-road performance than it or the heavily armored mine-resistant ambush protected vehicles (MRAPs) that were widely used in the wars in Iraq and Afghanistan.
There is almost a "universal need" among militaries around the world for a JLTV-type vehicle, Bryant asserted.
Foreign military sales could begin "almost immediately" if the U.S. government issued a waiver as part of the review process, Fullmer said. Overseas sales will become easier when the vehicle reaches full-rate production, currently slated for fiscal year 2019, he noted.
Oshkosh and the joint program office showed off the JLTV by inviting reporters to ride in the vehicles as they navigated obstacles along Quantico's severe off-road terrain course. Reporters strapped themselves in and gripped handrails as the vehicles climbed over rock piles, stones, timber logs and moguls while ascending a 40-degree incline and navigating a 60-degree downslope.
Although bumpy at times, the ride was relatively smooth given the nature of the terrain. The JLTV is equipped with an advanced suspension system with 20 inches of wheel travel that mitigates the impact for the vehicles' occupants, according to Peter Klema, an Oshkosh test technician who drove reporters around the off-road course.
Fullmer said: "If you're comparing it to how your SUV rides on the roads in D.C., it's a rough ride."
The JLTV is currently in low-rate initial production. Oshkosh has delivered more than 250 vehicles so far, Diersen said.
The Army and Marines expect to begin fielding the vehicle in calendar year 2019, and initial operating capability is slated to be achieved in fiscal year 2020, according to the joint program office.
Topics: Army News, Tactical Wheeled Vehicles, Land Forces