Lockheed Martin Plugs Into Energy Security Market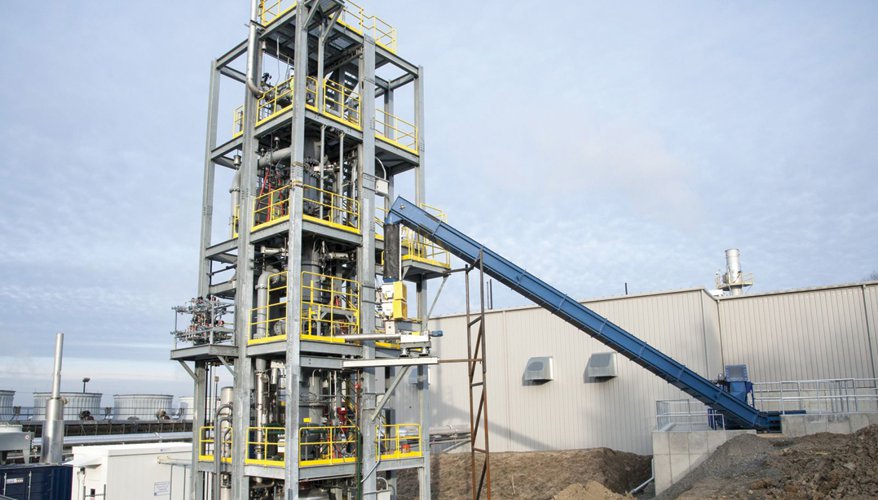 Lockheed Martin opened a bioenergy facility in Owego, New York.
Photo: Lockheed Martin
Lockheed Martin announced in March 2016 that it was consolidating its energy portfolio. A year later, that decision is paying dividends for the defense industry giant.

In its first full year of operation, the division doubled the amount of new orders of energy-related technologies, and has acquired new projects and programs, said Frank Armijo, vice president of Lockheed Martin Energy.
The company has been focused on developing energy-related technologies, including smartgrid and storage products, for the Defense Department and other government customers for decades, but chose to bundle its products and capabilities into a single line of business "to really see if we could garner some synergy and … make a difference in the industry," he said.

Energy security is coming to the forefront, a senior Defense Department official said.

Air Force Gen. Paul Selva, vice chairman of the joint chiefs of staff, said at a recent event that energy security is an issue that "we ought to talk about as a nation."

The grids and systems that power military networks in theater also supply energy for traffic lights, electricity and water, he noted. "Nationally, we should be paying attention to it because it's a national vulnerability.

"We're not going to rid ourselves of the necessity to have fuel for our vehicles. ...We're going to be in that business for a while," he said. "Securing the capacity to buy and move fuel around the world, to power our forces, is something we pay a lot of attention to.

He noted how expensive it is for the military to power and protect all of the grids needed to allow troops to operate around the world. "Would that we had a battery pack that could power the military," he said.

One of Lockheed Martin's most significant investments is in the energy storage field, Armijo said. The company is offering its own lithium-ion battery products and has won several contracts for them outside the military market in the United States and Canada.

The "biggest strategic play" for Lockheed is in coordinated chemistry flow battery technology, which can significantly increase the life of the battery and can be scaled for industrial storage, he noted. The company is developing a product that it hopes to offer commercially in 2018, he said.

Most lithium-ion storage products can only last for about four hours, while Lockheed's flow battery technology is intended to last six to eight hours, he said.

Traditional electrical grids provide power on the spot. If there is too much, the electricity is grounded and goes to waste. The advent of renewable energy, such as solar and wind, demands that the power deriving from these inconsistent sources be stored for later use. That requires large rechargeable batteries and smartgrid technology to manage the ebbs and flows.

"The reason that's so critical is when you think about variable, renewable technology, the challenge is everybody is using it in the middle of a hot summer day, but you still need it quite often in the evening," Armijo added.

Lockheed's flow battery technology is "at a price point that can save everybody [money] on their utility bills," he said.

The company is also expanding its bioenergy offerings. Last October it opened a new facility in Owego, New York, in partnership with Concord Blue — a Los Angeles-based energy company — that converts waste into synthesis gas, a fuel gas mixture that can then be used to produce electricity, hydrogen and biofuels, according to Lockheed.

The team will then use lessons learned from the Owego development to build new facilities in Herten, Germany and in Cardiff, Wales, Lockheed said.
Other endeavors include grid management, Armijo said, though he declined to comment further on specific projects or customers.

In terms of defense projects, the company currently holds an indefinite delivery/indefinite quantity contract with the Department of Energy for energy management, Armijo said. The Super Energy Savings Performance contract was awarded in 2016 for several competitively selected companies, including Lockheed, to develop efficient facility upgrades at Luke Air Force Base in Arizona, Tinker Air Force Base in Oklahoma, and Naval Support Facility Diego Garcia in the Indian Ocean.

At the two Air Force bases, the company is developing energy and water efficiency improvements over millions of square feet of facilities, and is working with local utilities to assess solutions that address the resiliency of base energy generation, transmission and distribution, said Bob Griffin, lead for Lockheed's federal energy solutions program area.

Following initial reviews at Tinker, his team is now developing Air Force-approved project opportunities, and they plan to implement the selected energy projects in 2018, he said in an email. At Diego Garcia, Lockheed is doing similar work, Griffin said, adding that the team expects to complete and deliver initial project recommendations in July.

Armijo said these projects will "hopefully provide more efficient use of their energy resources, save the government taxpayer money … but also provide more renewable energy capabilities to all of those facilities.

"I think it's going to really be dramatic in terms of the effect we can have on their energy usage," he added.

Consolidating its energy portfolio allows Lockheed to offer more integrated energy solutions — such as combining microgrid technology with solar or wind energy tools, he noted.

"I think that's where we provide the best value for our customer," he said. "Some people may want to just sell one particular item. … We bring an integrated approach to help the customer meet its needs."

Lockheed Martin Energy is leveraging the company's experience with unmanned aerial vehicles, remote sensor technology and data analytics to provide utilities with grid inventory, inspection and management systems, Griffin said.

"These systems can significantly advance utility asset management, post-storm damage assessment and remote site access, with improved safety and cost-effective operations," he said.

So far, Lockheed's move to brand and promote a broader energy portfolio appears unique among major defense contractors.

Many companies have invested in renewable technologies and more energy efficient solutions as the U.S. military — and governments worldwide — demand them.

BAE Systems is working with the Defense Advanced Research Projects Agency to develop technology that could quickly restore energy after a cyberattack. The Rapid Attack Detection, Isolation and Characterization Systems program will be able to operate regardless of power availability or internet connectivity, and establish a secure emergency network within minutes, according to the company.

Research windmills at the National Renewable Energy Laboratory in Golden, Colorado. (Defense Dept.)
Boeing declined to comment on its energy security initiatives for this story. Northrop Grumman and Raytheon did not respond to interview requests.
Advanced energy solutions can enhance national security from a civilian as well as a military standpoint, officials and experts said.

Over the last decade, both the U.S. military and industry have recognized the need to develop self-sufficient energy storage solutions, said retired Gen. James Conway, former Marine Corps commandant at a recent event on the nexus of advanced energy and national security in Washington, D.C.

Fuel cell technology and energy storage are the most disruptive energy security technologies on the horizon for the military, he said. "We still haven't reached our zenith on those two things, so they really are pursuing those with gusto," he said. (See story on page 35)

The Defense Department is one of the biggest consumers of fossil fuels worldwide, said Jim Krane, a fellow in energy geopolitics at Rice University's Baker Institute in Houston, Texas. It is a huge energy and logistical challenge for the Pentagon to power its land vehicles, aircraft and ships, he said.

"If they figured out a way to make [fuel] locally … I would think they would be interested in it," he said.

The price of bringing energy into the field is not only financial, but costs lives as well. Fuel convoys last decade became targets for enemy troops in the Middle East, and remain susceptible to improvised explosive devices, Conway noted.

"Our casualties in our resupply convoys were exceeding those of our troops in the field," he said.

Conway said military smartgrid and storage technology needs to be "a significant enhancement" over legacy systems, deployable worldwide and capable of functioning in the Arctic as well as the desert or the rainforest. It also needs to be affordable, lightweight, simple to operate and ruggedized, or "Marine-proof," he added.

"I guarantee at some point in a lifecycle, your piece of equipment is ... going to be thrown to the ground, and it still has to work," he said.

The cost of advanced energy technologies such as solar energy, electric-car batteries and LED lighting has gone down in recent years, said Bryan Hannegan, associate laboratory director of energy systems integration at the National Renewable Energy Laboratory in Golden, Colorado.

"That allows us to think about ways in which we change the operations of our nation's electric grid, both locally as well as at a national level," he said.

The NREL is working concurrently with other national laboratories to learn how to integrate these emerging technologies into the national infrastructure, he said, noting that those technologies have to be compatible with the current system.

Many new energy solutions draw their resources from wind and solar, which by definition are more variable and thereby difficult to control, he said.

"We have to begin to operate our grids in a way that allows for that uncertainty and that variability of the energy supply," he said.
Industry needs to be a key player in helping to develop these new technologies, he added.

"Each customer segment — whether it's the military, whether it's industry, whether it's a city or a community — has needs for energy services that are specific to them," he said. "The risk that we run if we entirely turn this over to the DoD and let them lead the way on innovation is they're going to innovate for their mission need."

Partnering with other federal departments, local and foreign governments and the private sector helps guarantee that the technology can serve a civilian purpose as well, he added.

When companies place more direct investment into energy solutions, the market opens up, allowing technologies to become less expensive to develop, he noted.

"You've got to make a buck, so we need … the business models to take us from thinking about energy as a commodity … to be consumed, and thinking about energy more as a service," he said.
Topics: Energy, Environment and Energy Security