Contractors Eye Booming Polish Defense Market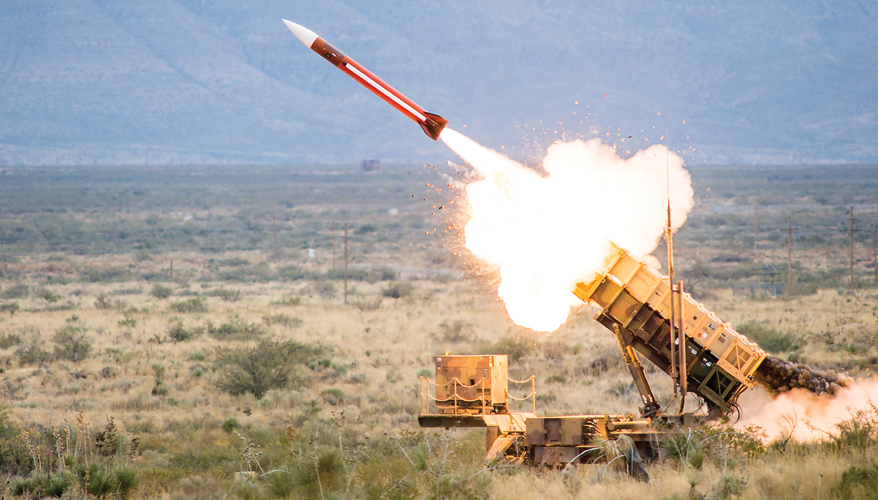 The Patriot missile defense system
Photo: Raytheon
As Poland faces threats from a resurgent Russia, the country is seeking new weapon systems to replace its aging equipment. That could be a boon for U.S. defense contractors, analysts said.

Poland — long caught in the crosshairs of some of Europe's bloodiest wars — is looking to shed its Soviet-era weapons platforms and secure a spot as one of NATO's biggest investors in defense systems.

The country has increased its expenditure on its armed forces by a compound annual growth rate of 4.66 percent, making it one of the largest military spenders in Central Europe, according to a study by Research and Markets, an analysis firm.

Poland is expected to spend an estimated $53.5 billion between 2018 and 2022 on defense, the report said.

"This is primarily due to the modernization initiatives implemented by the Polish Ministry of National Defense," it said. "The country's defense expenditure will be driven by a combination of factors including the ongoing turmoil in the neighboring country of Ukraine and an increased involvement in NATO and U.N. peacekeeping missions."

Ian Brzezinski, a resident senior fellow at the Atlantic Council's Brent Scowcroft Center on International Security, said Russia is the dominant driver of Poland's defense buildup.

"The Polish government has been [an] astute observer of Russia," he told National Defense. When Russian President Vladimir Putin "began his defense modernization drive following Russia's sloppy 2008 invasion of Georgia, the Poles saw first hand the evolution and improvement of Russian military capabilities."

Poland was also concerned following large-scale military exercises conducted by Moscow, one of which culminated in a simulated nuclear attack against Poland, he said. Additionally, it was one of those least surprised when Russia invaded Crimea in 2014.

In 2012, Poland launched a 10-year, $40 billion military modernization effort, Brzezinski said. It is currently meeting a NATO recommendation of investing 2 percent of its GDP in defense, and the nation has aspirations to boost that to 2.5 percent, he said.

"Poland presents one of the fastest growing defense markets in Europe," he added.

"It's one of the markets that has captured the interest of U.S. and West European defense industry."

It is a "market that rests on a cross-party commitment to military modernization," Brzezinski said. "Poland is committing real financial resources to this plan. And it is driven — unfortunately — by a threat that is growing and likely to be enduring."

In Warsaw, there may be debate about what systems to procure or how many, but there is no doubt about the need for defense modernization, he said.
"There is a strong consensus for a stronger, more robust defense capability, and they are willing to pay for it," Brzezinski said.

Dan Darling, a senior military markets analyst at Forecast International, a Newtown, Connecticut-based market consulting firm, said there is a great desire within the Polish government to rid itself of older platforms.

"They're moving beyond existing Soviet-era legacy equipment and trying to get more Westernized, NATO-standard, and where possible, local … systems and platforms," he said. It's "almost akin to shedding a skin and growing a new one. … It's a whole new outer layer of equipment."

When Poland joined NATO in 1999, it was one of the first Soviet-bloc countries to enter into the alliance, Darling said.

"They weren't really prepared to act alongside NATO forces," he said. "They had inherited their Warsaw Pact-style military, which was manpower heavy, armor heavy, very territorial defense-centric and not mobile-centric."

Poland's modernization effort is just as much about self-defense as it is in having a greater voice in NATO, Darling said.

"The Poles have been working on modernization and increasing their defense budget at a time [when] Europe has been in a long funk of slashing capabilities, personnel and investment," he said. "It has only been in the last two, three fiscal years that Europe has kind of begun to reverse course and focus attention on defense again."

The Polish have never stopped focusing on defense, he said. The government considers a strong military to be a tool in its diplomatic toolkit.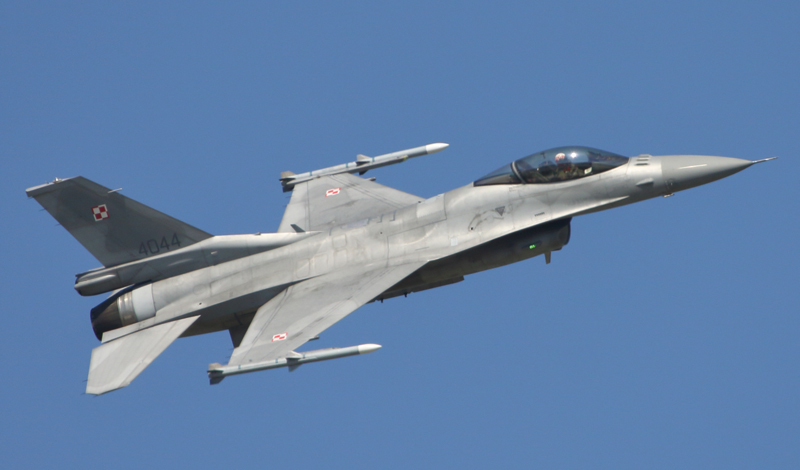 Polish F-16C (Łukasz Golowanow)
Poland is currently looking at upgrading its aviation assets, Darling said. This could include replacing some of its F-16 Fighting Falcons with the F-35 joint strike fighter, though that would be difficult to do in the near term, he added.
Mark Cancian, a senior adviser at the Center for Strategic and International Studies' international security program, said there is no doubt that the country would like to make such an investment but the aircraft is simply too expensive.
"It's just not practical for a country like Poland," he said. "If they bought the F-35, that would likely soak up half of their defense budget."

What would make more sense is for the country to update its F-16s by outfitting them with modern munitions, he said.

Additionally, the United States has been upgrading airfields in the country, which would allow Poland to leverage U.S. joint strike fighters if necessary, Cancian said.

That's a better strategy than buying its own, he said. In a future conflict, the country could fly its F-16s alongside the United States' F-35s and F-22 Raptors.
"If the F-16s were upgraded [with] modern avionics, advanced munitions, then they could be really quite effective under the umbrella of U.S. fifth-generation fighters," Cancian said.

The country is currently considering purchasing Lockheed Martin's joint air-to-surface standoff missile, he added.

Brzezinski said other top priorities include air and missile defense, helicopters and submarines.

Poland is currently weighing purchasing a number of Raytheon's Patriot missile defense systems at a cost of billions of dollars. The contract, however, requires approval from Congress. Warsaw has indicated it would like an agreement in place by the end of the year, but analysts have said that may be unlikely.

Poland has been interested in boosting its air and missile defense capability, particularly as a way to deter Russia, and has been examining the Patriot system for some time. However, previous U.S. administrations have been slow to help their NATO ally in this endeavor, Brzezinski said.

"The Obama administration never really embraced Poland's air and missile defense aspirations," he said. "This surprised me because a Polish AMD capability — particularly … built around Patriot — could become a new and important strategic pillar in the U.S.-Polish security relationship."

At the same time, the Obama administration did invest billions of dollars in the European Reassurance Initiative, which is intended to support U.S. partners by funding a persistent, rotational air, land and sea force in the region and by bolstering training.

In general, Brzezinski said he had a positive outlook on the U.S.-Poland relationship. So far, the country has had good access to Trump administration officials including National Security Adviser Army Lt. Gen. H.R. McMaster and Secretary of State Rex Tillerson.

As Poland upgrades its military, the country has embraced purchasing commercial-off-the-shelf systems, Cancian noted.

"They want to get capability out there quickly," he said. "They want to buy systems that are essentially already developed and … in some cases, looking at producing them under licenses in Poland."

That's good for the U.S defense industry because it means that Poland is differentiating itself from the standard NATO acquisition strategy, "which is to go out and at immense cost and great delay develop their own system," he said.

At the same time, Darling said that the current Polish government plans to use defense contracts as a way to prop up its own industry.

The government is "interested in modernizing, grooming [and] growing the local defense sector through any foreign order," he said. "Basically, the approach is, 'We know we need utility helicopters or attack helicopters. How is this going to benefit both our armed forces as well as local industry and make it more competitive in the long run?'"

This doesn't mean less opportunity for U.S. contractors, but it will mean that they need to either give offsets or establish work share and technology transfer agreements, he said.

Companies such as Sikorsky, which was recently acquired by Lockheed Martin, are in an advantageous position as they have already made inroads in the country, Darling added.

"They're well placed in the market because they've already bought one of the major aerospace firms in Poland," he said, referring to Sikorsky's acquisition of PZL Mielec in 2007. "They have planted the flag on Polish soil."

When President Donald Trump was elected in November, there was initially some trepidation in Warsaw that he may curtail some of the United States' investments in the European Reassurance Initiative, Brzezinski said.

"To date, President Trump has surprised those who expected his campaign rhetoric to lead to another Russia 'reset' effort," he said. "The new president has signaled that recent U.S. force deployments to Central Europe will stay the course."

For Poland, that means there will be a continued presence of significant elements of a U.S. armored brigade combat team and an Army combat aviation battalion in addition to a mechanized battalion, Brzezinski said.

"That's really important because there was real fear that during the campaign and during the transition that Trump might be willing to bargain away some of these commitments for some sort of reset with Russia," he said. "To date, that fear appears unwarranted."
Topics: Global Defense Market, Missile Defense