Zukunft: Coast Guard Could Arm Future Icebreaker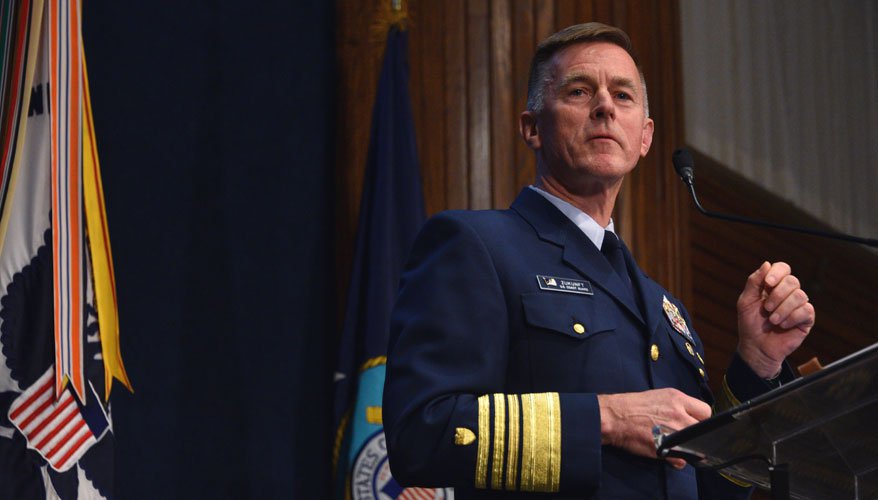 Adm. Paul Zukunft
Photo: Coast Guard
As the Coast Guard works to procure a new heavy icebreaker, service officials are considering whether or not to arm the vessel, said the commandant of the Coast Guard May 3.
"We know Russia is probably going to launch two icebreaking corvettes with cruise missiles on them over the course of the next several years," said Adm. Paul Zukunft. "We're not building anything in the Navy's surface fleet to counteract that. So what might an icebreaker of the 21st century need to do?"
The service may need to reserve space onboard the vessel for defensive and offensive weapons, he said during remarks at the Center for Strategic and International Studies, a Washington, D.C.-based think tank. "That could be a future requirement for our icebreaking fleet," he said.
Zukunft said he had a meeting last week with a key advisor in the President Donald Trump administration to discuss the Arctic.
"They understand that it's good that you have a U.S. Coast Guard that is a military service," he said. Currently, the countries who have territorial claims in the region are acting peacefully there, but the United States must be prepared if that changes, he added.
Russia in particular has bulked up its presence in the region by building new bases and vessels. The nation has dozens of icebreakers. At the same time, the United States only has one operational heavy icebreaker, he noted.
"They've made a strategic statement and they've got all their chess pieces on the board right now," Zukunft said. "Right now we've got maybe a pawn and maybe a rook. … If you look at this Arctic game of chess if you will, they've got us at checkmate."
The Coast Guard is working to beef up its capabilities, he said. The service wants to purchase six new icebreakers and build the lead vessel by 2023.
"We've got tremendous bipartisan support to recapitalize our icebreaking fleet," he said.
There is money for the endeavor in the fiscal year 2017 omnibus budget that Congress is expected to pass this week, Zukunft said. "There's $150 million to really get the show on the road."
The Coast Guard has already awarded contracts for industry studies into the construction of the vessels, he said. There are five shipyards interested, he added.
Increasing its fleet of icebreakers has been a long-term issue for the sea service. It has three vessels in its inventory, but only two are operational — the Polar Star, a heavy icebreaker, and the Healy, a medium icebreaker. The Polar Sea was mothballed.
For a time, there was a question of whether Polar Sea could be refurbished, as the Polar Star previously was, but those plans are now scrapped, Zukunft said. A Coast Guard study found that it would be prohibitively expensive to reactivate the Polar Sea, and cost at minimum $300 million.
"We put a lot of effort into [considering] can we reactivate the Polar Sea. And the answer is no," he said. "We actually pulled a lot of parts off of the Polar Sea to make the Polar Star operational."
Topics: Shipbuilding, Maritime Security, Procurement