Next-Generation Combat Vehicle Could Replace Aging Bradleys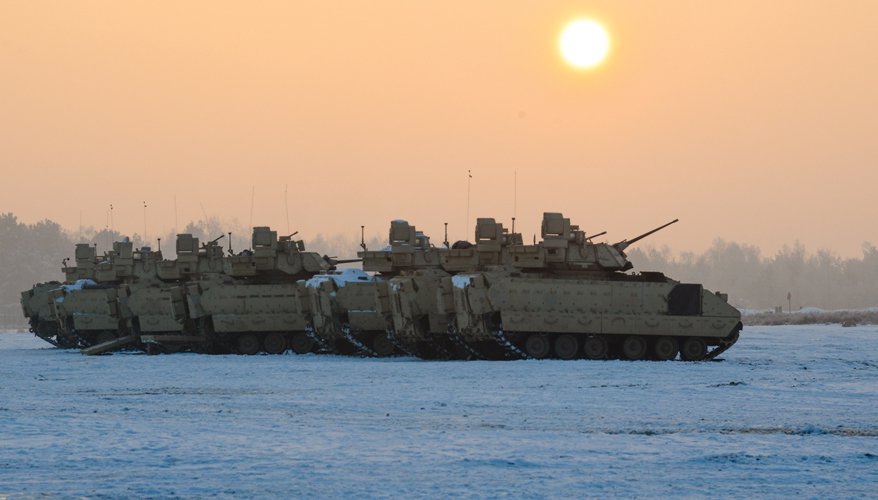 Bradley fighting vehicles
Photo: Defense Dept.
As the iconic Bradley fighting vehicle ages, the Army is weighing whether it will outfit existing systems with upgrades or procure a replacement platform.

A new system — which would be called the next-generation combat vehicle — wouldn't be fielded until the late 2020s or 2030s, said Todd Thomas, program manager for the vehicle at U.S. Army Tank Automotive Research, Development and Engineering Center.

"The next-generation combat vehicle is … going to have capabilities that far exceed those of current infantry fighting vehicles in the Army force today," he said. "It's going to … have unparalleled survivability for the occupants [and] for underbody blasts."

It will be able to meet the same threats that the current Bradley system can, but at a lighter weight, he added.

To help remove risk, the Army is working on a number of prototyping efforts that will be folded into a larger technology demonstrator program, he told National Defense during the Michigan Defense Exposition in Warren, Michigan.

"We have a set of requirements that we've been working on under the program called combat vehicle prototyping," he said. "That program is really the lead in … that we're leveraging for the next-generation combat vehicle."

Since 2015, TARDEC has been developing new systems that could be integrated into an infantry fighting vehicle. Working alongside the Army Maneuver Center of Excellence, it blended requirements from the ground combat vehicle — an effort that was canceled in 2014 — and the Bradley.

"We were trying to take the best of both worlds as a starting point from a requirements standpoint," Thomas said. "Are those the final requirements? I would tell you, no, they're not. Those are the starting points from which we can have a lot of discussions with the user community so that we can get the requirements right. But we think we're in the ballpark."

For now, the Army is doing modeling and simulation as well as lab testing at the subsystem level, he said.

Technologies developed through the prototyping program could be integrated into demonstration vehicles. Col. William Nuckols, Jr., director of mounted requirements at the Maneuver Center of Excellence, said the service wants to have them in "the hands of soldiers no later than fiscal year 2022."

Later this year, the Army will establish an integrated concept development team for the vehicle, he said. The group will begin accessing the technology and manufacturability readiness levels for the platform and then create an acquisition timeline.

One of the first efforts will be to evaluate the various pieces of technology that could be integrated into the vehicle, he said. These could include directed energy weapons, power generation and storage systems, advanced armor and robotics, he said.

Depending on how assessments of the demonstrators go, it is possible that the Army could equip units with the NGCV even earlier than the 2030s, he added.

The Army is being cautious as it pursues the technology, Nuckols said during an industry conference in Huntsville, Alabama.

"We're extremely aware of lessons learned from the past and the present, both good and bad from things like [Future Combat Systems], Stryker, ground combat vehicle, future vertical lift … and even drawing from our international partners," he said.

Future Combat Systems was the Army's ill-fated effort to procure a family of platforms, including manned and unmanned vehicles, that was canceled in 2009 after costs swelled.

"FCS was the promise of technology and [we were] waiting forever for those technologies to finally come down the chimney with Santa Claus," he said. "We're not taking that approach.

"We have some aspirational operational capabilities that we'd like to have, but we're going into this with our eyes open," he said.

One positive lesson learned from FCS was the importance of commonality, Nuckols said. "Today we're trying to get our current fleet to be as common as possible in terms of repair parts," he said.

In addition, FCS had an emphasis on robotics that will be a key attribute of the next-generation combat vehicle, he said.

While the Army is investing heavily in prototype technologies for NGCV, it is possible that the service could decide to simply integrate new systems into existing vehicles, he added.

Next-generation Bradley demonstrator (BAE Systems)

In terms of money, Nuckols said the Army had "sufficient funding beginning next year to at least do 80 percent of what I would assess we need to do." However, he noted that the service could use even more money to better assess the technology and inform requirements.

Technologies from the combat vehicle prototyping program will be delivered in 2019, Thomas said. The building of the demonstrators will take place between fiscal years 2020 and 2022. The year 2022 will be a key point for the program because that is when the Army will decide whether or not to move forward with the NGCV, he said.

James Hasik, a senior fellow for defense at the Brent Scowcroft Center on International Security at the Atlantic Council, a Washington, D.C.-based think tank, said it is possible the Army may choose to continue upgrading Bradleys instead of pursuing the next-generation combat vehicle.

"They actually have some pretty good kits," he said. "So while you can make the case that it's important to think about what comes next, there might not be urgency in the need to recapitalize the entire fleet."

However, the Army may be able to convince Congress, the executive branch and others within the Pentagon that a new system is necessary, he said.
"In 2022 the design of the Bradley … and the M2 and the M1 will be over 40 years old," he said. "It's going to be an easy marketing pitch at that point — that we have a 40-year-old design, we have to do something new. Whether or not it's actually needed, I think it's going to be an easy case."

At the same time, Hasik said it is premature for the Army to be doing substantial work on the NGCV.

"If they're really … not planning to replace it until … [the 2030s], then it's probably not a grand idea to start thinking about it in a money consuming and people detailing way just yet," he said. "You don't need 13 years to figure out how to develop an armored fighting vehicle.

"If you give yourself 13 years, you'll take 13 years," he said.
However, it is smart for the Army to try and support a small group of engineers who will be able to develop a new system in the coming years, he said.

"One shouldn't be buying tanks just to buy tanks so that you can buy tanks later," he said. "But you might want to be funding engineering work now so that you'll have people around in 10 years who spent a career tooling around with this stuff and can respond to the next emergent technical problem."

That doesn't mean the Army should be supporting 10,000 people on a production line, he said. Sometimes 100 engineers are enough, as was seen when the military spent billions of dollars to buy mine-resistant, ambush protected vehicles in the 2000s to meet the growing improvised explosive device threat in Iraq and Afghanistan.

"As we found in the case of the MRAP, we could hire out-of-work autoworkers to build things. What we needed was a corps of people who understood blast mechanics to figure out how to make a mine-resistant truck," he said.

In order for NGCV to be a successful program, the Army needs to watch out for a number of issues, Hasik said. That includes avoiding trying to procure leap-ahead technologies.

This occurred in programs such as Future Combat Systems, he said.
"In the past they have stretched for things like Future Combat Systems, which I think they cut metal on eventually, but there was a whole lot of PowerPoint engineering that went into how awesome and wonderful it was going to be," he said. The reason it was never fulfilled was because "there was this enormous technological gap that needed to be closed," he said.

Additionally, there was a "remarkable lack of prototyping during FCS," he said. Prototyping could be extremely useful for NGCV, particularly if it is tied to lessons learned from ongoing conflicts in Syria, Ukraine and Yemen, he added.

Deepak Bazaz, program director of Bradley and artillery programs at BAE Systems, said the company is currently evaluating the NGCV program. BAE is the manufacturer of the Bradley.

"We're tracking it for sure," he said. "Really next-generation combat is just the next iteration of a series of modernization [efforts] that the Army is attempting. … We've been with the Army through that journey over the last 25 years and … we'll continue to work with the customer to make sure that we meet their modernization needs."

Last year, BAE debuted a new prototype vehicle called the next-generation Bradley. The technology demonstrator featured a new chassis, improved protection for mounted troops and more capacity for electrical power.

The company will soon conduct mobility testing on the system, Bazaz said.
"Ultimately, could a package of all of that turn into next-gen combat vehicle? Who knows? Maybe," he said. "But right now that demonstrator is really focused on … evaluating integrated technologies."
Topics: Tactical Wheeled Vehicles, Land Forces