Air Force Seeks Big Funding Boost for Space Capabilities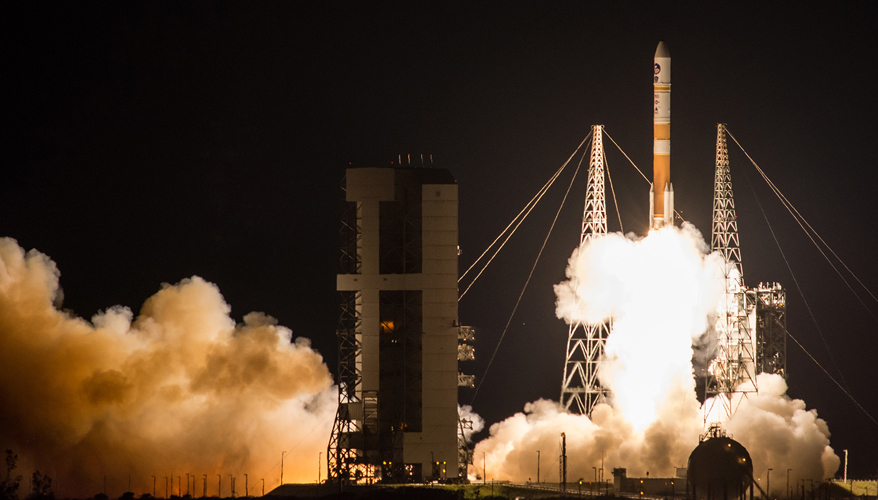 The ninth Wideband Global SATCOM satellite is launched aboard a Delta IV rocket in March
Photo: Air Force
The Air Force wants a boost in funding for its space portfolio as potential adversaries advance their counter-space capabilities.
The U.S. military is dependent on space assets for a variety of key tasks such as satellite communications, missile warning, and positional, navigation and timing. But threats to those systems are growing, said David Hardy, acting deputy undersecretary of the Air Force for space.
"Based upon our intelligence assessments ... it is clear that both China and Russia have aggressive programs to both demonstrate and produce eventual operational capability to be able to both non-kinetically and kinetically attack our space assets across a broad spectrum," he said May 24 during a meeting with reporters at the Pentagon.
Maj. Gen. Roger Teague, director of space programs in the office of the assistant secretary of the Air Force for acquisition, said the recently released fiscal year 2018 budget request is focused on developing "the resilient capabilities that we're going to need to negate adversary actions and ensure we maintain our competitive actions and capabilities in space."
The Air Force is requesting approximately $7.75 billion for space investments. That is 20 percent or $1.3 billion more than the 2017 budget request. Much of that boost in funding — about $913 million — would go toward research, development, test and evaluation, while $352 million of the increase would be used for procurement.
In total, $3.42 billion would go toward procurement while $4.33 billion would be dedicated to RDT&E.
Teague highlighted procurement funding that would be used for: advance procurement for a seventh and eighth space-based infrared system (SBIRS) satellite; a family of advanced beyond-line-of-sight terminals; and presidential and national voice conferencing integration. New start programs include a joint space operations center mission system technology refresh; two weather system follow-on satellites; a space surveillance telescope; evolved SBIRS; and a GPS M-code hosted payload.
Highlighted RDT&E investments would go toward: SBIRS space modernization initiative technology maturation and cybersecurity; a satellite to address weather capability gaps; protected satcom programs; developing and fielding the National Space Defense Center; funding the GPS operational control segment and military GPS user equipment to new cost estimates; and GPS III SV 11+ early use and early operational capabilities.
Space mission sets that would see an increase in funding include: command and control; counter-space capabilities; satcom terminals; positioning, navigation and timing; overhead persistent infrared; environmental monitoring; and competitive launch services to maintain assured access to space.
"Our launch enterprise is absolutely critical to our assured access requirement and continuing to provide the kinds of capabilities that the nation needs," Teague said.
The 2018 budget request calls for investing $2.08 billion — about $76 million more than was requested in 2017 — "to prioritize mission success and eliminate reliance on the Russian RD-180 engine," he said.
About $957 million would be invested in evolved expendable launch vehicle capability — an increase of $188 million relative to the 2017 request — to sustain up to eight Phase 1A national security space missions per year for a United Launch Alliance block buy, he noted.
Another $607 million and $298 million would go toward investment in EELV launch services and launch service agreements respectively. The Air Force must continue to evaluate and certify potential new launch providers, Teague said.
The Air Force released a draft request for proposals for launch service agreements. "We've received feedback from industry and we expect to be able to move forward with our … investment strategy as soon as our final acquisition strategies are approved," he said.
Looking ahead to future satcom capabilities, the Air Force will continue with an analysis of alternatives for next-generation wideband communications, Teague said.
"We are pursuing … different business models as well as trying to understand the various technical capabilities that industry can bring, commercial industry can bring to the table as part of an overall expanded and enhanced satcom architecture," he said.
The Air Force plans to fund pilot programs and pathfinder initiatives to inform what's feasible from a technical perspective and look at potential business arrangements, he added.
Teague was asked whether the Pentagon was wary of relying on commercial industry for important space missions because of the potential vulnerability of private sector systems.
"Our partners in commercial industry provide a number of important capabilities and services that DoD wants to take full advantage of, and it's important that we evaluate all of those capabilities to see how they might fit in as part of our overall architecture," he said. "It's something that we're looking at very aggressively across every mission area that we operate in space."
Topics: Budget, DOD Budget, Air Force News