Air Force FY18 Budget Request Sees R&D Boost, Few Procurement Surprises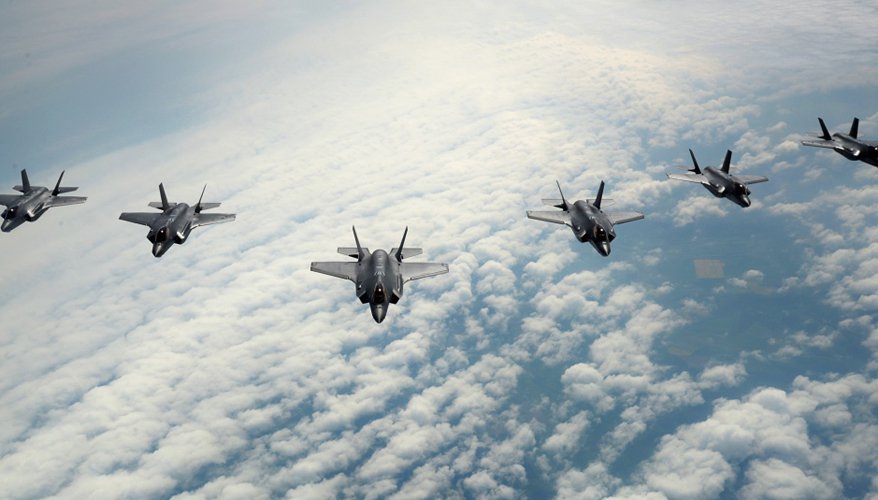 Air Force F-35s
Photo: Air Force
The big surprise in the Air Force's fiscal year 2018 budget request is how little it differs from previously projected estimates, analysts said.
President Donald Trump widely touted a boost in military modernization for the next fiscal year, but the budget documents released on May 23 paint another story for the Air Force. The service's request for $183 billion — a 7 percent increase over the enacted fiscal year 2017 budget of $171 billion— contains a notable increase in research-and-development funding, but largely focuses on sustaining its current inventory while procuring modest amounts of fifth-generation fighters and tanker aircraft.
"That might be the biggest surprise, that there really aren't any surprises," said Shaun McDougall, military market analyst at Forecast International, a Newtown, Connecticut-based marketing and consulting firm.
Maj. Gen. James Martin, deputy assistant secretary of budget for the Air Force, said the service's proposed budget reflected the need to invest in readiness and future capabilities as near-peer competitors boost their own military spending on next-generation systems and technologies.
Procurement across the Defense Department is about on track with what the Obama administration had been projecting, he noted. Air Force procurement in particular would only increase by about $390 million, to approximately $25 billion in 2018.
About $15 billion would go to new aircraft, including 46 F-35A joint strike fighters with spare parts and modifications, fewer than the 48 aircraft procured in 2017. The service also plans to purchase 15 KC-46A Pegasus aerial refueling and transport aircraft, as well as five HC-130J long-range patrol aircraft and two MC-130J transport aircraft for Air Force Special Operations Command.
The budget request includes funding for modifications and upgrades to the current fighter fleet, including the F-22 Raptor — to add new radar and geo-location systems as well as a Small Bomb I capability — and a proposed $7 million service life extension program for the F-15C Eagle. The program is a new start and would only be funded if the 2018 budget proposal were approved, according to the Air Force.
The service also requested funding for 16 MQ-9 Reaper drones in its overseas contingency operations budget.
The budget proposal keeps funding in place for the Air Force's fleet of A-10 Thunderbolt II combat aircraft and the U-2 reconnaissance aircraft, both of which were previously being considered for retirement.
Research, development, test and evaluation funding "took a big jump" of more than $5 billion over 2017 numbers, McDougall noted. "It seems like a lot of the extra funding is going into that development account."
The service is requesting over $25 billion to provide support for a variety of modernization programs, including the KC-46A and the F-35.
The RDT&E request also pushes for increased funding for the Air Force's nuclear and cyber capabilities, including over $2 billion toward the Air Force's B-21 Raider long-range strike bomber. That is "pretty much on par for what was expected," McDougall said. It details $451 million for the forthcoming long-range standoff weapon, and ensures funding to develop the next-generation jet trainer program, or T-X. It also includes spending for the recapitalization programs for the Air Force One presidential aircraft and joint surveillance target attack radar systems.
One of the largest jumps in funding for R&D goes to "next-generation air dominance," which the Air Force is using to explore and develop emerging capabilities that will enable it to stay ahead of potential adversaries, Martin said. The budget requests $295 million, up from $21 million in 2017.
The Air Force must also replenish its munitions after extended air campaigns in the Middle East, and is looking to "fund to capacity" in 2018, Martin said. The proposed budget includes $1.2 billion to procure over 12,000 joint direct attack munitions as part of the base budget as well as an additional 18,000 JDAMs in the overseas contingency operations budget. The Air Force is also requesting money for more than 7,000 small diameter bombs, 3,600 AGM-114 Hellfire air-to-surface missiles and 310 Sidewinder short-range air-to-air missiles, divided between base and OCO funding.
Though the Air Force's proposed $3.3 billion space budget represents an increase over the enacted 2017 amount, it is less than previous projections of $3.9 billion. But it's possible that some of the research-and-development funding may be geared toward future space programs, McDougall noted.
The biggest surprise in the space portfolio was reduced spending on the service's GPS III program, said Bill Ostrove, space market analyst at Forecast International. The documents suggest a re-phasing of the program to turn it into a block buy, which "could actually delay funding and possibly production," he said.
The Air Force also plans to procure two joint light tactical vehicles for $1 million. To date, the service has been contemplating purchasing the vehicle — developed for the Army and Marine Corps — for its security forces that protect missile launch facilities, but has revealed little information about total procurement numbers.
The service's budget request includes over $49 billion for operations and maintenance, less than $2 billion over the enacted 2017 budget, and moves to increase end strength by 5,800 to reach 502,000 airmen.
The Air Force's total budget includes over $36 billion for classified programs for other agencies, such as the National Reconnaissance Office or CIA. Though included in the budget, that funding is not directly controlled by the service.
The Air Force appears to be focusing on making its existing equipment more functional and operational, McDougall said.
"A lot of people have been talking about an immediate buildup of new production and new procurement, [and] it seems like they're focusing more on … funding maintenance and flying hours," he said. It's possible that that procurement push would come instead in the fiscal year 2019 budget request, he noted.
Congressional leaders and analysts have said that Trump's budget request is "dead on arrival," but it is interesting how similar it is to the Obama administration's last request, McDougall said. "There are … not as many differences as maybe I would have anticipated upfront."
But he added that it's not uncommon for a new president's budget to closely resemble that of his predecessor, and the delay in passing the 2017 budget caused the whole process to be pushed to the right.
"It will be interesting to keep an eye on it as the year progresses," he said.
Topics: Air Force News, Budget