Aiming High: F-35 Exports Set to Climb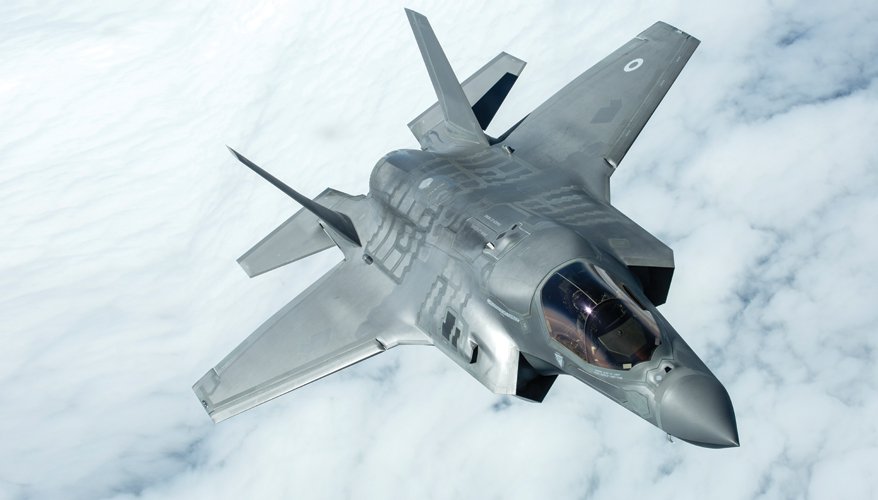 The United Kingdom's first F-35B Lightning II
Photo: Defence Imagery
Production of the F-35 joint strike fighter for international customers is slated to ramp up in the coming years. Manufacturer Lockheed Martin sees this as an opportunity to bring down the costs of the airplane as the company faces pressure from President Donald Trump to lower its price tag.

Eight international partner nations were involved in the development of the fighter including the United Kingdom, Australia, Canada, Denmark, Italy, the Netherlands, Norway and Turkey.

Another three — Israel, Japan and South Korea — have decided to purchase the aircraft through the foreign military sales process.

"We expect … roughly 40 to 50 percent of the airplanes [produced] for the foreseeable future to be international aircraft," said Steve Over, Lockheed Martin's director of F-35 international business development.

Building more fighters for overseas partners is expected to reduce the cost of the plane over time due to economies of scale in production. Lockheed and independent analysts anticipate that diminishing prices would lead to increasing sales and further price cuts.

"The idea with the F-35 ... is to use export demand perhaps as a way of lowering prices, and thereby creating a virtuous cycle of increasing demand which lowers prices and increases demand," said Richard Aboulafia, vice president of analysis at the Teal Group, an aerospace and defense market analysis firm.

The F-35A currently costs about $95 million per aircraft. By 2019 or 2020, Lockheed and the U.S. government are aiming to reduce the price tag to $85 million or less. Slashing the cost that much would depend heavily on overseas customers, Aboulafia said.

"To really get the kind of [production numbers] that they think will be useful in getting prices down, you've really got to tap international demand," he said.



"We expect … roughly 40 to 50 percent of the airplanes [produced] for the foreseeable future to be international aircraft."
The Teal Group projects that 444 F-35As and 59 F-35Bs will be exported from 2018 to 2026, for a total of 503 aircraft. In 2018, F-35 exports are projected to increase from 14 to 33 relative to the previous year.

"Even if you just look at stuff in the pipeline, it's a significant ramp-up," Aboulafia said. "Just looking at existing orders, there's almost no way, aside from production snafus, that we wouldn't see a healthy increase in output for international demand over the next five years."

Earlier this year, Lockheed was awarded a $7.2 billion contract to produce 90 F-35s in Lot 10. Thirty-five of those will be for international customers, a 50 percent increase relative to Lot 9.

Lockheed hopes to complete negotiations for Lot 11 in the coming months. After that, the company expects to reach a deal for a multi-year block buy for Lots 12 to 14, Over said in an interview with National Defense.

"That will be a significant number of airplanes," he said. "It … allows us to drive to efficiencies and economies of scale with our entire supply chain."

The block buy could include as many as 450 planes, and between 40 and 50 percent of those are expected to be for international customers, he said. Roughly 240 would be for the United States, he added.

The fighters "will be roughly 10 percent cheaper to the U.S. because of the international airplanes mixed in there," Over said. "You basically get 24 free airplanes because the international purchasers are in there helping increase the economies of scale and driving the cost down for the U.S."

Lockheed and aerospace industry analysts expect the number of overseas buyers to grow over time as the price of the joint strike fighter comes down and development problems are overcome.

"We absolutely anticipate that there will be others," Over said.

Aboulafia said: "There's definitely a potential second wave" of international buyers.

"There were 30 F-16 customers. You won't see that with the F-35 but there's no reason they couldn't do, say 20."

Belgium and Finland are in the process of managing competitions to recapitalize their fighter inventories.

"It has been openly acknowledged that the F-35 is being evaluated in these competitions," Over said. "We're excited about our prospects there."

Poland, Switzerland, Greece and Spain could also end up buying the jets as they look to modernize their existing fighter fleets, analysts said.

Spain is expected to be in the market for a fighter with vertical takeoff and landing capabilities, said Daniel Darling, senior military markets analyst at Forecast International.

"They want something that can land on their ships … so they'll need to replace their Harriers, and really the only option in sight is the F-35B," he said. "At the start of 2020 they're going to probably have to make a decision on Harrier replacement, and it's pretty much preordained that the F-35 is going to have to be where they go."

Darling also expects Singapore to eventually purchase the aircraft.

Aboulafia described Singapore as "a classic F-35 market." The wealthy city-state has purchased high-tech fighters in the past. However, the government has been deterred by the price tag of the joint strike fighter, he said. "That's another interesting one to watch because … [they are] just unwilling right now to pay" what it costs, he added.

So far, Israel is the only country in the Middle East the U.S. government has allowed to buy the F-35. The United States has a long-standing policy of preserving Israel's "qualitative military edge" over other nations in the region. But that doesn't mean Arab nations will be forever prevented from buying the joint strike fighter, Aboulafia said.

U.S. allies in the Middle East were eventually allowed to purchase F-15s and F-16s after Israel added them to its fleet, he noted.

"They [Israel] don't get a permanent monopoly. They simply get a head start," Aboulafia said. "It's probably another four to five years" before other countries in the region are allowed to acquire it.

Saudi Arabia, Jordan, Qatar, Kuwait, the United Arab Emirates and Egypt could be potential buyers down the road, analysts said.

"It's not Lockheed's choice who we sell the airplanes to … [but] we absolutely expect that as the U.S. government allows countries to consider to purchase the airplane, that we will significantly increase international sales," Over said.

"There are a number of customers that we're in routine conversations with" about potentially buying the F-35, he added. He declined to identify them.

Analysts said some countries might decide to purchase F-15s or F/A-18s instead of the joint strike fighter to save money. But Over said the F-35 would blow away the competition if Lockheed and its partners were able to further lower the price.

"In 2019 or 2020, if I've got an $80 million airplane, we know that there's no credible fourth-generation airplane that our competitors can offer that's going to be any cheaper than that," he said.

If the fifth-generation F-35 offers superior capabilities at the same price, it won't be difficult for Lockheed to make a convincing sales pitch, he added. "It seems to me it's a pretty simple decision which airplane you're going to buy."

The first Israeli Air Force F-35A Lightning II (Lockheed Martin)

In addition to courting new buyers, Lockheed sees opportunities to increase sales to existing F-35 customers.

"We're seeing countries that had planned to buy X number of airplanes that are now coming back thinking, 'Hey, maybe it's X plus Y,'" Over said.

As "we get the development challenges behind us and in the rearview mirror, the airplane is starting to prove on its promises," he said. That has led to increased interest overseas, he added.

Japan is now considering how it might replace its aging F-15s, Over noted. The current program of record calls for Japan to buy 42 joint strike fighters. "We would hope that they might consider some additional F-35s in that process," he said.

The only partner nation that appears to be wavering in its commitment to buying the aircraft is Canada. Prime Minister Justin Trudeau and his Liberal Party have shown interest in purchasing Super Hornets as Ottawa seeks to recapitalize its fleet.

"They've made this a political football," Darling said. "I wouldn't preclude the Trudeau government from going forward with another batch of F/A-18s. … We'll have to see how it sorts out."

Over is hopeful that Canada will stay in the fold.

"They remain a partner in good standing in the F-35 program," he said. "They're continuing to pay their bills and they absolutely, we understand, intend to evaluate the F-35 as one of the potential airplanes in that transparent competition" for new fighters.

The industrial benefits of being an F-35 customer are major incentives for foreign partners to stay committed to the program. About 20 percent of the supply chain is international, Over noted.

Japan and Italy are hosting final assembly and check-out facilities. The first F-35B assembled outside the United States rolled out of a Cameri, Italy, facility in early May.

The location is owned by the Italian government and operated by the Italian company Leonardo in conjunction with Lockheed.

Additionally, facilities for airframe and engine modification, repair and overhaul are being established overseas.

During a recent conference in Washington, D.C., Australian Minister for Defense Industry Christopher Pyne touted the economic benefits of F-35 program participation.

Every joint strike fighter in operation around the world will be fitted with Australian-manufactured components including tail fins, he noted. His country has also been selected as a regional hub for maintenance, repair, overhaul and upgrades for F-35s in the Asia-Pacific region.

Australian companies have already been awarded more than $600 million for local design and manufacturing work, and that number is expected to grow to more than $1.5 billion by the early 2020s, he said.

The F-35 program currently supports about 2,500 jobs in Australia. That number is projected to climb to more than 5,000 by 2023 as production continues to ramp up, he added.

"We want to use defense to underpin our economic prosperity … to form the basis of the smart, high-tech manufacturing of the 21st century," Pyne said.

"Now we have a number of small to medium enterprises that are fully embedded in the Lockheed Martin supply chain to supply critical parts and equipment to support the growing global air fleet," he added.

Aboulafia said Japan is another prime example of an F-35 buyer that stands to benefit economically. "The reality is, once the Japanese final assembly line gets started it's tough to stop. It creates its own industrial constituency in country."

Foreign governments that are spending billions of dollars on the joint strike fighter are looking to show their constituents more than just a new military platform. Lockheed understands the political dynamics involved in the program, Over said.

"We get the best technology … by bringing in international industry in here. But it also satisfies that political imperative to generate jobs" in partner nations, he said.

Darling compared the F-35's international supply chain to the one in the United States.
"It's no different, in a way, than Lockheed Martin seeding subcontracts around [to more than 40] states within the U.S. related to the program," he said. "That way it's tougher to cut the program in Congress and the White House. It's the same thing on a multinational level now. It's the same kind of … strategy to ensure that potential customers are locked in."

Over said that international sales also boost the U.S. industrial base.
Lockheed recently conducted "sensitivity studies" projecting the impact of international buys for Lots 12 to 14. The studies showed that for every 10 international F-35s added to the order, about 9,000 jobs would be created in the United States, he said. The additional buy would also reduce the unit price of the F-35 by approximately $1 million, he added.

"It's good for their industry because they are producing parts for those airplanes," he said. "But it also brings U.S. jobs to the mix. So it's a win-win" for the United States and other countries that are part of the supply chain.

Trump has made enhancing the United States' manufacturing sector a key part of his political platform. In April he signed an executive order, known as "Buy American and Hire American," directing federal agencies to purchase U.S.-made products to the maximum extent possible.

Aboulafia said moving full bore to cut foreign firms out of the supply chain for programs like the F-35 would be "ridiculous and untenable." He sees Trump's order as a symbolic political gesture, and doesn't expect it to affect joint strike fighter production.

The president "could take full credit for increasing unit costs by 50 percent if they tried to reengineer the entire supply chain" to benefit U.S. firms at the expense of international ones, Aboulafia said.
Topics: Air Power, Global Defense Market, International, Aviation