SOCOM Seeks New Equipment for Combat Divers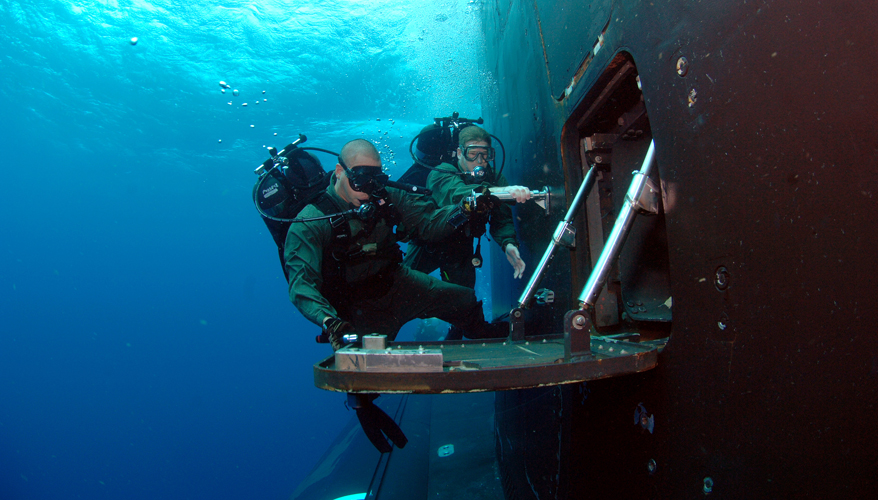 Navy divers and special operators conduct lock out training with the submarine USS Hawaii.
Photo: Navy
TAMPA, Fla. — U.S. Special Operations Command is looking for a variety of new technologies to enhance the capability of its combat divers, a program manager said May 17.

The technology development strategy for SOCOM's program executive office maritime is to find commercial-off-the-shelf equipment and modify it as needed to meet the requirements of special operators, said James Knudson, program manager for SOF combat diving.

Thermal protection gear is critical for ensuring divers' survivability, he said. "Whether we're in hot water or cold water, they are both inherently dangerous to the guys in the water column because they can get overheated or they obviously can get too cold," Knudson said during a presentation at the Special Operations Forces Industry Conference in Tampa, Florida, which is hosted by the National Defense Industrial Association.

SOCOM wants to move beyond the traditional wetsuit/drysuit paradigm. A better solution would be a portable heating/cooling system that is compact enough for divers, he said.

The command has already been testing a Rini Free Diver Heating System. It is a thermal protection heat pump with a closed loop hot water system that can be worn under a drysuit. A key benefit of the technology is if the outer layer of the drysuit develops a leak, the system will provide enough heat inside the suit to keep the diver in a sufficiently warm state, Knudson said.

To help special operators move through the water, PEO maritime is looking for jet boots, downward propulsion vehicles and "anything that enhances the diver's ability to get from point A to point B and still be in a mode that the combat diver can function without being worn out as he goes through the water column," he said. SOCOM has been testing a Rotinor Blackshadow 730 system that utilizes jet propulsion.

Undersea wireless communications is another critical capability, Knudson noted. "As our efforts expand and our diving continues to get deeper and deeper, we need you guys [in industry] to think about how we can take a normal comms system and put it into a helium-type environment so that when we are diving [with] mixed gas we have the ability to communicate back and forth between the divers," he said.
Mixed gas, also known as technical diving, allows divers to be submerged for longer periods and at deeper depths than compressed air allows. One of those gasses — helium — distorts voices. Helium speech unscramblers could enable special operators to clearly understand what divers are saying when they are submerged, he added.

A smartphone capability that could be used in the water is also on SOCOM's wishlist, according to a slide that Knudson provided during his presentation.

Additionally, the command is looking to improve the quality of underwater breathing apparatuses. Better oxygen and carbon dioxide sensors, and smaller carbon dioxide scrubbers and breathing bags are examples of items that would fit the bill, he said.

PEO maritime also wants to minimize the size of the packages that divers have to carry on their back or chest when they are underwater, he noted.

"We're still somewhat in the '60s technology in some of these [underwater breathing apparatuses] that we're working with out there," Knudson said. "We need to make them smaller, more streamlined, and more efficient and cheaper for the operator to maintain."

Navigation systems also need to be miniaturized, he said. "It needs to be modular, it needs to be small, it needs to be powerful enough that we can float an antenna, get a good GPS fix [and] bring it back down so that the guys can get a true fix of where they're headed in the water column," he said.

SOCOM has been looking at the Shark Marine Navigator system. "It's a good unit that's out there," Knudson said. However, his office would like a system that could be wrist worn or provide a heads-up display, he added.

In July, SOCOM plans to issue a request for information from industry for new underwater technologies. A test-and-evaluation event is slated for November, he noted.
Topics: Special Operations, Special Operations-Low Intensity Conflict, Undersea Warfare