Special Operations Forces Intel Units Need Help Wading Through a Flood of Data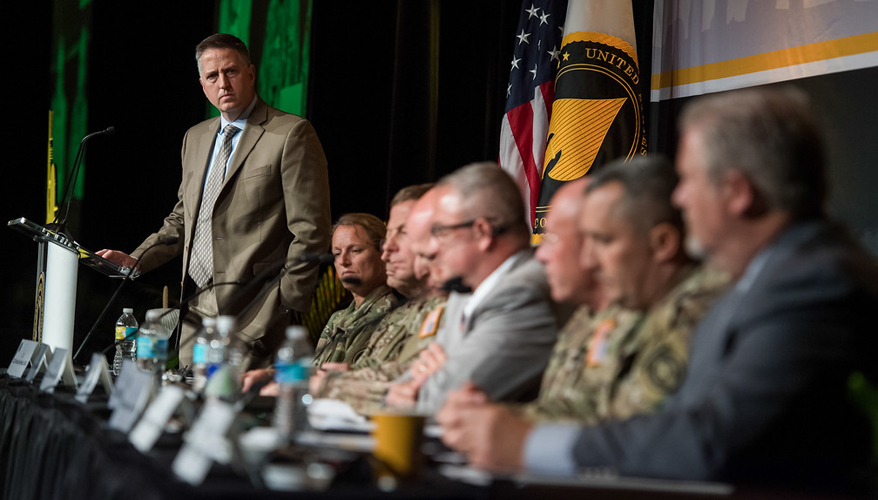 SOCOM unit directors at a SOFIC panel discussion
Photo: EPNAC
TAMPA, Fla. — Like all of the U.S. military services, U.S. Special Operations Command is having problems sorting through and analyzing the flood of data coming in from battlefield sensors and social media. Better data-processing tools are among the items on SOCOM's information-technology wishlist, officials said May 16.

Army Col. Michelle Schmidt, who leads SOCOM's J2 intelligence directorate, said her unit's biggest challenge is sorting the "incredibly large amount of data" it gathers from social media and other open information sources.

But the sorting challenge also "offers our greatest opportunity" as advanced analytics, machine learning and crowdsourcing technologies become more sophisticated, she noted during a panel discussion at the National Defense Industrial Association's Special Operations Forces Industry Conference in Tampa, Florida.
"But right now we're not quite there yet, and this is where we need your help," she told industry leaders. "We need to look toward revolutionizing how we do business to make sure we maintain the tactical and technological edge on our adversaries."

The primary goal for several directorates is making special operators more mobile by 2020. J3 Operations Director Army Maj. Gen. Clayton Hutmacher spoke of the need for tactical communications and logistics systems that improve mobility and enable sustainable operations to be conducted in areas "where logistics support does not exist."

Cyber capabilities that power the command's networks "while keeping tabs on our adversaries' networks" are also needed, he said.

John Wilcox, J6 communications director, said that the push for operators to be more mobile within the next three years did not necessarily mean more smartphones.

"We want to be multi-domain, platform-agnostic," he said, adding that the solution could include a mix of platforms such as smartphones and laptops, and might have weaponized and non-weaponized components to be "operational in the full spectrum of conflict."

"Bottom line is, it really is going to give us untethered access to our [command and control] anywhere in the world," he noted.

The command is also working to develop its next-generation satellite communications system, and are currently testing products from "a number of companies" to have a new system in place in the fiscal year 2019-2020 timeframe, Wilcox said.

"Help us make the right decision, because that will be a major change for all of SOF," he said.

J6 will also be focusing on the next-generation MANPACK radio program, he noted. The command is currently evaluating bids from several companies.

More items on SOCOM's wishlist include upgraded modeling and simulation technologies for language and cultural education and enhanced precision strike capabilities.

Army Brig. Gen. Robert Karmazin, who leads the J7 joint special operations forces development directorate, said SOF language trainers currently use video technology to connect an operator anywhere in the world with a live instructor in a virtual classroom with automated course registration and various features.

He called it "a great system that can be improved" through reducing the cost of procurement and maintenance, seamless integration of Windows and Macintosh operating systems, and reduced loading times.

For cultural education training, Karmazin visualizes a go-to tool that would provide easy access to historical, political and cultural documents, as well as videos and subject matter experts for the region and country where the operator is working.

Improved modeling and simulation technologies would "support operational readiness across the entire training continuum," he noted. SOCOM currently supports over 30 simulators that operate on over 600 server. They lack DoD-wide technical standards that could improve interoperability, he said.

Hutmacher said the command is "constantly looking for improvements to extend our reach," and seeks improved capabilities in hardware and standoff ranges.

"The enemy's going to school on us just like we're going to school on them, so for us to maintain a competitive advantage, we have to pursue advances in all of those arenas," he said.
Topics: Cyber, Cybersecurity, Infotech, Information Technology, Intelligence and Surveillance, Special Operations