Official: Army Tactical Wheeled Vehicle Fleet Not Ready for Modern Warfare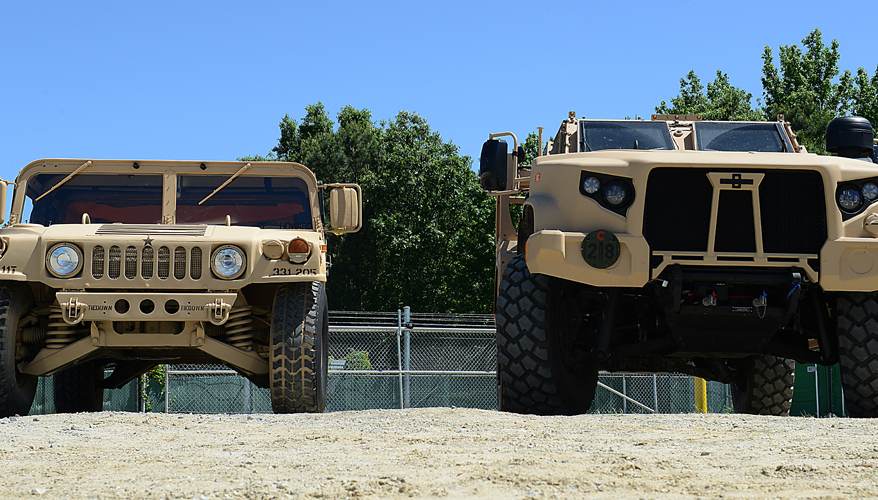 A Humvee (left) and joint light tactical wheeled vehicle
Photo: Army
RESTON, Va. — The Army needs to invest more into the modernization of its tactical wheeled vehicle fleet to meet the demands of future battlefields. That includes some "leap ahead" capabilities, a service official said May 16.

"Today's tactical wheeled vehicle fleet is focused on force protection and carries a relatively low fleet age," said Maj. Gen. Bob Marion, deputy for acquisition and systems management at the office of the assistant secretary of the Army. However, "this fleet may not be optimized for modern, full-spectrum operating environments, for reliability or efficiency."

Echoing comments from the Vice Chief of Staff of the Army Gen. Daniel B. Allyn, Marion said, "Today we are out-ranged, outgunned and outdated."

Challenges to Army modernization have been building for nearly two decades, Marion said at the National Defense Industrial Association's annual Tactical Wheeled Vehicle Conference in Reston, Virginia. Adjusting for inflation, the service has nearly half the funding for modernization and equipment that it had eight years ago. Additionally, for several years the service's annual budget has been unpredictable, he said.

"Sustained, long term predictable funding is essential for the Army to maintain current readiness and to build a modern, capable future force," he said. "We cannot put our soldiers at risk but not providing them with the right equipment at the right time and place to accomplish their assigned mission."

Over the past 15 years, the Army has incrementally modernized its tactical wheeled vehicle fleet, but the time is right to take it a step further, he said.

"I believe we are at a nexus in time, technology and treasure that requires us to move beyond incremental modernization and in some key areas focus on leap ahead capabilities," Marion said.

This is particularly critical as the United States' enemies have carefully observed its tactics, techniques and procedures in order to attempt to strike at its vulnerabilities, he said.

"In order to maintain a decisive advantage against … increasingly capable enemies, we cannot wait to develop new capabilities or we risk being too late," he said.

The Army's current strategy is to maintain a mixed fleet of modernized vehicles with an average age of less than 20 years, he said. The service is fielding the new joint light tactical vehicle and recapitalizing a number of other platforms, Marion said.

Robotics and autonomy might be among those leap ahead technologies. "Robotics and autonomous systems are critical … to our future and in … harnessing emerging technologies to provide decisive advantages for our soldiers," he said.

The service is currently reviewing and assessing requirements to incorporate autonomy into its platforms. The Army's research community is executing demonstrations to evaluate "technical readiness, identify risks and identify tactics that allow human-machine teaming," he said.

Industry expertise is particularly important in this area, he added. The Army sees the gains being made across the commercial industry and wants to leverage those products for its own equipment, he said.
Meanwhile, the JLTV is a key investment for the next generation of ground vehicles, he said. The Army and Marine Corps collectively are planning to procure around 55,000 vehicles to replace a portion of their aging Humvees.

"Now in low-rate initial production, JLTV is on schedule and on budget," he said. "The success is attributed to a joint service agreement on stable requirements, a focus on mature technologies and consistent emphasis on affordability."

It is a model acquisition program and will provide major operational improvements in force protection, payload, mobility, fuel efficiency and reliability, he said. It also the potential to meet future mission requirements.
Topics: Land Forces, Tactical Wheeled Vehicles