VIEWPOINT DEFENSE CONTRACTING
Other Transactions Contracts: Poorly Understood, Little Used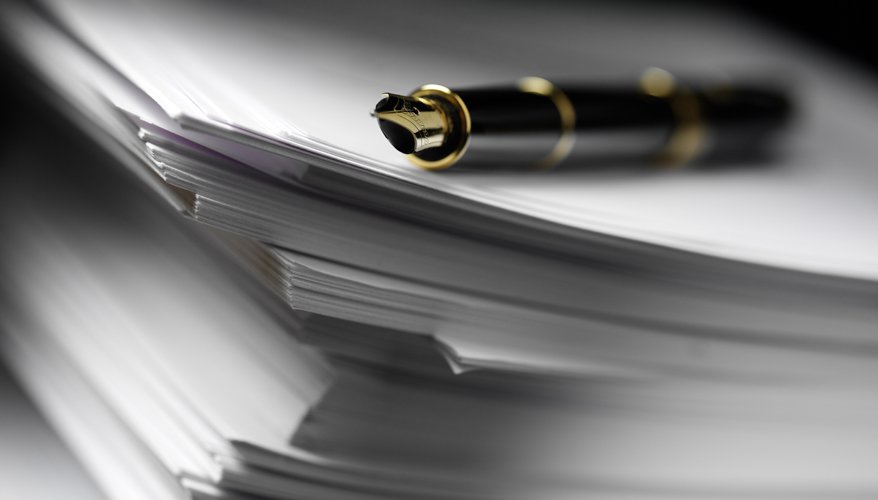 Photo: Getty
First, the good news. Congress has provided the Defense Department with a cluster of legal authorities to conduct experimentation, research, development, prototyping and production that can lead to the fielding of critical defense capabilities in better, quicker and less expensive ways.
The bad news is that the department is unorganized and uneducated in the use of these authorities. They are unknown or poorly understood by most organizations that could greatly benefit from their effective use. This results in their underutilization and a failure to leverage their full potential.
They are generally referred to as "other transactions," that is, contractual actions that are not standard procurement contracts, grants or cooperative agreements and therefore not subject to procurement or assistance law and regulations. Key authorities include those in sections 2371, 2371b and 2373 of Title 10 United States Code.
Section 2373 permits purchase "by contract or otherwise" of certain essential technologies or supplies without being subject to the Armed Services Procurement Act and its implementing regulations when purchased in quantities no greater than those needed for experimentation, technical evaluation, assessment of operational utility, or to maintain a residual operational capability.
These authorities were widely used in the 1990s and early 2000s within the department for science and technology and prototype projects, ranging from small single company transactions, to research joint ventures and consortia, to the development of major air, ground, naval and space systems. After several years of decline, the Pentagon only recently has seen a partial resurgence in their use as renewed emphasis is put on speed and innovation in fielding new capabilities.
Section 2371 was originally enacted in 1989 and Section 2371b prototype authority in 1993. Like 2371, with which it is closely related, it was originally specific to the Defense Advanced Research Projects Agency but later extended to all of the Defense Department. The origins of Section 2373 go back to the Air Corps Act of 1926. Its scope was expanded several times — most recently and importantly in 2015.
"It may be necessary to establish entirely new offices to execute innovative contracting..."
The intent behind the enactment of Section 2371 was to spur dual-use research and development. The idea was to create an attractive way for companies to do business with the department while retaining the characteristics of innovative commercial companies. This would grant the Pentagon access to cutting edge technology and allow it to take advantage of economies of scale without burdening the companies with government regulatory overhead, which would make them non-competitive in the commercial sector.
Defense firms were also encouraged to participate especially if they sought to adopt commercial practices, diversify into the commercial sector or partner with commercial firms. Given the emphasis on dual-use, joint funding of projects was baselined, if practicable, but not mandated. Competition in awarding agreements was also baselined but not absolutely mandated. The mode of competition was not specified but could be adapted to whatever technology domain or industry segment was most relevant to a project.
There are other nuances in the statutes that seem challenging to those whose thinking is immersed in a business-as-usual culture, but properly understood do not inhibit broad use of this authority.
Section 2371b states it is "under the authority of" Section 2371. As originally enacted, Section 2371b was exempted from the cost sharing feature of 2371. It was aimed specifically at defense contractors. Both dual-use and defense specific projects were encouraged under Section 2371b. Defense firms could utilize this authority to streamline acquisition processes in a variety of ways.
They could execute projects with unique business arrangements such as structuring government-funded projects under independent research-and-development rules rather than charging fully burdened rates. They could create business segments without defense acquisition overhead to pursue prototype projects or recruit innovative commercial firms as subcontractors without imposing regulatory overhead through the flow down of otherwise mandatory contract clauses.
They could also ignore practices, which while associated with the regulatory system, were actually not mandated by either law or binding regulation.
Section 2373 as originally enacted was an attempt to inject flexibility into the process of acquiring and assessing the utility of aircraft. Additional domains such as ordnance, chemical warfare and others were added over the years. Like the other-transactions statutes, nothing in the section indicates it is a niche authority. However, it has only been utilized in a niche manner in recent years. In the 2016 National Defense Authorization Act, Congress endorsed 2373 by greatly expanding its scope. It is now applicable to many critical defense needs.
It should be noted that there have been a number of amendments to the statutes over the years — some positive and some negative. The conditional requirement for cost sharing in 2371b was a negative but the 2016 amendment that added a simplified method of follow-on production was a big plus.
A few insights may be helpful for those who ask, "Why not business as usual?"
As far back as the Commission on Government Procurement in 1972 the acquisition system was described as a "mass and maze of regulation." A decade later, the Packard Commission asserted that defense systems cost too much and take too long. The department's own study of defense-unique cost drivers shows it pays nearly a 20 percent premium for processes that do not show up as goods or services contributing to defense capabilities. Avoidance of that cost premium applied across the entire acquisition budget would cover the burden of sequestration. Despite numerous reform efforts the situation has not improved but only grown worse over the decades.
After the first other-transactions agreement in April 1990, they were a growth industry. DARPA used them initially for dual-use science and technology projects, then as prototype projects. They then went department-wide, gaining acceptance both by senior leadership and at the execution level. In just a few years hundreds of them obligating billions of dollars were executed.
By the early years of the current century, other transactions still appeared to be thriving but anti-bodies were at work. Resistant to the new way of doing things, officials schooled in and committed to the traditional system had simmered as the other transactions grew and gained acceptance. Other transactions were unencumbered by socio-economic policies and some officials seemed to think driving socio-economic policies was an inherent part of contracting.
For others, a resistance to learning new things or those "not invented here" might have been the issue. The limited use of cost-reimbursement contracting and emphasis on milestone payments based on achievement seemed heretical to others.
The first setback was an amendment to section 845, currently 2371b, in 2000 that added a requirement for significant involvement of nontraditional companies, which was defined in a narrow and arcane fashion, in projects of one-third private sector cost share. This substantially reduced the attractiveness of other transactions to defense contractors. Moreover, injecting any arbitrary conditions into the statutes is contrary to the spirit and philosophy of their contracting and will ultimately destroy the flexibility and utility associated with their non-regulatory freedom of contract approach.
Next in 2005 came trouble with the Army's largest acquisition program, the Future Combat Systems, which was being conducted under an other-transactions agreement. In hearings before the Senate Armed Service Committee, selected witnesses insinuated the other-transactions agreement was a primary problem as it lacked the "protections" of a traditional government procurement contract.
Their testimony was profoundly misleading and even suggests they had never actually read the agreement. Not only was their testimony a matter of record, but misinformation about the FCS other-transactions agreement contributing to the problems of the program was spread widely through the Defense Department to the delight of the business-as-usual bureaucrats. Little known is the fact that an Institute for Defense Analyses study found that the other-transactions agreement was a positive factor in the FCS program.
The early phase FCS agreement, when jointly managed by DARPA and the Army, was less than 30 pages. However, when the Army took sole control in later phases the other-transactions agreement ballooned to well in excess of 100 pages, looking almost identical to a procurement contract and contained the so-called "protections" of such an instrument.
Only a few innovative subcontractors had commercial-style agreements without the flow down of mandatory clauses. Interestingly, when a Government Accountability Office witness offered a critique of the FCS program no mention was made of the other-transactions agreement as contributing to program's problems.
The fact that the FCS other-transactions agreement had been criticized and that the program was later reorganized as a procurement contract resulted in much uninformed commentary on the role of the agreement in the FCS program. It was widely believed in parts of the procurement community that something was wrong with other transactions and they should not be used for large programs or perhaps not used at all. The policy leader for prototype other transactions, the director of the office of procurement and acquisition policy, propagated the misinformation rather than correcting it — including in a conversation with the author.
The pall of misinformation seemed to affect some government agreement officers, administrators and lawyers that were involved in other-transactions agreements. New processes were added, delays, renewal of discussion on issues long decided and other impedimenta arose in what had been satisfactory relationships.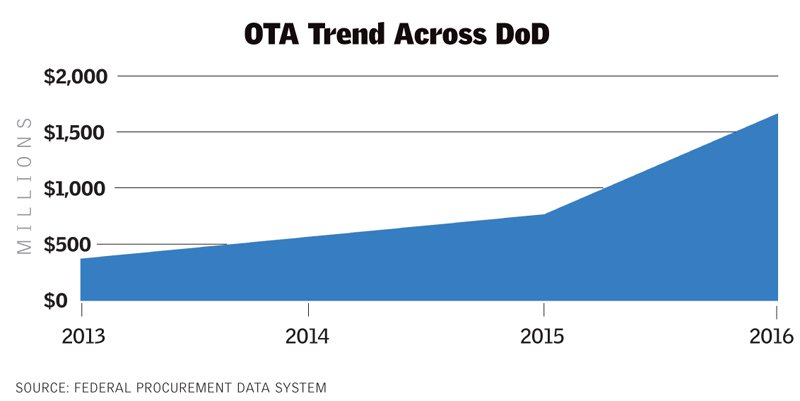 There have been numerous studies of other transactions over the years. They have been almost universally positive in finding that a number of benefits flow from their use with few disadvantages.
One drawback noted in the most disciplined study by the Logistic Management Institute in 2007 has been inadequate training of personnel involved in executing such projects. As already noted, other transactions have critics. In addition to those mentioned, the Defense Department inspector general has made skeptical comments in a number of reports. In general the gist of these comments are that other transactions are not business as usual and the traditional system "has served us well." The inspector general fails to note the cost premium and opportunity costs associated with the traditional system.
While the 2000 amendment and misinformation related to the 2005 Future Combat Systems hearing were seminal events, other developments adversely impacted other transactions. Highly successful programs like the Dual-Use Applications Program and Commercial Operations and Support Savings Initiative, which had highlighted the advantages of other transactions, were allowed to fade away when they transferred from central management under the office of the secretary of defense to the military services where they became victims of other budget priorities.
After years in the doldrums, obligations under these authorities have seen a slight rise recently but remain a miniscule fraction of the Pentagon's R&D budget, much less its total acquisition budget. A residual pocket of other-transactions expertise is maintained at DARPA and a few other contracting offices. They have been used by some offices primarily to form consortia. A single contracting office currently is responsible for the vast majority of other-transactions agreements and obligations. In many instances, however, process-oriented regulatory thinking has found its way into projects where it is unnecessary and counterproductive.
It is certainly possible to revitalize the use of the key innovative contracting authorities within the Defense Department. The essential ingredients include personnel who are willing and want to accomplish mission goals and are unafraid to step outside business as usual to do so. Program managers, contracting personnel, fiscal experts and lawyers need to be equipped with the knowledge that enables them to make maximum use of business judgment and common sense; and envision ways of doing things that have seldom or never been done before.
It may be necessary to establish entirely new offices to execute innovative contracting in order to insulate practitioners from business-as-usual thinking. Selecting good personnel and educating them will not work in the long run absent positive leadership from the top, from intermediate levels and at the working level. Leaders themselves need to be educated on what might be possible, using other transactions and other available authorities. Nothing short of culture change is required.
Many elements of the department thrive on standardization. However, in the world of innovative contracting standardization of policies, procedures, prescriptive guidance, forms, templates and the like can do more harm than good. Education rather than regulation should be the by-word. Other transactions allow freedom of contract and freedom to think. Current Defense Department guidance on other transactions pay lip service to use of common sense and business judgment, but revert to prescriptive concepts or terminology in areas where flexibility and judgment should be used. Revised guidance is needed.
The term "culture change" has been mentioned. Most of the emphasis has been on contracting in a narrow sense but use of flexible and innovative contracting approaches will affect what might be deemed possible — perceived needs or requirements — as well as how projects are managed. Currently few program managers are rewarded for "failing early," but failing early and changing course are inherent in getting the best results when cutting edge technologies are being investigated and deployed. Thus the culture change involves more than just the technique of contracting.
The resistance to widespread adoption of innovative contracting methods has been so intransigent in recent years that leadership from the very top is needed to get defense acquisition on track. The department is poorly positioned to execute using the authorities Congress has provided. Expertise has atrophied through attrition of knowledgeable personnel, lack of use and generally uninspired employment when it has taken place. The mandate for improvement must be clear.
The president of the United States should challenge Defense Department leadership to create the environment for quantifiable improvement in defense acquisition practices. Congress should create a fiscal environment that permits flexibility in program execution as well as further improve and simplify flexible contracting laws.
The secretary of defense should issue new guidance on innovative contracting and consider the creation of an organization responsible for promoting innovation within the department.
The military departments and selected defense agencies and components should be directed to take the following actions:
• Designate a lead contracting activity to become fully capable of using alternative contracting authorities in an effective manner and acting as a lead center for alternative contracting;
• Conduct a review of policy guidance at all levels, including delegations of authority, to identify impediments to effective use of alternative contracting authorities;
• Plan and implement training at all contracting activities with the potential to use alternative contracting authorities;
• Encourage the flexible and innovative implementation of these authorities, rather than prescribing exact use; and
• Request any delegation of authority needed to implement the innovative contracting authorities if not previously granted.
The prospect for substantial improvements in defense acquisition awaits the leadership and commitment to exploit the untapped potential of other transactions. These types of authorities that permit innovations in contracting and business arrangements can lead to rethinking on a range of related issues. They can be a catalyst for critical changes and innovation throughout the Defense Department.

Richard L. Dunn is an independent consultant providing advice on the implementation of technology in the military and civil sectors through innovative means. He is also the founder of the Strategic Institute for Innovation in Government Contracting. A longer version of this article can be found at: http://www.strategicinstitute.org/
Topics: Contracting, Defense Contracting