Boeing Proposes Building Air Force T-X Jet Trainer in St. Louis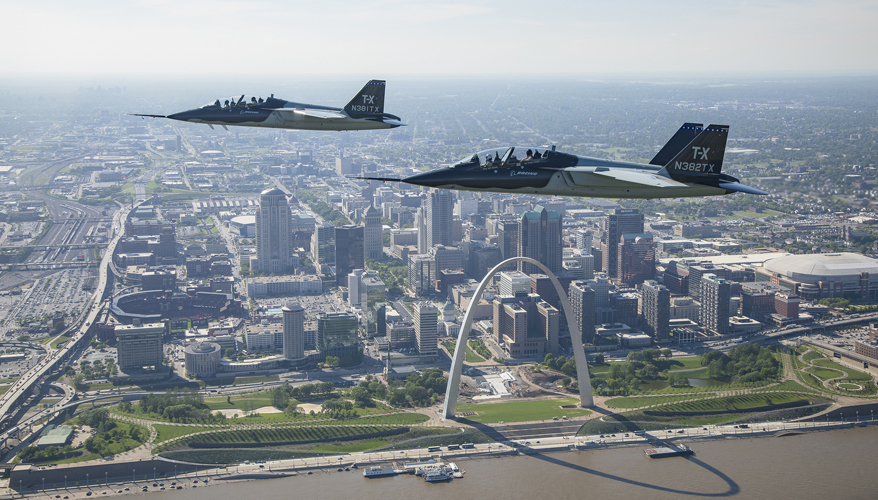 Boeing T-X aircraft fly past St. Louis.
Photo: Boeing Co.
Should it win the Air Force's coveted next-generation jet trainer program, The Boeing Co. will build its aircraft at its St. Louis factory, executives said May 15.
"Our highly skilled St. Louis workforce designed, assembled and brought Boeing T-X to life, and they continue to define the future, not just for our company, but for our customers and the global aerospace industry," said Shelley Lavender, St. Louis senior executive and president of Boeing Military Aircraft, in a statement.
The program would support approximately 1,800 jobs in the area, which includes direct and indirect positions, Boeing said.
"I'm proud that Boeing has trust in the highly skilled workforce in my district, and I look forward to the economic opportunity these jobs will bring for our community and the Missouri supply chain," said Rep. Lacy Clay, D-Mo., who represents the district that includes Boeing's St. Louis facility.
Missouri Gov. Eric Greitens said: "The Boeing T-X trainer will keep Americans safe and create more jobs for Missourians."
The company has already built the first two T-X trainers at the St. Louis factory. Boeing said the aircraft "have proven the design's low-risk, performance and repeatability in manufacturing."
The Air Force is planning to purchase 350 aircraft to replace its aging fleet of 461 T-38 aircraft. The contract — which is expected to be awarded by the end of this year — is worth $628 million. Initial operating capability is slated for 2024.
A number of defense companies are vying for the lucrative project. In March, Leonardo announced that if it wins the program, it would build its Alenia Aermacchi T-100 jet trainer in Tuskegee, Alabama.
Lockheed Martin and Korea Aerospace Industries are offering the T-50A. It recently completed all of its pre-engineering and manufacturing development test points. Lockheed has said the system could be ready for delivery by 2022. Two platforms have been built and undergone testing at the company's Greenville, South Carolina, factory.
A Sierra Nevada Corp. and Turkish Aerospace Industries team will offer a newly designed aircraft for the competition. Aviation Week previously reported that Sierra Nevada and TAI will build their aircraft — dubbed the Freedom Trainer — in Centennial, Colorado, under the subsidiary Freedom Aircraft Ventures, LLC.
Stavatti Aerospace Ltd. of Eagen, Minnesota, in February announced it would be entering the Javelin, a new twin-engine, high-performance military jet trainer, into the advanced pilot training competition. The aircraft is derived from the U.S.-Israeli-designed ATG Javelin Mk-30, which was first proposed a decade ago as a military jet trainer. ATG went bankrupt after failing to find customers for its aircraft, but its designs were acquired by Stavatti. It will be redesigned to fit the Air Force's T-X requirements, according to the company.
Northrop Grumman previously proposed a clean-sheet design, but in February announced it would withdraw from the competition.
Topics: Air Force News, Air Power, Acquisition Programs, Training and Simulation