EMERGING TECHNOLOGY HORIZONS DEFENSE DEPARTMENT
NDIA Has Never Forgotten its Roots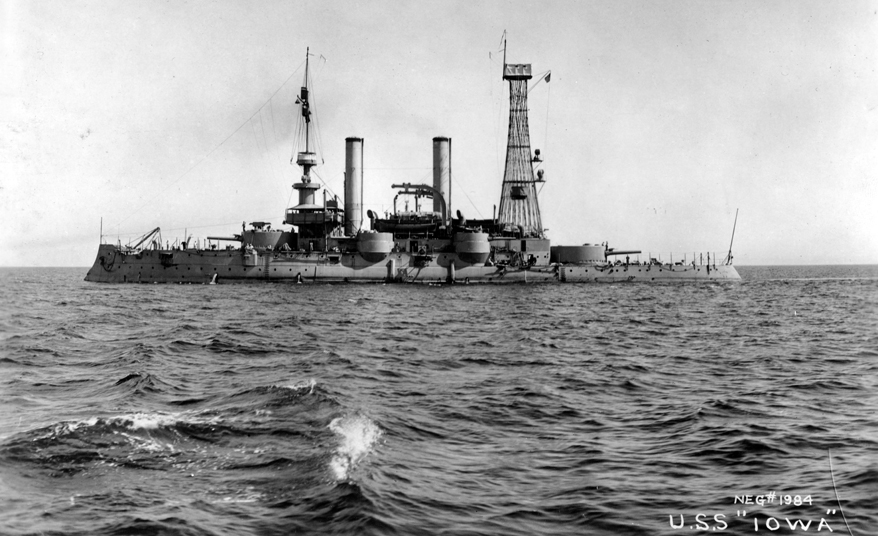 USS Iowa photographed during World War I
Photo: Navy
One hundred years ago, on April 6, 1917, the United States entered World War I — known then as the "Great War." As we consider this centennial milestone, it is worth reflecting on how the war shaped the defense industry we know today.

Although the U.S. sought to avoid the war, Germany's unrestricted submarine warfare and increased aggression pushed President Woodrow Wilson and Congress to enter what they hoped would be the "war to end all wars." Unfortunately, U.S. military forces were ill-equipped, and the nascent defense industry was not prepared to meet their needs.

The military's industrial deficiency was a well-known problem. In 1916, a year prior to entering the war, Congress established the Kernan Board to assess American industry's ability to produce military materiel. The board concluded the U.S. military was poorly equipped, especially compared to all the other countries fighting in the war, and the American industrial base was not capable of transitioning to production levels required to support the war.

One of the board members was Benedict Crowell, a prominent figure in the engineering and mining industry who had been recently appointed a major in the Officer Reserve Corps. After the United States entered the war, Crowell was appointed assistant secretary of war and director of munitions and was instrumental in creating a wartime industry capable of producing mass quantities of munitions. He transformed uncoordinated local industries into an efficient manufacturing base able to supply the equipment and materiel needed for the war.

When the war ended, Benedict Crowell founded the Army Ordnance Association — the first association to emphasize the relationship and importance of private industry to national defense. His early work building a national defense industry was codified in the National Defense Act of 1920, which directed the Army to prepare for wartime mobilization before war was declared. This shift led to the decentralization of the contracting and procurement process, and increased coordination between military leaders and heads of business and industry.

Benedict Crowell served as the president of the association for 25 years. He also continued to serve in the Reserves and eventually retired as brigadier general in 1946. Thanks to his leadership, the association succeeded in creating an environment for cooperation and planning between the government and industry.

For example, the association assisted in developing military technology, improved defense management and established a science-manufacturing-government team. As a result, when the nation entered World War II, industry was in a better position to rapidly transform and expand its military production capabilities. Over time, the Army Ordnance Association merged with other industrial associations to become what we know today as the National Defense Industrial Association. We are proud to continue the legacy of Benedict Crowell and honor his visionary spirit.

NDIA has played a significant role facilitating a relationship between government and industry on national security issues for nearly 100 years. Building on the lessons of our shared history, we have helped government and industry leaders work together to find new ways to support our military's industrial needs in the face of an ever-changing environment.

As with any organization, part of that evolution has included changes in our leadership. Next month, we will be saying goodbye to Craig McKinley as he retires from his role as president and CEO. McKinley has served our association well for the last two years, working to increase membership, improve organizational culture, improve customer service to our members and make efficiencies in our operations. Under his leadership, NDIA offered its support to the Air Force with an agreement to host Air Force Global Strike Command's annual Global Strike Innovation and Technology Symposium later this summer.

NDIA also extended its support to Air Force nuclear modernization strategy, policy and technology acquisition with the creation of a Northwest Louisiana Chapter and Nuclear Enterprise Division. Under his leadership, NDIA also established a new Cyber and Spectrum Operations Division to pursue strategy and policy collaboration between government, industry and academia on multi-domain cyber and electromagnetic spectrum operations, artificial intelligence, machine learning and other emerging technologies. We expect the division to host a major cyber conference early next year.

As part of this transition, NDIA is gaining a seasoned leader as we welcome retired Air Force Gen. Herbert J. "Hawk" Carlisle as our new president and CEO. Carlisle has spent his career looking for ways to maintain and extend U.S. military advantages far into the future. He fully understands the importance of forging strong relationships within the defense community so that we can develop a shared understanding of the challenges and opportunities facing military forces.

As the Pacific Air Forces commander and then as the commander of Air Combat Command, Carlisle was focused on how best to equip our combat air forces so that we maintain a competitive advantage against any potential adversary. I am very excited for all that Hawk will bring to our NDIA family and fulfilling our mission to promote the best policies, practices, products and technologies to ensure the security of the nation.

NDIA is an organization that remains dedicated to the ideas first proposed by Benedict Crowell. We exist to promote the best policies, practices, products and technologies that will ensure the safety and security of the nation.

As our government continues its transition, many incoming officials will likely not have long track records of military service. We will need to expand our educational mission to emphasize the value of strong national security policy and the critical role that industry plays. As we have done for nearly 100 years, NDIA will offer incoming government officials a source of insight and continuity on critical issues facing U.S. national security and the U.S. defense industrial base.

Sid Ashworth is chair of the NDIA board of directors.
Topics: Industrial Base