Coast Guard to Acquire New Drone for National Security Cutters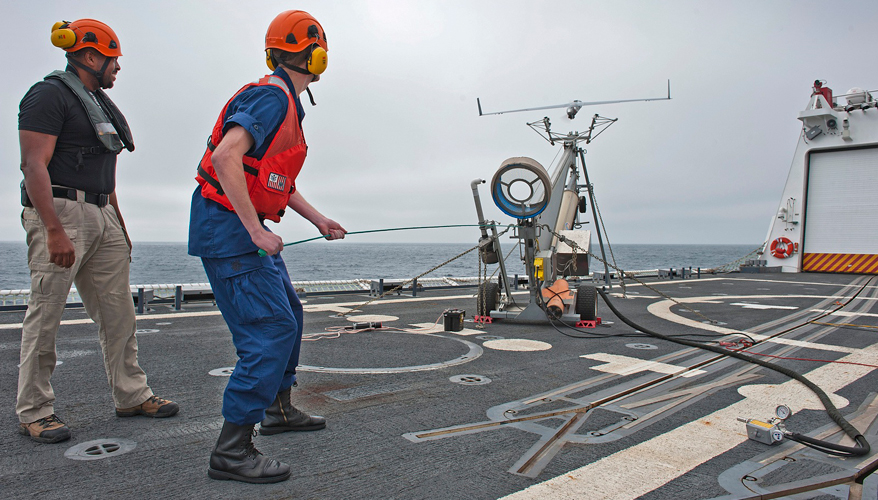 A ScanEagle UAV being launched off a U.S. Coast Guard cutter.
NATIONAL HARBOR, Md. — The Coast Guard is looking to outfit its fleet of national security cutters with unmanned aircraft and recently released a draft request for proposals, a service official said April 5.

"We see great promise in unmanned systems in giving us persistence," said Cmdr. Dan Broadhurst, unmanned aerial system division chief at the Coast Guard's office of aviation forces. "We're looking for the right sensor at the right place at the right time for absolutely as long as possible."

The Coast Guard ultimately plans to equip each of its nine national security cutters, some which are still being constructed or on contract, with such a system, he said during a briefing at the Navy League's annual Sea-Air-Space Conference in National Harbor, Maryland.

The service wants the system to be able to be launched and recovered from the cutter, have an endurance of 12 hours while operating electro-optical/infrared cameras simultaneously and have day and night capability.

The Coast Guard released a draft RFP in late March for the program and plans to release a final RFP in the fourth quarter of fiscal year 2017, Broadhurst said. Contract award is slated for the third quarter of fiscal year 2018, he added.

The national security cutter has "always been envisioned to have a UAS on board," he said.

The procurement of such a system would be the end of a long road for the Coast Guard. It originally envisioned a medium-sized vertical take-off and landing unmanned aerial system similar in design to the V-22 Osprey for its new fleet of cutters, which were part of the Integrated Deepwater modernization program. When that effort ran over budget, the service was forced to revamp the program, and had to drop the VTOL aircraft. For the past decade and a half, the Coast Guard has pursued a dedicated UAS, but was denied funding. It has, however, shared a Predator outfitted for the maritime environment with Customs and Border Protection.

In fiscal year 2015 and 2016, the Coast Guard received congressional marks to establish a medium-range unmanned aerial vehicle program, he said. Using that funding, the service chose Insitu's ScanEagle to be a prototype system for initial tests and demonstrations, Broadhurst said.

The UAV recently came back from a deployment on the USCGC Stratton and it was a "great success," he said. The system helped in the seizure of 5,000 pounds of illicit narcotics.

"What it basically did is it took our combat information center from being a radio room to a visual full-motion video experience," Broadhurst said.

The service contracted the system for two 105-day deployments per year and 200 flight sensor hours per month, he said. "The intent is that we're going to find out what we need, what we don't need, and how we can make the most efficient and the best use of our money."

While ScanEagle was the winner of the first competition, the service doesn't know what the next system will look like, Broadhurst said. "It could very well be an Insitu product. It could very well be a competitor. We don't know. It's a full and open competition."

Textron Systems' plans to offer the Coast Guard its Aerosonde unmanned aerial vehicle for the program, said David Phillips, the company's vice president of small and medium endurance unmanned aerial systems.

While a final RFP hasn't been released, "for right now it appears that our standard version of Aerosonde would fit the profile and the requirements that the Coast Guard is asking for," he said.

The system is already mature and has a long history of being used by the U.S. military, Phillips said.

Aerosonde can be outfitted with a variety of payloads including day/night cameras, signals intelligence, radio relay and a synthetic-aperture radar, he said. It can also be used in Arctic conditions, he said.

As the Coast Guard moves forward with procuring a medium-range system, it is also looking at small Group 1 and Group 2 drones for its fleet, Broadhurst said. These systems often are hand-launched and have short range and endurance capabilities.

"We see nothing but infinite opportunities and we actually see this as being one of the largest UAS programs in the Coast Guard," he said. The Coast Guard has yet to define the requirements for such a system, he added.
Topics: Robotics and Autonomous Systems, Robotics, Maritime Security