VIEWPOINT DEFENSE CONTRACTING
Modest SBIR Investments Bring Big Benefits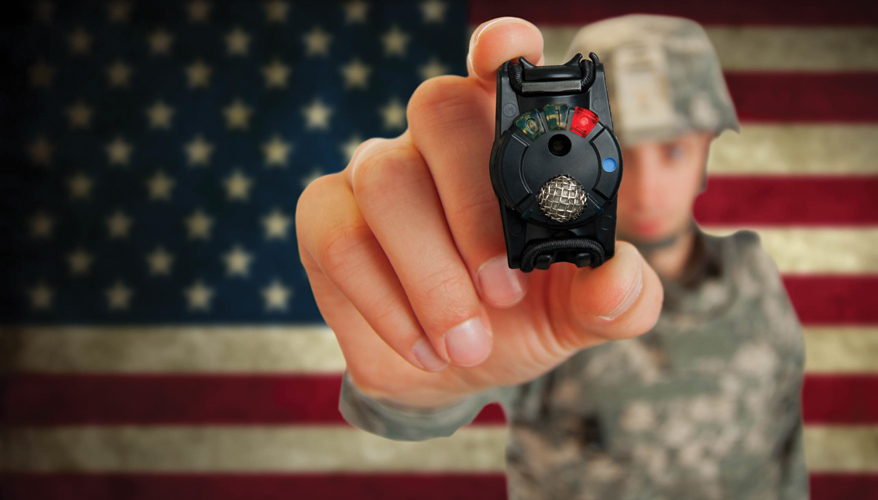 Blackbox Biometrics' Blast Gauge System
The defense industry is big, technologically complex and highly competitive. The bar for entry can be high. For small companies who think they have something new or different to offer, vying for a chance to compete can be daunting.

The cost and risk involved with science and technology and research and development to bring a new product or service to market can exceed the ability and resources of many small businesses. So special funding is available to help them develop their ideas and prove their technologies. Meanwhile, program managers and prime contractors have incentives to bring small companies to the table.

The Small Business Innovation Research (SBIR) program makes funding available to small companies to develop technologies to meet warfighting requirements and that can transition to a program of record and commercialization. The Small Business Technology Transfer (STTR) program is similar to SBIR, but requires the small business to formally collaborate with a research institution.

Then-Assistant Secretary of the Navy for Research, Acquisition and Development Sean Stackley said in a 2015 memo that a competitive, healthy small business industrial base is vital to the long term success and affordability of the service. "Where affordability is paramount, a strategy that includes small business creates more affordable outcomes and promotes innovation and technical advancement," he said.

Bob Smith, director of the Navy's SBIR/STTR program, said in May 2016 that the service announces topics three times a year. It issued about 170 topics in its most recent cycle. From that it received about 2,800 proposals. It reviewed, evaluated and prioritized each one, and selected two proposals for each topic. One of the two is chosen to go forward as a Phase II project. The Navy looked at 252 Phase II proposals, and selected 137 Phase III awards to help those technologies transition.

"These might seem like low numbers, but if you talk to any venture capitalist, that's a pretty good track record," Smith said.

While SBIR can help small companies introduce and develop their new technologies, Smith said companies should not focus solely on winning these awards. "Do not make SBIR your only business model. It will not work."

For Midé Technology Corp., a small business in Medford, Massachusetts, SBIR efforts have led to some surprising developments. From missile instrumentation to bulkhead shaft seals to smart wetsuits, Midé has seen SBIR grant activity evolve into further opportunities including the development of products for the military and commercial markets. One good idea has led to another.

"We know the cycles when the topics and solicitations come out from the different agencies and departments," said Midé's Vice President of Corporate Programs Rick Orlando. We have a process in our company that ties into their schedules. We look at the topics, and glean the ones where we have interest and are suited to submit a proposal."

In general, Orlando said a high proportion of Midé's R&D work is funded by SBIR funding. "It's about 80 percent of our R&D expenditures, but that doesn't count our product revenue."

A small company in Melbourne, Florida, has used SBIR to match existing technology with a requirement to provide communications relay radios between unmanned systems and host platforms.

"We had the technology, but we had to find a way to militarize it. It had to handle the vibrations and temperatures, and be small enough to fit inside an unmanned aerial vehicle," said Emilio Power of RSS Technology.

The RT 1944 U radio was developed by RSS using a Navy SBIR investment. Power says the RSS radio is now part of the littoral combat ship program, and the company's equipment is on the ship and its off-board vehicles, such as the MQ-8B Fire Scout unmanned aircraft.
SBIR and STTR projects require a technology transition plan, that specifies the "fiscal and transition commitment of participants in the transition stream to develop, deliver and integrate a technology/product into an acquisition program." It calls for a "seminal transition event," to test the technology in a mission environment before it can be used by the warfighter.

"Our Phase III funding is allowing us to finish our software and conduct the seminal transition event, which is to do 80 MB at 30 miles. We're getting ready to put that radio into production," Power said.

RSS Technology is taking advantage of a related funding mechanism, the Rapid Innovation Fund, to further validate the concept. The Navy's RIF enables participants to develop concepts and technologies to meet operational or national security needs, and invests in ways to reduce technical risk and cost.

"The SBIR program is fantastic," Power said. "But one has to know how to work it. There is only a certain amount of money. But that investment can make the difference between an idea and a reality."

Powers understands the importance and value of working with big companies. But being smaller is an advantage. "A lot of the big guys have tried doing some of these projects, but it takes a long time. A small company can act and react faster."

Janet Hughes with Robotic Research of Gaithersburg, Maryland, said her company has participated in SBIRs for a number of agencies, such as the Army, the Defense Advanced Research Projects Agency and the Department of Homeland Security.

"We've had success moving to Phase II and III by working closely with the TPOCs (technical points of contact)," Hughes said. "We've taken technologies developed through one agency's SBIR program and transitioned them into other agencies.

"Today we use SBIR funding almost exclusively for our research and development," added Hughes.

Rochester, New York-based BlackBox Biometrics (B3), has been selling the Blast Gauge System, a small, wearable sensor that can detect and measure overpressure from explosions such as artillery or bombs, that can cause brain injuries. According to B3's Scott Featherman, the Blast Gauge technology was first developed with DARPA, and was adopted by the Army. Now, because of a SBIR from the Marine Corps Systems Command, BlackBox has demonstrated the effectiveness of the technology to the service.

"We're completing our Phase II now and getting ready to enter Phase III, and begin commercial sales," Featherman said.

Once a company wins a Phase II SBIR award, the Navy SBIR program offers a course to the company to learn how to create a business plan and navigate the complex Defense Department business structure. This is called the SBIR/STTR Transition Program (STP).

A good percentage of NAVSEA's SBIR companies participate in the program, Smith said. "We teach them how to be a success. That's what STP does; we foster the relationship between the Navy and the company and teach these companies how to transition their technology."

"Our naval acquisition community considers SBIR/STTR part of the solution for delivering quality innovation to our warfighters — quickly and cost-effectively," said Smith. "The Navy cares about our small businesses, and we care about them succeeding."

Tad Dickenson, Raytheon's director of the company's SPY-6(V) Air and Missile Defense Radar program, said Raytheon has some big reasons why it embraces small business. "Small companies offer more diverse input, and help us to think like a smaller company."

Raytheon has developed the radar with open architecture to be flexible. "There's nothing proprietary, and any-sized company can be involved in the program. In fact, we can insert different algorithms for the same function next to each other to see which works best. We can select one, or both. And we can easily put in new functionality, or replace something with a better version."

Raytheon's SBIR teammates bring important attributes to a project, Dickenson said, because they are lean and agile, and can produce results quickly at a lower cost. "Their ideas evolve very quickly, and we can leverage that innovation. That adds up to better capability, performance and affordability for the Navy."

Dickenson said the SBIR program creates win-win-win situations that benefit the Navy, Raytheon and the small businesses. "We look to nurture these relationships. We learn a lot from our small business partners, and we think we can offer them a mentorship relationship with our experience and expertise."

Edward Lundquist is a contributing writer.
Topics: Small Business