Presidential Helicopter Replacement Program Prepares for Inaugural Flights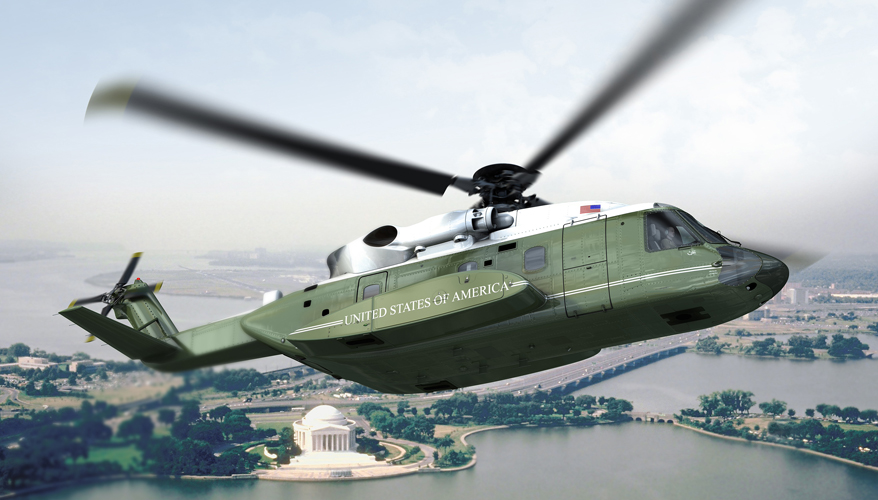 VH-92A concept art
NATIONAL HARBOR, Md. — The U.S. Navy Naval Air Systems Command is on schedule to begin flight testing later this year for the first two replacement aircraft for the Marine One presidential helicopter, an official said April 4.

"We're going to break the deck with this thing this summer," Marine Corps Col. Robert Pridgen, presidential helicopter program manager for NAVAIR, told reporters at the Navy League's annual Sea-Air-Space conference here.

Sikorsky Aircraft is providing the Marine Corps with 23 helicopters — including the two initial engineering development models — based off of its FAA-certified S-92 commercial aircraft under a $1.24 billion fixed-price incentive engineering and manufacturing development contract, according to Lockheed Martin. The company acquired Sikorsky in 2015.

The VH-92A will replace the service's current fleet of eight VH-60N and 11 VH-3D rotorcraft, and is expected to enter service with four operational aircraft and crews along with parts and support in 2020, Pridgen said.

"The day this aircraft hits the [White House] South Lawn, I don't think you'll see another aircraft," he added.

The program office is currently developing a draft request for proposals for Sikorsky and Lockheed Martin, in anticipation of a future low rate initial production decision to purchase the final 17 aircraft over the next three years, Pridgen said.

Until then, final assembly continues for the two initial Sikorsky-built VH-92A rotorcraft in Stratford, Connecticut, said Spencer Elani, vice president for VH-92A for Sikorsky.

"After first flight we'll take them up to Owego [New York], and we'll do our flight test program," he said.

"We're excited about getting to that point … We really didn't change the dynamics system, it's just a matter of getting out there and checking out the radios," he added. "It's going to be very predictable."

Sikorsky pilots will begin testing this summer, and Marine pilots will take over in summer 2018 at Naval Air Station Patuxent River in Maryland, Pridgen said.

"That will begin the testing that sets the stage for our Milestone C [decision] that will occur in 2019," he noted.

The program is now three years into execution, ahead of schedule, he said. Sikorsky is integrating the government-owned mission communication systems — a presidential helicopter requirement — into the aircraft at Lockheed Martin's facility in Owego, he added.

"The focus right now is to make sure we complete this build and hit that first flight on time," he said.

The effort to replace the Marine One fleet has been in the works since the 1970s, and previous attempts were plagued by schedule delays and requirements bloat that caused the former program to be shut down in 2009.

But the Marine Corps has learned its lessons from the past, and is moving forward with a stable design and requirements that help it stay on schedule and budget, Pridgen noted.

The program office has been in regular contact with government organizations including the office of the director of operational testing and evaluation and the Government Accountability Office, and speaks daily to members of the White House military office, he said.

The aircraft is currently hitting all its key performance parameters "with a little bit of room in our pocket," Pridgen said.

President Donald Trump has publicly scrutinized the cost of several Defense Department programs on Twitter, including Boeing's upcoming presidential aircraft replacement and Lockheed Martin's F-35 joint strike fighter.

But thus far, the program office has received no concerns from the White House, Pridgen said. At the beginning of the program, Navy and Marine Corps officials, along with White House officials, maintained a governance structure to ensure all parties remained familiar with the capabilities of the rotorcraft, as well as scheduling updates, he said.

"They are well dialed into the maturity as we go through; they attend the design reviews. We've got real close coordination," he said. "The feedback we've gotten so far is, 'Keep doing what you're doing; don't be late.'"

Pridgen also meets quarterly with the officials involved at the Pentagon to lay out any changes to the helicopter or its requirements. "To date, three years from contract, there has been no capabilities changes on the aircraft," he said, acknowledging that changes could be made in the future depending on technology updates or cost schedule changes.

Starting with an FAA-certified aircraft also helped to keep the requirements in check, Elani said.
Topics: Air Power