Focused Engagement Needed in Afghanistan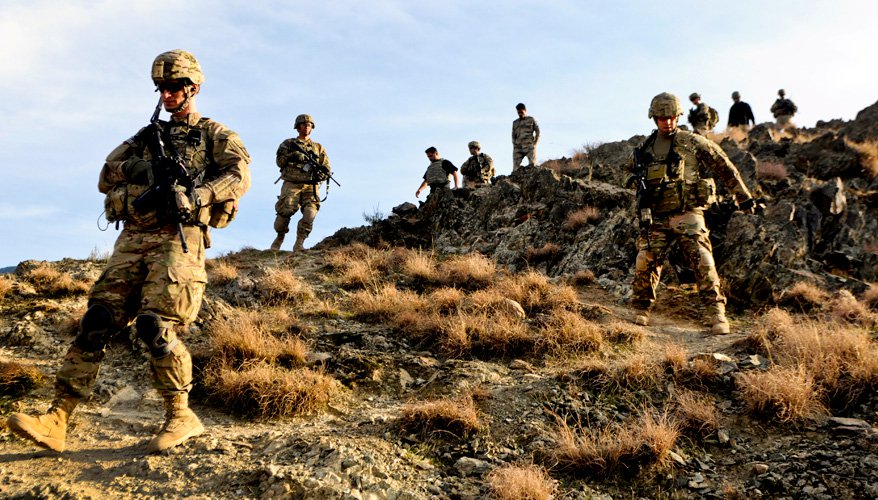 U.S. soldiers patrol down a mountain in Kunar province, Afghanistan.
A lasting peace process in Afghanistan will not be achieved by withdrawing troops or maintaining the status quo, but by stabilizing the battlefield and promoting Afghan sovereignty, according to a new report.

"Focused Engagement: A New Way Forward in Afghanistan," offers strategic options for President Donald Trump's administration to make headway in Afghanistan, after 16 years of attempts to train the local military and stabilize the Central Asian country.

The report, released by the Center for a New American Security, advocates stabilizing the battlefield by improving U.S.-Afghan strategic alignment and promoting Afghan sovereignty.

This could reduce destabilizing regional competition from insurgent groups including the Taliban, and neighboring countries such as Pakistan to advance a successful and long-lasting peace process, according to the report.

"The best-case outcome … is an advantageous stalemate in which the Afghan government retains control of roughly 65 percent of the country, including Kabul and major cities, while the Taliban controls or contests 35 percent or less," the report said.

The report also recommends that the administration decentralize authority to a U.S. civil-military command in theater, while retaining National Security Council-level oversight.

The report notes that the United States has spent more on assistance in Afghanistan in real terms than it did for the Marshall Plan to rebuild Europe after World War II. The cost of current U.S. engagement tallies roughly $23 billion per year, with over $5 billion going to aid and assistance and the rest supporting 8,400 U.S. troops.

Afghanistan is "a critical area where a new administration [is] going to have to grapple with U.S. strategy, objectives and a way forward for the campaign," said Michèle Flournoy, CNAS chief executive officer and former under secretary of defense, at a recent event for the report's release at the Washington, D.C.-based think tank.

Christopher Kolenda, a CNAS adjunct senior fellow and former senior adviser on Afghanistan and Pakistan who authored the report, said there are no quick fixes and that the process could take another 10 to 15 years.

But he maintained that continued engagement would be more likely to protect American interests at acceptable cost than withdrawal or unconditional commitment.

Withdrawing troops from Afghanistan would create a new opportunity for terrorist groups to regain a safe haven, and "it's in the national interest of the United States to prevent that from happening."

Maintaining the status quo is not a favorable option because "putting the current approach on autopilot runs the risk that in five years, Congress pulls the plug, and then I think we've got a real mess on our hands," he added.

Focused engagement offers a way to measure progress and encourages Afghanistan's government to take more responsibility for a favorable and durable outcome, he noted.
Topics: Global Defense Market, Stability Security Transition Reconstruction, International