Helicopter Industry to Demonstrate New Designs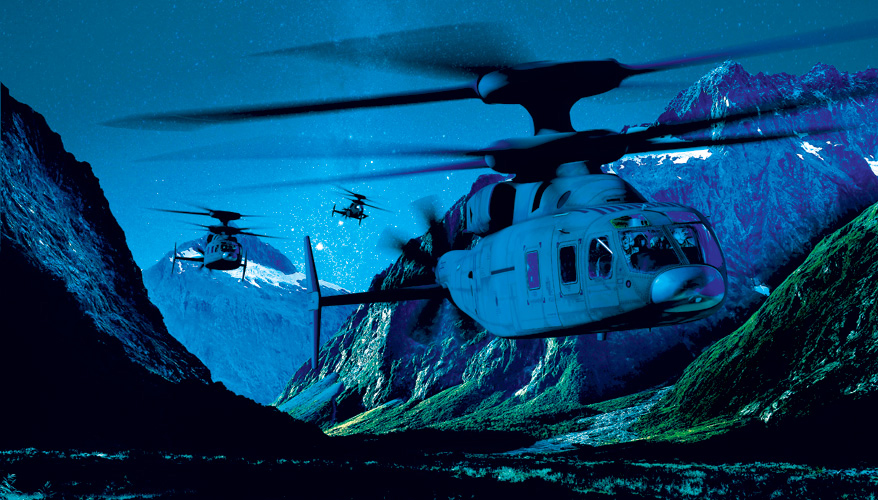 Boeing-Sikorsky's new concept for its family of future vertical lift aircraft
Concept: Boeing-Sikorsky
After years of work, Bell Helicopter and a Boeing-Sikorsky team are preparing for flight trials of the joint multi-role technology demonstrator, a precursor to the Army's highly anticipated future vertical lift program.
The service's FVL program, still in its infancy, is an effort to eventually replace thousands of helicopters in the late 2020s and 2030s with a new vertical take-off and landing aircraft.
For JMR, Bell Helicopter is offering the V-280 Valor and a Boeing-Sikorsky team is offering the SB-1 Defiant. The companies have been working on their platforms since they were chosen in a down select in 2014.
The point of JMR is to help inform requirements for future vertical lift and to mature technology, Leslie Hyatt, the Army's program director for FVL told National Defense.
"It's going to help us understand and see if the technologies that they are developing [can be applied] in a program of record," she said.
Future vertical lift — for which the service hopes to issue a request for proposals in fiscal year 2019 — is envisioned as a family of systems that will include light, medium, heavy and ultra-sized variants with commonality in components. JMR is designed to be a medium-lift aircraft.
For Boeing-Sikorsky, the team had originally planned to fly Defiant this fall, but pushed it back to early 2018, said Patrick Donnelly, director of future vertical lift at Boeing.
"The program right now isn't going as quickly as I would like," he said. "We are planning now to fly in early 2018. That being said, we've done a lot of work on our risk reduction plan and we've been able to retire several risk items in our program. So that gives me more confidence that when we do fly, we'll have a successful flight test program."
Donnelly noted that the delay is not because of any mishaps, but rather the process is taking longer than anticipated, he said.
The Defiant's fuselage was recently delivered to the team's West Palm Beach, Florida, facility after undergoing structural testing in Mesa, Arizona, he said. The landing gear has already been installed on the fuselage, and other basic equipment will soon be integrated, he added.
In late 2015, Lockheed Martin completed its acquisition of helicopter manufacturer Sikorsky from United Technologies Corp. That purchase has not negatively affected the JMR program, Donnelly said.
"There have been no problems at all," he said. "Lockheed has come in and embraced the program exactly as we had it laid out."
Bell Helicopter is planning to fly its aircraft on schedule this fall, said Steve Mathias, director of global business development for advanced tilt-rotor systems at the company.
The Valor is 95 percent built at Bell's Amarillo, Texas, facility, he said.
"We just finished the ground vibration testing here within the last week which went very well," he said. This "summer we'll get the rotors installed, [conduct] ground runs and we're still on track for our first flight this fall."
There are still a number of tests engineers will have to facilitate before that, such as validating the multi-function display, he said.
There is "a lot of work ahead but [we're] very much confident that we are where we need to be and we're going to get where we need to be by September," he added.
The work Bell has done in support of JMR will likely help the company during the forthcoming future vertical lift competition, Mathias said.
"What this program has allowed us to do is take the lessons learned over years of tilt-rotor technology and apply it … [to] a clean sheet design," he said. "It has allowed us to take our technology to the next level."
Should the Army want it, Bell believes it could begin producing FVL by 2025, years earlier than the Army's projected production timeline of 2029 or 2030, he said.
"We believe very strongly … that because of all the things that we've learned in the joint multi-role tech demonstration phase … that we could enter straight into a Milestone B in 2019 and therefore reduce the overall time of the acquisition process by maybe four or five years," he said.
Donnelly, from the Boeing-Sikorsky team, said until the Army was clear about its requirements for future vertical lift, he wasn't in a position to say if the Defiant could be produced on a faster timeline.
"Could I produce Defiant quicker? Probably," he said. "But I'm not clear yet that the FVL requirements are firm enough for me to make a commitment on designing, building and fielding an aircraft.
"Until they tell us what they're looking for, it's going to be hard for me to figure out how long it's going to take to deliver against that," he said.
Those requirements will be solidified after the program office finishes an analysis of alternatives study, or AOA, which is being stymied by budget uncertainty, Hyatt said.
In October, the program office for future vertical lift went through its milestone development decision that gave it the authority to begin an AOA. However, because the government is operating under a continuing resolution for fiscal year 2017, that has left the program short of necessary funding, she said.
"We are a new-start program [and] we did not have funding last year, so that limits our ability to kick off the full AOA," she said. "There are efforts that we're continuing to work as we can, more from a planning perspective."

Bell Helicopter's joint multi-role offering concept (Bell Helicopter)
The office had originally planned to wrap up the study sometime in the middle of fiscal year 2018, but the continuing resolution could push that back, Hyatt noted.
"When we did the MDD, we knew there would be a period of time in which we wouldn't have the money. It takes a while to get it anyway, and usually when there is a change in administration it can sometimes be a little longer, historically," she said. "We anticipated and kind of planned for [that] … but obviously the longer the CR goes, yes, that will impact" the timeline.
FVL was to be allocated about $10 million for fiscal year 2017, said Bob Sheibley, acting project manager for future vertical lift at program executive office aviation.
"It's really just enough to start the program efforts — run the office, run the AOA kind of stuff and start developing some of the documentation," he said.
However, until the CR is lifted, the organization is using some existing money to do upfront planning, he said.
As the program office looks forward, it may continue to be dogged by budget issues. The Trump administration has signaled that it wants to invest significantly in the military, but there are many programs that may take precedence, Sheibley said.
There are "a lot of priorities in the current administration to solidify the existing force, but there's also a priority to make sure that we're modernizing for the future as well," he said. "Unless we figure out how to get enough resources to do both, to the level that the administration wants to do, it's going to continue to be a balancing act."
Jose Gonzalez, acting deputy assistant secretary of defense for tactical warfare systems, who works in the office of the undersecretary of defense for acquisition, technology, and logistics, said that FVL would be a priority for him and the Pentagon.
"I'm going to be engaged, I'm going to ensure that we have the right attention in all the right areas," he said during a panel discussion at the Center for Strategic and International Studies, a Washington, D.C.-based think tank.
The Pentagon already has a focused leadership team that gets together on a frequent basis to help steer FVL.
While the Army is leading the future vertical lift effort, it is also working closely with the other services, especially the Marine Corps and Special Operations Command. Maj. Gen. H. Stacy Clardy, J8 deputy director for force management, application and support on the joint staff, said an FVL capability would be critical for the military going forward.
"We're losing a lot of our dominance in vertical lift," he said. "Our enemies are developing and buying capability to make the airspace more dangerous for not just fixed-wing [aircraft], but [for] helicopters. They want to deny us access."
Future vertical lift can give the military needed access and dominance, he said.
Until the AOA is wrapped up, everything is on the table in terms of capabilities, Clardy said. That includes the possibility of integrating autonomy into the platforms.
"As we look at the different capabilities that we're trying to satisfy as we go through an analysis of alternatives … I would expect that the services would look at both manned and unmanned as part of that," he said.
Both the Bell Helicopter and Boeing-Sikorsky team said making FVL unmanned is a capability they could develop.
As future vertical lift progresses, it is possible that the Army could team up with a foreign nation on the development of the system, but it's still too early to tell how that will pan out, Sheibley said.
"There has already been some level of inquiry and interest from the usual players, [however], nothing is firmed up yet," he said. "Whether anything materializes into a co-development kind of deal is questionable at this stage."
Such multi-national programs have historically been a way to reduce costs, but it is more likely that countries will want to purchase the aircraft when it is available via a foreign military sale rather than being a partner country, Sheibley said.
Often, while a country may be interested in jointly developing a program, they may not have enough money in their budget to do so, he said. "Their budgets don't tend to be the same as our budgets for developing the aircraft," he added.
Sheibley noted that many countries that are looking to replace their helicopter fleets are interested in the FVL program and watching it progress.
Topics: Air Power