Joint Missile Test a 'Model' for Cooperation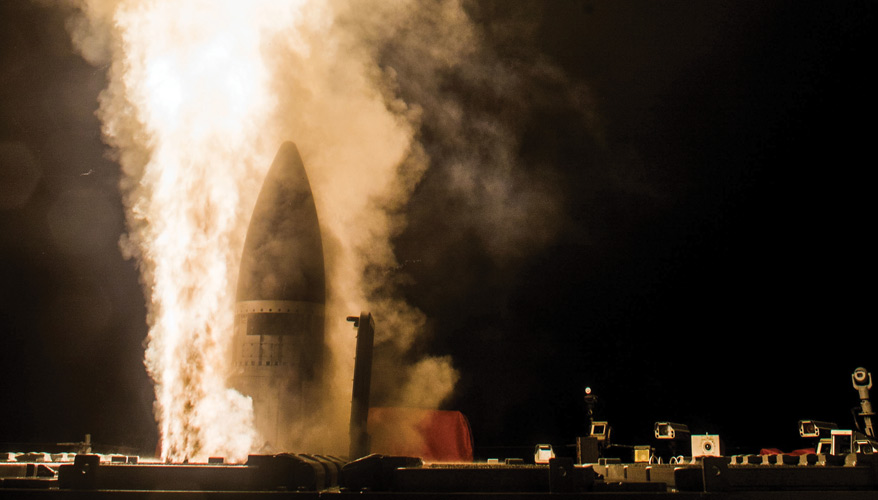 A Standard Missile-3 Block 2A
Photo: Missile Defense Agency
As Japan seeks to expand its missile defense portfolio to combat regional threats from China and North Korea, it will look to benefit from joint acquisition programs with the United States, analysts said.
The recent test of a Standard Missile-3 Block 2A interceptor in Japan is "maybe the best example of technological cooperation" between the United States and Japan, said Zack Cooper, a fellow with the Japan Chair at the Center for Strategic and International Studies, a Washington, D.C.-based think tank.
The U.S. Missile Defense Agency, working with Japan's defense ministry and U.S. sailors, successfully conducted the flight test in February in Hawaii, said Rear Adm. Johnny Wolfe, program executive for Aegis ballistic missile defense, at an event in Washington, D.C.
The SM-3 Block 2A missile, developed by Raytheon in cooperation with Japan, will be deployable by land as well as at sea via Aegis combat systems.
"If you think about what it takes to fly a missile in space, what it takes to hit a bullet with a bullet … that's a pretty huge feat for a single nation," he said. "Now add the complexity of one nation designing and building half of the system, and another nation designing and building the other half of the system.
"We're bringing all that together and … we did it," he added.
A second flight intercept test is planned for the third quarter of 2017, he said. Based on the outcome of the test, the program office will look at transitioning the system into production for both countries' Aegis-equipped destroyers, he added.
The archipelago nation's current fleet of six Aegis-equipped ships currently have an older baseline that supports up to SM-3 Block 1A interceptors, but it plans to purchase more, according to the country's Ministry of Foreign Affairs.
Japan is also looking to purchase more land-based missile defense systems — such as Lockheed Martin's terminal high altitude area defense system or additional Patriot advanced capability-3 interceptors — as the threat of an attack grows from either China or North Korea, Cooper said.
"We're starting to cross the threshold from North Korea having a limited ballistic missile capability to one that is much more developed," he said.
The country's boost in missile defense investment also benefits the United States, he noted. The SM-3 Block 2A partnership is "in many ways … a model of what they should be doing moving forward," he added, noting that joint acquisition programs help to drive down costs and promote interoperability between allies.
The relationship between the United States and Japan "is in a good place at the moment," Cooper said. Japanese Prime Minister Shinzo Abe was the first foreign leader to meet with President Donald Trump after he won the presidency, and was the second leader to meet with Trump post-inauguration.
During the 2016 presidential campaign, Trump had criticized the Asian country's defense commitment along with its trade policies. But since he has entered office, the rhetoric has changed to one of "iron-clad commitments" to Japan rather than conditional support, particularly from cabinet officials including Defense Secretary James Mattis, said Bruce Klingner, senior research fellow on Northeast Asia at the Heritage Foundation, a Washington, D.C.- based think tank.
Topics: International, Internation Cooperation