Industry, Academia Partner on Virtual Reality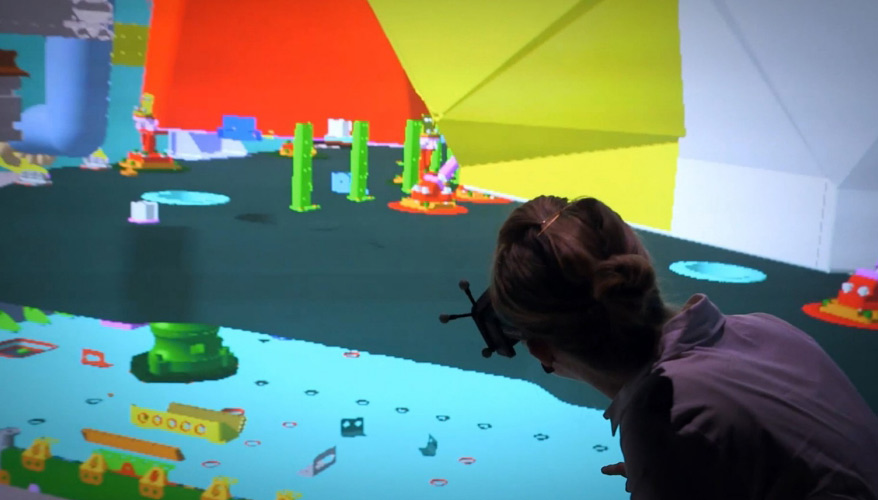 Photo: Lockheed
Lockheed Martin is collaborating with Brigham Young University engineering students in an effort to develop next-generation aerospace and defense solutions using video game technology.
Last year, the company awarded a research grant to the BYU Department of Mechanical Engineering in Provo, Utah, to develop aspects of a virtual reality training and design review system that could advance Lockheed Martin's digital engineering capabilities, according to a company announcement.
"The BYU students created an impressive demo of the VR system that really highlights the potential of this technology, even in its early stages," said Darin Bolthouse, manager of Lockheed Martin's collaborative human immersive laboratory in Denver, Colorado.
The system will leverage immersive 3D technology for design efficiency, collaboration and training, and could help the company identify possible challenges during program development, saving potentially millions of dollars in the long run, according to the company.
The grant covers a nine-month study set to culminate in May, said John Karas, vice president of Lockheed Martin's ground-based strategic deterrent program. The company is currently in the running to provide the Air Force's next-generation intercontinental ballistic missile to replace the aging Minuteman III system, and this collaboration could inform that program, he said.
"BYU had the right academic focus and talent for this project, plus its pipeline of students will help in our next phase of the GBSD program should the Air Force award us a contract for the next phase," he said.
Lockheed Martin has been experimenting and implementing virtual reality as an engineering and production tool for over a decade, and has engaged universities throughout the process, Karas said. Examples include investigating emerging VR technology such as game engines, headsets — including the Oculus HTC Vive — and peripheral devices like eye tracking and virtual reality gloves, he added.
The engineering grant fits into the company's "digital tapestry" approach, which connects all phases of a product's life, from concept to design to production, testing and sustainment, Karas said.
"GBSD will benefit by using the digital tapestry as its foundation," Karas said. "Older programs may insert digital tools along the way, but we're using it before day one. … This speedy process allows us to confidently say to the Air Force that we'll be ready upon contract award to execute."
Along with BYU, Lockheed Martin is actively partnering with Metropolitan State University in Denver on many aspects of the digital tapestry, Karas noted. The company has also worked with other academic institutions, including Stanford University's virtual human interaction lab, the University of Southern California's mixed reality lab and Wichita State University's National Institute for Aviation Research.
Topics: Videogames, ComputerBased Training, Business Trends, Training and Simulation