Estimated Cost of KC-46 Tanker Coming Down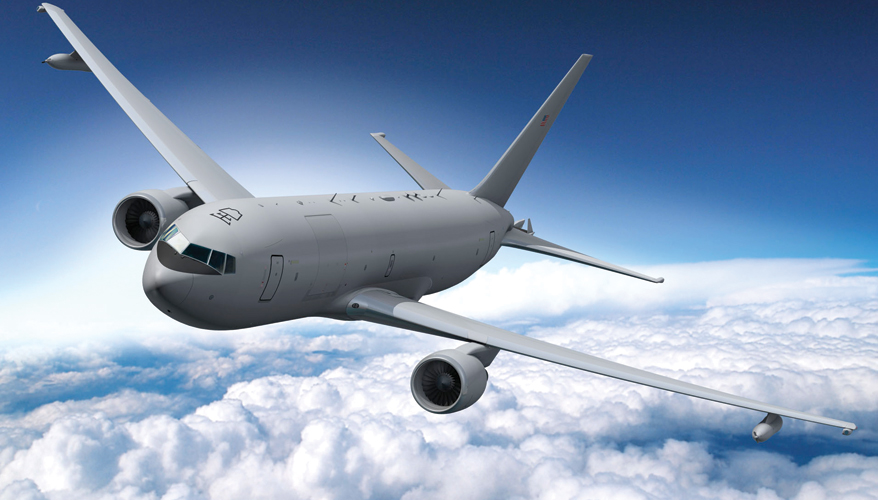 KC-46 concept art
Photo: Air Force
The projected acquisition cost of the Air Force's KC-46 Pegasus aerial refueling tanker has decreased significantly. But there is risk of further delays in the delivery schedule, according to the Government Accountability Office.
The aircraft is one of the Air Force's top three acquisition priorities. It will be used to refuel a variety of Air Force, Navy, Marine Corps and allied aircraft. The service plans to eventually buy 179 of them to replace aging KC-135 Stratotankers.
"Aerial refueling … is critical to the U.S. military's ability to effectively operate globally," GAO said in a recent report, "KC-46 Tanker Modernization: Delivery of First Fully Capable Aircraft Has Been Delayed Over a Year and Additional Delays are Possible."
The total acquisition cost estimate for the new tanker declined 14 percent, from $51.7 billion to $44.5 billion, between early 2011 and early 2017, GAO noted.
"This is primarily because there have been no requirements changes and there have been fewer engineering changes than expected," the report said.
Boeing was contracted to develop, test and deliver 18 KC-46s by August 2017. However, program delays pushed back the scheduled delivery more than a year, to October 2018.
Boeing still might not be able to meet the latest target, the report said.
"GAO's analysis shows there is risk to the current delivery schedule due to potential delays in Federal Aviation Administration certifications of the aircraft, including the wing air refueling pods, and flight test delays," the government watchdog group said.
Program officials agree that there is risk to Boeing's test completion rate until it obtains FAA approval for the design of all the parts, including pods. "Test mitigation strategies" are underway, they told GAO.
"We are still on track to deliver … the first 18 aircraft by early 2018," a Boeing spokeswoman said in a statement to National Defense. The wing air refueling pods will be delivered separately by October 2018, she said.
"The production system is healthy and we're continuing to build aircraft on pace for getting this much needed capability to the Air Force," she added.
The head of Air Force Air Mobility Command defended the program at a recent meeting with defense reporters.
"If you look at the KC-46 program overall [it has been] pretty successful," Gen. Carlton Everhart II said. "It's going through tests right now. We're finding moments of discovery … but we will have a war fighting airplane ready to go on day one because of the tests."
Topics: Air Power, Air Force News, Budget