Coast Guard in Budgetary 'No Man's Land'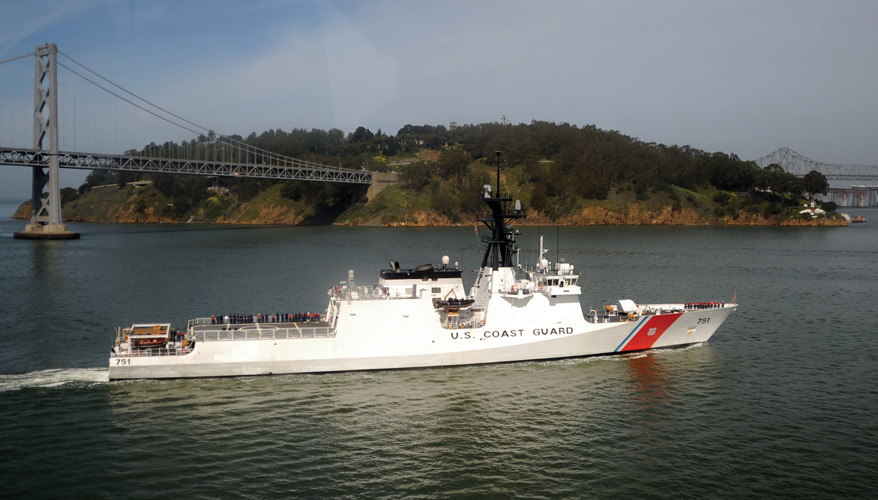 Photo: Coast Guard
The Trump administration is proposing to significantly boost the budgets of the Departments of Defense and Homeland Security. But the Coast Guard is struggling just to maintain its current funding levels as it seeks to modernize its force.
In his fiscal year 2018 budget blueprint, President Donald Trump announced plans to request a $54 billion increase in defense spending to "rebuild" the armed forces.
However, a DHS press release, which accompanied the Trump administration's "skinny budget" outline for 2018, said Coast Guard spending would remain flat.
The service's enacted budget for fiscal year 2016 was about $11.1 billion. The Obama administration requested $10.3 billion for fiscal year 2017, not including funding for a new heavy icebreaker that would have been included in the Navy's shipbuilding account.
"I'm delighted that Army, Air Force, Navy, Marine Corps are being plussed up. But we got left behind," Coast Guard Commandant Adm. Paul Zukunft said at a recent industry conference.
In the 2018 budget request, DHS is expected to see a 7 percent, $2.8 billion increase in funding. But the Coast Guard is slated to be left out of that plus-up.
Part of the Coast Guard's budgetary challenge stems from the fact that, although it is an armed service, the organization is part of DHS — a sprawling civilian department with many different mission sets and priorities. Nearly all of the Coast Guard's funding is therefore categorized as non-defense discretionary spending, which makes it easier to exclude it from any defense buildup, Zukunft noted.
"We find ourselves in this no man's land," he said at a recent meeting with reporters.
The service's budget situation seemed especially precarious in March when a "predecisional" White House budget draft, which was leaked to the press, called for a $1.3 billion reduction in Coast Guard spending in fiscal year 2018. But the proposal was apparently discarded after lawmakers and advocacy groups such as the Navy League voiced strong opposition.
"If that 14 percent cut that was floated to pay for DHS' other priorities had went into effect, that [Coast Guard] shipbuilding program would have been just completely seized up," said Rep. Joe Courtney, D-Conn., the ranking member of the House Armed Services Committee's seapower and projection forces subcommittee.
"It appears that that sort of approach is being sort of pulled back in terms of 2018 but … that doesn't mean that that issue is completely resolved," he added.
The Coast Guard must stave off future cuts to preserve its modernization plans, experts noted. The service is procuring additional national security cutters, fast response cutters and offshore patrol cutters. It also aims to acquire three new heavy icebreakers.
Its latest capital investment plan, which covers fiscal years 2017 to 2021, calls for the annual acquisition budget for vessels to nearly double during that period, from $700 million to approximately $1.4 billion. The total annual budget for acquisition, construction and improvements would increase from $1.1 billion to $1.8 billion during the same period under the Coast Guard blueprint.
Those modernization plans could be put in jeopardy if the Trump administration decides to shift funds to other priorities such as border security in the coming years.
There is enough political support for the Coast Guard to prevent massive cuts along the lines of what appeared in the predecisional budget draft, said Bryan Clark, a senior fellow at the Center for Strategic and Budgetary Assessments. But that doesn't mean the service will receive the money it was aiming for in its five-year budget plan.
"You may find that they do end up with some kind of reduction because the negotiated result ends up being between the two" numbers proposed by the White House and the Coast Guard, he said.
"Then the question will be: can they make the cuts in such a way that they [don't] take it all out of procurement or modernization? … They are in a very, very vulnerable position right now having three major programs in the procurement pipeline," he added.
Topics: DOD Budget, Shipbuilding, Maritime Security