Special Operators Seek to Break Language Barrier (UPDATED)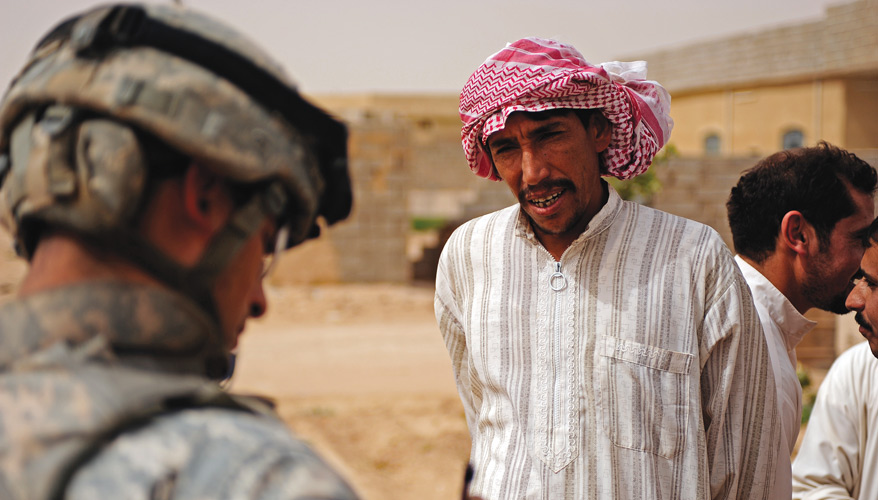 Photo: Defense Dept.
Special Operations Command could benefit from technologies that provide rapid translation in text and speech, as well as tools that extract key information in foreign languages for more rapid data analysis, according to officials and experts.
When asked about the types of language technology that commandos are currently seeking, Army Special Operations Commander Lt. Gen. Kenneth Tovo said, "You just need to watch Star Trek."
"I want there to be a universal translator that captures flawlessly every word, every nuance, emotion, feeling and colloquialism," he said at the National Defense Industrial Association's annual Special Operations/Low Intensity Conflict conference.
More realistically in the near term, "What we're looking for is the ability to ingest the mass amounts of both paper and electronic material and get some level of translation," he added.
At the same conference, Army Lt. Gen. Michael Nagata, who formerly headed Special Operations Command Central before assuming the lead of the directorate of strategic operational planning at the National Counterterrorism Center in 2016, posed a similar query at the conference: "Are there technologies or capabilities that could make special operations forces — either as individuals or as elements — more conversant in increasingly complex terrains?
"Today, our deployed elements are still highly dependent on contracted translators, locally provided escorts and the like," he noted. "Could these … human capabilities be replaced by an automated, field-available language translation and societal navigational instrument? Could we create a field-available, Wikipedia-like service that is available to the individual operator without adding 70 pounds to his rucksack?"
Several programs at the Defense Advanced Research Projects Agency are working to do just that.
DARPA has had a "long-term investment in human language technologies," said Boyan Onyshkevych, program manager of the agency's information innovation office, which has several efforts to provide language technologies to the U.S. military, including special operations forces.
"We've had a fair amount of success" with machine learning, he said, noting that early DARPA investments in that area have led to commercial tools now in widespread use, including Google Translate. Similarly, speech technology advances at the agency have led to applications like Apple's Siri, where a human is interacting with computers through voice command.
Those technologies have not completely solved the language gap challenge, "but it has gotten to a point where it can be useful," he said.
Information extraction is an area of human language technology that is less common in the typical consumer market or for an average home user, but is very important for U.S. government entities, Onyshkevych said.
"What that involves is when you have data in a language communication of some sort … you have a stack of newspaper stories with many, many pieces of info in there, some explicit and some implicit," he said. "What do we do if there's too many pieces of information and the situation that you're trying to understand is too complicated?"
Since 2011, the agency has been developing the broad operational language translation program, or BOLT, which involves text-to-text translation for basic or informal phrases — what is used on social media or in personal communications — between English and Arabic.
"You can imagine this would be useful [for] a soldier in Iraq trying to find information," Onyshkevych said. "We're not talking about necessarily very sophisticated questions, but some basic questions. … A lot of it focuses on health questions: 'Are you hurt?' 'Do you need a doctor?' But also checkpoint questions and general situational questions."
The DARPA program office is now developing prototypes to see how the technology would work in an operational setting, he said. "What we're focusing on is a handheld device such as a smartphone running this application in an off-network situation."
The office is also working to make the BOLT technology more aware of the errors it might be making and of areas of weakness in its interpretations, he added. Imagine a situation where a soldier is talking to an Iraqi local and asks, "How often do you clean the barrel?" The BOLT technology is correctly able to recognize the word "barrel," but when it goes to look up the word in Iraqi Arabic, there are at least two different translations. The program is then able to ask the user which definition it needs to accurately translate, Onyshkevych said.
"We found that we were able to cut in half the number of information transfer errors that happened in this dialogue, just because the BOLT program knew what to ask," he added.
DARPA is working with U.S. Africa Command to implement the BOLT technology into a speech-to-speech program for West African-accented French, Onyshkevych said, adding that researchers plan to return to the African continent in a few months to test a handheld, smartphone-based version during a coalition exercise. The agency is also working with a U.S. Army program of record to get the BOLT technology onto a common smartphone to be deployed to infantrymen with a range of applications, he noted.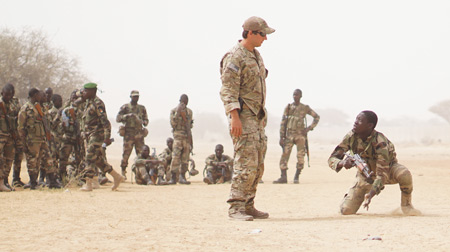 Photo: Defense Dept.
Nagata said that developments in language technologies could serve as a springboard for improved information-sharing, which has become a priority across the military.
"We have … a lot of available data, but it's a challenge to digest it all," he said.
Steve Miska, a national security consultant for the Global Peace Foundation and a retired Army colonel who completed three tours in Iraq, said there was a need for technology that could enable intelligence analysts to more quickly and easily monitor local news sources and social media.
"It would be really powerful for intel analysts … [to] have the capability to translate what we're hearing on the local radio station," he said.
DARPA is continuing to develop a program that provides basic translation in languages that are less frequently taught in military schoolhouses.
The low resource languages for emergent incidents (LORELEI) program could enable communication in disaster relief situations in areas such as Haiti, Onyshkevych said.
"Instead of trying to preemptively build up knowledge in each of the 7,000-plus languages around the world … we're saying let's build a toolkit which, with no preparation, allows us to understand [a language] within a day, week, month, so that we can tell our first responders or our relief teams where to go."
The technology remains in development. "But we've made some exciting progress and we've had some initial experiments showing that we're able to find useful information for situational awareness … in a rapid timeline," he noted.
The Johns Hopkins University Applied Physics Laboratory last September won a $947,000 base contract to develop the LORELEI technology.
DARPA hopes to soon launch a new program called the active interpretation of disparate alternatives, or AIDA. The project would compile data from a variety of multimedia sources — including video, images and other sensor information — in multiple languages and develop "alternative interpretations of events, situations and trends from a variety of unstructured sources, for use in noisy, conflicting and potentially deceptive information environments," according to the agency.
If all of the pieces of relevant data don't converge on one clear hypothesis or situation description, the system would come back with two or more hypotheses about what's going on, Onyshkevych said.
"One of the things that I'm ... trying to focus on with this program is instead of coming and saying, 'Here's exactly what is going on with this situation,' I want to sort of expand the technology so that it considers all the data," he said.
DARPA is currently soliciting research proposals for the AIDA program, under a broad agency announcement on FedBizOpps. Proposals are due in June, and multiple awards are anticipated, according to the announcement.
Despite these technology advances, developing a device that could completely replace a human's ability to understand a foreign language and culture remains a challenge, experts said.
"I don't see that happening in my lifetime," Onyshkevych said. "People are really good at using languages in ways that computers aren't. … [They] use information in addition to what is said and interpret what was meant."
SOCOM leaders have worked to boost force standards to keep up with a growing operational need for language proficiency. Army Special Operations Forces last year standardized all of its language courses to 24 weeks of instruction, said the director of language, regional education and culture at the John F. Kennedy Special Warfare Center and School at Fort Bragg, North Carolina.
Language proficiency for government organizations is rated based upon the Interagency Language Roundtable, or ILR, levels. The director — who asked not to be identified due to security reasons — said the level needed for graduation was raised from an ILR level one, where students can create and comprehend simple statements in the standard dialect, to a level one-plus, meaning students can produce and understand slightly more organized discourse.
"What we're doing is we're producing soldiers with a minimum working competency," he said, adding that about 50 percent of Army SOF operators — who are all required to complete language instruction — graduate higher than the standard.
The operators also undergo regional and cultural studies, he noted. "Language is not a standalone capability. You have to be inculcated with some cultural understanding in order to wield the language effectively."
He believes he could produce a greater language capability in a shorter period of time if there were more opportunities for the students to immerse themselves in the language during instruction.
Overseas immersions in the target language "tend to work very well for our folks," he said. But the limiting factors are the operational capability and costs associated with sending soldiers all over the world to study on a regular basis.
"I don't think it would be appropriate to send Green Berets to Russia to learn Russian," he added.
Though SOCOM has been subject to the same budget woes faced by the entire Defense Department, the director noted that the Army component has consistently been able to provide language training and that it has "continued to be prioritized." He would not comment on how much funding goes to language training, and Special Operations Command public affairs officers did not respond to budget information requests.
Tovo said it's unlikely that Army Special Operations Forces will ever cease its language requirement.
"We have invested in this, we've got the right instructors. … [But] I don't think we'll ever truly replace the requirement to use indigenous native speakers," he said. "But we really do need help on the technical piece of how do we deal with these massive amounts of data that we collect."
Miska noted that while technology is always helpful, "I always want somebody who knows the culture, knows the human terrain."
Onyshkevych said that at this time, he would strongly recommend to users of language technologies not to make mission-critical decisions based solely on computer programs.
"I sure wouldn't want military command decisions to be conveyed through a machine translation or a speech-to-speech translation," he said. "Anyone dealing with a mission-critical loop understands very well that this technology is good for large amounts of data or for an initial pass at what's going on. … But if something is a really important piece of information, I for one, would surely want an expert human to touch that language data before I acted on it."
Correction: This article has been updated to reflect that the John F. Kennedy Special Warfare Center and School is located at Fort Bragg, North Carolina.
Topics: Counterterrorism, Counterinsurgency, Defense Innovation, Information Technology, International, DARPA, SOF Training