Laser Vision: Special Operations Command Prepares to Test Airborne Directed Energy Weapon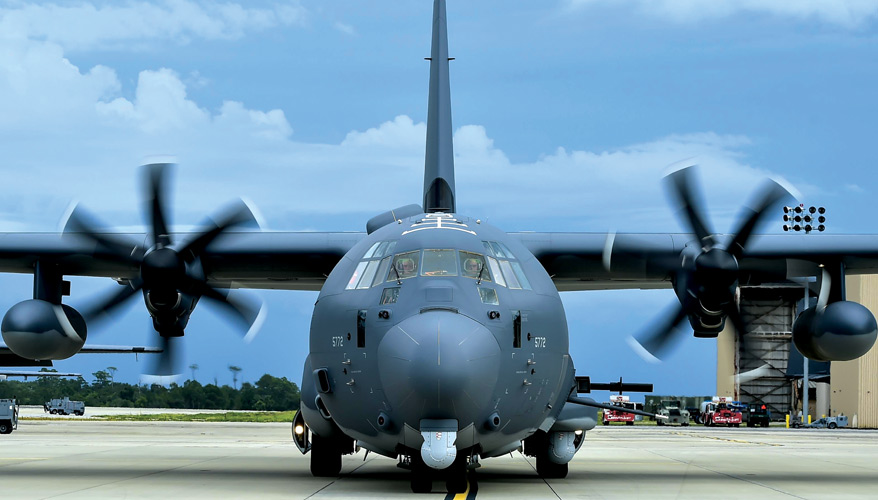 AC-130J Ghostrider
Photo: Air Force
On a cloudy night in the future, special operators are conducting a nighttime raid on an enemy compound. A mission commander aboard an AC-130J Ghostrider gunship sets his sights on a target.
Using a high-energy laser, he aims and shoots at an electrical transformer, the engine of a pick-up truck, communication equipment stacked near the compound's front door, and a drone sitting in the courtyard.
"Without the slightest bang, whoosh, thump, explosion, or even aircraft engine hum, four key targets are permanently disabled. The enemy has no communications, no escape vehicle, no electrical power and no retaliatory" intelligence, surveillance and reconnaissance capability, said Lt. Gen. Brad Webb, commander of Air Force Special Operations Command, as he relayed the story.
"Minutes later, the team emerges from the compound, terrorist mastermind in hand. A successful raid," he said.
The imagined scenario — which Webb described at a recent directed energy summit in Washington, D.C. — is 100 percent feasible and realistic, he said. Such technology — alongside other emerging concepts such as tactical off-board sensors — will be ready soon and will change how AFSOC conducts offensive missions, he added.
The directed energy weapon is "rapidly moving" from the conceptual to the practical, he said in late March. Webb recently visited MIT Lincoln Labs to view its advancements, and saw Naval Sea Systems Command Dahlgren's latest efforts to network all of the various components within the aircraft.
He was impressed by the improvements that had been made.
"We're no longer talking about bulky chemical lasers, but streamlined electrical lasers," Webb said. "These pioneering scientists have honed the ability to combine smaller lasers into a finely-tuned, exquisite single laser. Beam control seems to no longer be an issue. Nor is the cooling technology needed … to keep the system operating.
"Believe me, this technology is quickly leaving the pages of science fiction," he added.
A proof of concept for a high-energy laser on a gunship will help pave the path for AFSOC to pursue directed energy weapons on other aircraft, he said.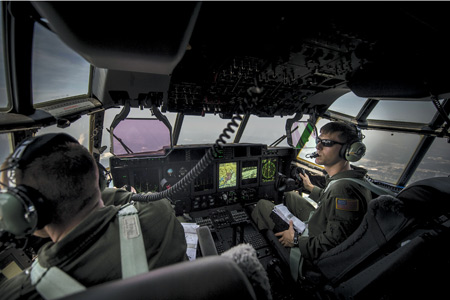 AC-130J cockpit (Air Force)
Over the next year, the command plans to make major strides in the development of the technology, Webb said.
It will first conduct vibration tests, he said. In the fiscal year 2014 office of the director of operational test and evaluation annual report, J. Michael Gilmore, the Pentagon's top weapons tester at the time, found that the AC-130J was having issues integrating its precision strike package because the gunship was generating more vibration than previous aircraft. That created the risk of fratricide, Gilmore noted. While the issue was resolved years ago, Webb said he would keep a close eye on any such reoccurrence with the laser integration.
Asked if he was concerned, he said: "I don't know if concern is the right word. But … we had that issue with kinetic weapons and certainly this technology is a challenge."
AFSOC wanted to conduct the vibration test early on so it can stabilize the beam and reduce excessive movement or "jitter," he said.
The next step will be to construct a special window — which will be placed where the gunship's 30mm gun port currently resides — from which the laser beam will shoot, Webb said.
"We're not going to have the laser sitting out in the air stream or the jet stream, because we want to ensure that minimal amount of jitter, minimal amount of aeromechanical interference," he said. "We're going to have it inside, so of course we have to have a window that the laser could see through. It's obviously a very special window so … the laser can shoot through it and not get the defracted energy that you might get otherwise."
Once those tests have been completed, the command plans to fly the laser on the gunship, he said.
Webb added that while the technology is being designed for an offensive capability, it could also be used for defensive missions. Defensive capabilities would "absolutely" be an added capability for the command, he said.
He noted that he wanted to take a page out of the Air Force's book as it pursues directed energy weapons for such purposes, like with its self-protect high-energy laser demonstrator.
The AC-130J weapon is sometimes called the "Heithold laser" because of the priority former AFSOC commander, Lt. Gen. Bradley Heithold, put on developing the technology. Heithold left the command in the summer of 2016.
Webb said: "I absolutely want to keep the momentum going, [but] I am not necessarily interested in something called the Webb laser," he joked.
"We need to be leaders in this," he said. "I want us to be pathfinders in this. I want us moving out with it."
Since he left the command, Heithold — who now serves as the principal deputy director of the office of the secretary of defense's cost assessment and program evaluation, or CAPE, division — told National Defense that he has not seen the project lose any momentum.
At first when he left he "was concerned … that perhaps we would lose a focus on that effort," he said. "That is not the case.
"Gen. Webb is moving this forward as fast as he can … because he sees the value in developing a game-changing weapon for special operations aviation. … It hasn't skipped a beat at all."
As a whole, Heithold said he sees laser technology maturing rapidly and that the Pentagon is making strides in developing such weapons.
The Defense Department has been investing in lasers for 57 years, Heithold noted. In the fiscal year 2017 budget request, the Defense Department asked for $674.3 million for directed energy weapons. Over the next five years it will allocate $3.4 billion across the board, he said.
The Pentagon is currently in the process of developing a directed energy weapon roadmap, he said during a panel discussion at the conference.
"There's not a solid DoD plan today but there will be soon," he said.
The plan would integrate all the efforts around the Defense Department to see where there is redundancy and to help move the technology into the field, he said. "We got to get our arms around what is going on out there," he added.
CAPE is leading the effort alongside the office of the undersecretary of defense for acquisition, technology and logistics, Heithold said. The roadmap is being developed at the direction of Congress based on language from the 2017 National Defense Authorization Act.
"We've taken that guidance seriously," he said. The roadmap will focus not just on laser weapons but all directed energy platforms, including technology such as high-powered microwaves.
Heithold assured the crowd at the summit that his group would be open with industry about the progress it makes: "It will be transparent and collaborative. This isn't going to be one of those teams we put together in isolation and don't share the details, don't ask you, the experts, for your advice on this. We will be reaching out to everybody and will have participants from all the combatant commands, SOCOM included."
CAPE and AT&L have also contracted with the Institute for Defense Analyses to be the technical lead. They will be the ones to ultimately put the report together, Heithold noted.
While CAPE and AT&L know that each of the services are doing work in directed energy technology, "we really are not familiar where we sit with all the things that are going on in the laboratories, all the things that are going on with our industry partners," he said.
The roadmap will consolidate these efforts, see what the various requirements are and then lay out a plan for some of the next steps the Pentagon should take to field such capabilities, he said.
Heithold said the team anticipates completing the initial fact-finding portion of the roadmap by July and to release it by March 2018.
Heithold encouraged industry to get involved. "If you're out there and you think we should be talking to you, I want you to make contact … [with us] because we want to talk to you," he said.
Mark Gunzinger, a senior fellow at the Center for Strategic and Budgetary Assessments, a Washington, D.C.-based think tank, said the biggest issue that faces directed energy weapons, and in particular the AC-130J gunship system, is a lack of funding.
"It is my belief that SOCOM could go even quicker to field a prototype and begin testing if they were provided with funding to do it," he said. "I think the Congress has interest in doing that, but I suspect that it's not going to make it into the FY '17 funding. Hopefully it will make it into FY '18 funding."
Overall, the Pentagon needs to allocate more money for directed energy weapons, he said.
"Across the Department of Defense, their funding for directed energy-related science and technology has been less than $500 million," he said. "It's been on the order of $450 to $480 million, which seems like a lot of money but not really when you think about four services and SOCOM and the various laboratories that are working on it and the different kinds of directed energy technology."
There needs to be a ramp-up so the services and SOCOM can begin fielding prototypes and learn from them, he said.
"That is what I'm beginning to see out of our Congress — interest in rapidly prototyping current technologies rather than waiting for the perfect solution somewhere in the distant future," he said.
Gunzinger also noted that AFSOC will likely have to start with a smaller laser, perhaps between 60 to 100 kilowatts in power, before it can move to more destructive ones around 150 kilowatts or greater.
Topics: Advanced Weapons, Emerging Technologies, Research and Development, Special Operations, Special Operations-Low Intensity Conflict