ROBOTICS AND AUTONOMOUS SYSTEMS
Army, Industry See Bright Future For Robotic Vehicles
Armed robotic combat vehicle
The Army expects robotics and autonomy to be important components of its ground combat vehicle fleet in the coming decades. Members of industry are pushing ahead in this field as the service maps out its future.

Army officials are gearing up to pursue the next-generation combat vehicle, also known as the NGCV.

"Robotics and autonomous systems are certainly going to be a part of the concept," said Col. William Nuckols, Jr., director of mounted requirements at the Army Maneuver Center of Excellence.

"When you start thinking about future possibilities and the effect that robotics might play, it could be a game-changer," he said at the Association of the United States Army's Global Force Symposium in Huntsville, Alabama.

In March, the Army sent out a solicitation for market research and hosted an industry day to discuss plans to partner on prototyping efforts.

Topping the list of desired capabilities in the survey were "autonomous and intelligent systems."

The service plans to develop technology demonstrators to further assess what's available and inform requirements. They are to be built collaboratively with industry, Nuckols said.

A final request for white papers is slated for May, and a contract award for prototype work is expected in September.

The Army hopes to have the prototyping project completed no later than fiscal year 2022. The service aims to field a next-generation combat vehicle by the early 2030s, but it could come sooner, according to Nuckols.

"As of today we're not certain if NGCV is going to be a replacement for the Bradley — in other words if it's going to be an infantry fighting vehicle — or if it's going to be a replacement for … the Abrams [tank], or potentially both," he said.

The Abrams could potentially be replaced by an autonomous vehicle with the same amount of lethality as today's tanks, he said.

The technology that emerges from the NGCV project might not just be used to create a single type of platform. It could end up being applied to "a family of vehicles," he noted.

A system doesn't have to be completely unmanned to capitalize on autonomy. The Army wants to automate certain functions on manned vehicles to reduce the burden on personnel and operate more efficiently. Target acquisition is one such function that could potentially fit the bill, he said.

"When we say robotics and autonomous systems, we're not limiting that to separate things flying around in space," Nuckols said.

While these technologies hold enormous potential, they will likely be introduced gradually into the ground combat vehicle fleet, experts said.

"The Army needs to take baby steps to achieve some type of unmanned vehicle that can operate with … its mounted armored formations," said Maj. Michael Dvorak, robotics branch chief at the Army Capabilities Integration Center.

Adding an appliqué robotic system to an existing platform such as the M113 armored personnel carrier would be a logical move, he said. Soldiers could work at remotely controlling the vehicle and its payloads.

In the coming years "I think the Army is going to start to look at how do you remotely operate something like a 113 … and then what sensors do you want to put on there? What capabilities do you want?" he said.

Defense officials are planning to hold technology demonstrations at Fort Benning, Georgia, in August or September.

"One is a robotic wingman demo, which is really just employing a tele-operated Humvee with a machine gun on top," Dvorak said. "It's really a proof of concept."

The other is a "lethality enabler capability" for the Abrams tank, he said. "It's actually seeing if you put an autoloader in an M1, can you then have that fourth soldier operate unmanned ground or aerial systems" from inside the tank instead of loading ordnance?

The service is interested in having vehicles equipped with smoke-generation or other obfuscation technologies for combined arms breach.

"That would be a prime task where we could unman that capability, unman that vehicle," Dvorak said. "That would improve force protection and it would also allow us to employ that … capability in riskier areas because it's unmanned."

The Army's robotics and autonomous systems strategy, approved in February, calls for fielding unmanned combat vehicles with advanced payloads in the 2021 to 2030 timeframe.

Meanwhile, industry is forging ahead with its equipment. BAE Systems recently reintroduced a prototype at the symposium in Huntsville.

The armed robotic combat vehicle, or ARCV, is a tele-operated platform. Its previous incarnation, known as the Black Knight, was developed for the Future Combat Systems program, which was canceled in 2009.

The ARCV was designed to be remotely operated from the back of a Bradley Fighting Vehicle. A dismounted soldier could also control it with a hand-held kit.

"He could either follow behind it like we drove it in here the other day, or he could be in a foxhole or … under cover and operate the vehicle on the battlefield," said James Miller, BAE's director of business development for combat vehicles.

This type of platform would bring several advantages, he added.

The Army could deploy it in dangerous areas and avoid risking soldiers' lives, he noted. It could also function as a "wingman" to augment the force with additional platforms without significantly increasing manpower requirements. Additionally, it has the capability to perform reconnaissance missions and engage targets with its weapons, he said.

BAE has been working with Carnegie Mellon University to further develop robotics technology. The company could modify the ARCV design to suit the Army's needs and tailor it to requirements, Miller noted.

"We brought it to the show not because we're pushing this specific vehicle, but … to get a conversation going" with service officials, he said.

A future system could be sized based on requirements for survivability, weapons and electronic suites, he added.

BAE is interested in teaming with other companies when it comes to the integration of robotics technologies into the Army's ground vehicle fleet.

"We're just providing the platform that helps focus that," he said. "We're looking to partner with folks that bring in capabilities that we could put together" to create state-of-the-art systems.

General Dynamics is both a developer and an integrator in this technology area. The company has been active in robotics for decades including developing an autonomous navigation system for the Future Combat Systems program, said Kevin Bonner, senior director for advanced products and technology at General Dynamics Land Systems.
The company is working on command-and-control and other technologies to enable the coordination and tasking of robotic systems.

"Our focus at GD is to develop the infrastructure now that enables these things to happen in the future so that as technologies continue to mature, we can employ them and integrate them as quickly as possible in a way that doesn't overburden the infrastructure of the entire vehicle," Bonner said.

Such systems need to be protected from enemy efforts to interfere with them, he noted.

"Underlying all of this is a framework of safety in cybersecurity, which tends to be a very hot topic these days," he said. "As you become more automated, you become more susceptible to cybersecurity threats."

General Dynamics is tracking what the Army is saying about the next-generation combat vehicle. But the company is moving ahead with autonomy regardless of what happens with that project.

'This is an area that we're committed to and we're going to continue to develop regardless of any specific requirement," Bonner said. "I'm not tying anything to a platform or any particular program … [because] it's a capability that's applicable across a large class of platforms."

How quickly the Army will actually field some of the more advanced forms of automation for ground combat vehicles remains uncertain. For years, the service has been using relatively small robots for explosive ordnance disposal. It is also pursuing leader-follower concepts for logistics trucks.

But the Army might take a relatively slow approach to onboarding autonomy for ground combat operations, experts said.

One reason for this is that introducing robotic systems into land warfare is more difficult than the air or sea domains because the operating environment is more crowded and complex, Bonner said.

Trust in these types of systems, or lack thereof, is expected to be a key driver of how quickly the technology is adopted.

"One of the problems we have in robotics right now … is the fact that we can't have assured control," Nuckols said. "Until we have that assured control of these autonomous/semi-autonomous tele-operated systems, we're going to be hesitant to replace any of our current formation capability with a robotic platform."

Nevertheless, Bonner believes the introduction of more and more automation is inevitable as the Army and society become increasingly comfortable with the technology. He used an auto industry analogy to explain how he sees the process playing out.

"They didn't put out full self-driving cars in the beginning," he said. "They put out operator aids and other portions of technologies like automated breaking or land departure warning and things like that before the whole self-driving thing even became a discussion point. And I expect that this will happen here as well."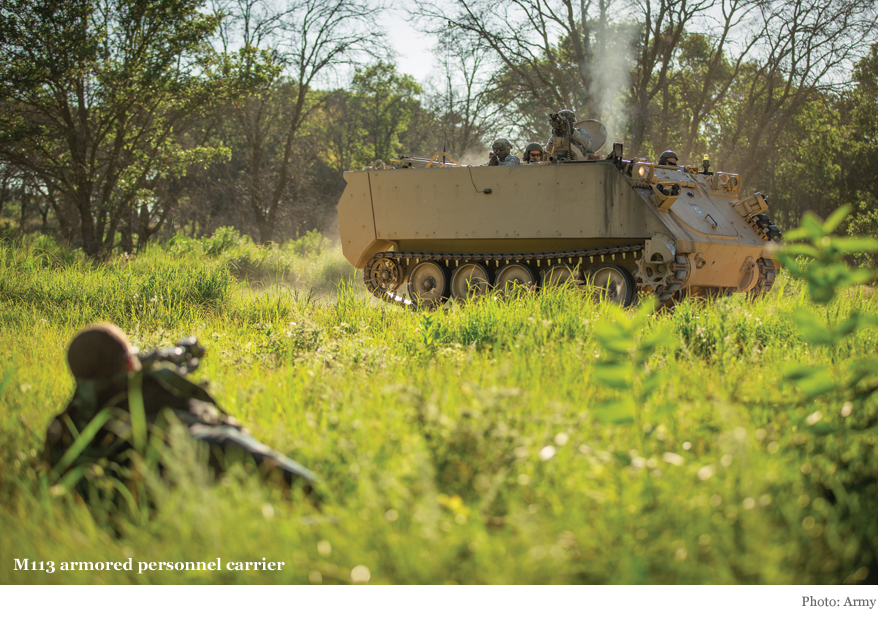 Missions such as route clearance, site security and breaching operations will be easier to automate in the near term. But more work needs to be done to enable unmanned ground combat systems to operate in environments that are more dynamic and unpredictable, Bonner said.

"That's where the artificial intelligence part of it would come into play in the future," he said.

General Dynamics is working on AI and deep learning technologies as part of the robotics collaborative technology alliance program sponsored by the Army Research Laboratory.

Improvements in these areas are paving the way for advancements that could lead to autonomous or semi-autonomous ground combat vehicles roaming the battlefields and using lethal force, Bonner predicted.

The adoption of these technologies is "going to be an evolutionary thing but I don't think it's a linear evolution," he said. "All the pieces are in place for this to happen at a faster pace than it has happened in the past."

Speed is of the essence when it comes to acquiring these capabilities, said Paul Scharre, director of the future of warfare initiative at the Center for a New American Security.

Potential adversaries are investing in ground robotic vehicles for their militaries and using them in novel ways, he said in testimony to the Senate Armed Services Committee's airland subcommittee in March.

Russia has been developing a fleet of them, including some that are armed, he noted.
The United States military "significantly lags" other nations in this area, he told lawmakers. These technologies offer major tactical and operational advantages that could revolutionize warfare, Scharre said.

"Robotic systems can be used to increase standoff from threats, field larger numbers of forces on the battlefield, persist beyond the limits of human endurance, and enable new concepts of operation such as attritable swarming formations," he said.

"The result could be new doctrine and ways of fighting on par with the invention of the blitzkrieg" concept of tank-led maneuver warfare that Nazi Germany used to overwhelm its adversaries during the early days of World War II, he added.

The Army should increase its investment in ground robotics, including armed systems, and experiment with teaming tactics in mixed manned-unmanned formations, he advised.

"The Army will be woefully unprepared for future conflicts if it misses out on the opportunity provided by robotic systems," Scharre warned.
Topics: Robotics, Robotics and Autonomous Systems, Tactical Wheeled Vehicles, Army News