Senior Pentagon Official Casts Doubt on Tomahawk Missile's Future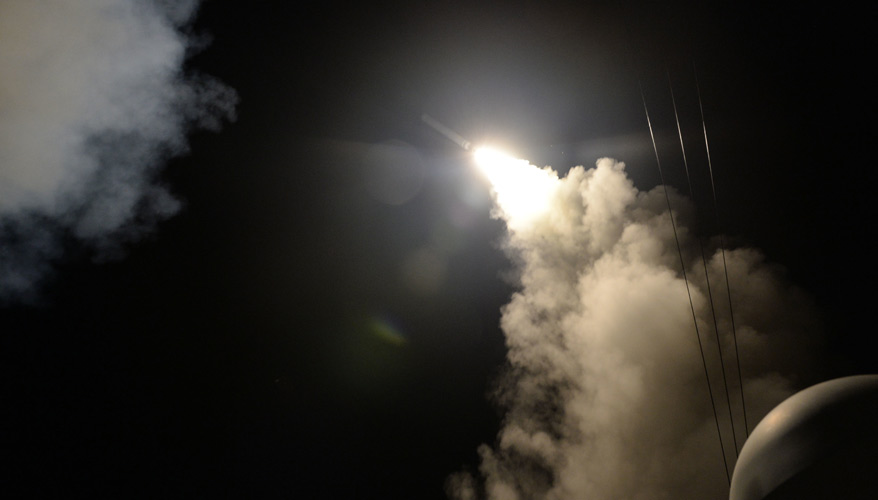 The guided-missile destroyer USS Porter conducts strike operations April 7.
Photo: Navy
As the U.S. military prepares to do combat in an increasingly threatening and competitive global arena, the Navy's Tomahawk cruise missile may not be "the weapons system solution for the future," the vice chairman of the joint chiefs of staff said April 13.
"I think we have to decide what's next after Tomahawk," said Air Force Gen. Paul Selva at an Air Force Association breakfast in Arlington, Virginia. "My gut tells me, as I look at the requirements a decade or more out, that a subsonic, non-stealthy, low-maneuvering, unitary warhead may not be the answer."
The Navy has expressed a desire to cease production of the Raytheon-developed weapon within the next few years, according to a report by Defense One, and service chiefs have begun discussions about a next-generation land attack weapon.
In 2014, Sean Stackley, then-Navy assistant secretary for research, development and acquisition and currently the acting secretary of the Navy, told members of the House Armed Services seapower and projection forces subcommittee that the future weapon's key elements would be "its increased lethality, survivability beyond what Tomahawk brings today."
But in the meantime, the Navy will continue to buy the Tomahawk. The Navy requested about $187 million in the fiscal year 2017 budget to purchase 100 warheads, while President Donald Trump's "skinny budget" released in March requested $85 million for an additional 96 missiles.
The Pentagon April 7 fired 59 Tomahawk missiles at a Syrian airfield in response to chemical attacks it says the Syrian government conducted on its own people, department officials said.
Selva noted that he was not ruling out the use of Tomahawks in the future, calling it "a magnificent weapon"
"It has served us well and it will likely serve us for some time," he added.
But the services need to take a closer look at the "prompt global strike" concept that has been studied for more than a decade, he noted. The capability would allow the United States to strike targets with conventional warheads anywhere on Earth in about an hour, according to a Congressional Research Services report.
"We've got to increase the speed of precision, and then we have to address what weapons we use to actually prosecute the targets," he said. "That is not a trivial problem, even in the static target setting. And in a mobile target setting, it is incredibly complex."
The services also need to develop a command-and-control system that facilitates "quick movement on the information you can pull out of these large sets of data that identify targets and give the targets value, and present those targets to a human," he added. That system "right now moves very slowly," but can be made to move more quickly, he said.
"If I have to strike a weapon that can maneuver and shoot in minutes, and it takes these scores of men up to an hour to prosecute the target, a day or so to identify it, an hour — if not days — to decide whether to prosecute it, there's nothing prompt about that global strike," he noted.
Selva also called on Congress to do its duty and pass a budget before the continuing resolution expires April 28.
"If we can only get two things in the next couple of weeks, lift the CR, give us the budget," he said. "If it has to be subject to the Budget Control Act because that is the law of the land, then make it so and get it the hell over with, because on the 28th of this month, we will no longer have authority to spend money to defend the nation."
Operating under a continuing resolution ties the services to "yesterday's plan," he noted. "By law, we can't do anything new. We have to do what we were doing last year and we have to go ask permission to do anything new this year.
"They force us to spend money on things we don't need and prevent us from spending money on things we do need," he added. "It is like running a race looking in a rearview mirror."
The Pentagon will have $6 billion in acquisition money it cannot spend, should the funding deadline pass without a budget, Selva said. It will also have an unfunded mandate from Congress to recruit and grow the Army at a cost over $5billion.
"Which means we'll defer the purchases of hardware at a cost to industry and ultimately at the cost to the weapon system, and we'll have to stop recruiting," he noted.
The House voted in March to approve a $578 billion budget to keep the services operating through the end of fiscal year 2017. Trump's proposed budget includes a $30 billion supplemental request to fill immediate training and equipment shortfalls in the military.
But the boost could come at the expense of other government institutions that would see budgets slashed, including the State Department. Selva, who served for three years as an adviser to then-State Department Secretaries Condoleeza Rice and Hillary Clinton, said he was concerned about the implications of the United States reducing its "soft power."
"We cannot kill our way out of this problem," he said. "The soft power part of our enterprise … [that] builds up the relationships, that does have the tools to build governance … we've got to pay pretty close attention to their value."
"If we make hard power the way the United States is perceived worldwide, then our soft power will atrophy and we'll have to rebuild the institutions we've spent so much time building," he added.
The question is how to pay for both hard and soft power, he noted. "There's a theory and a case that says there's plenty of global money to pay for those services, the question is, how do we bring that money into the agencies of our government that do that work?"
Topics: Air Power, Air Force News, Budget, Defense Department, DOD Leadership, DOD Budget